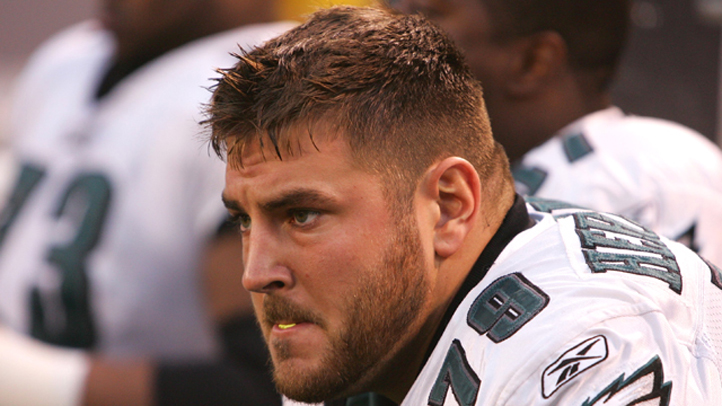 There's an important, if often overlooked difference between critic and cynic. The critic questions the current situation thoughtfully and wonders what other options exist. He might second-guess decisions and rethink conventional wisdom. But the cynic overreacts to the most recent information. He might call a good team a "house of cards" or demand that they shake everything up for one questionable improvement.
That's where we stand at this moment with the Eagles. Some of us are willing to criticize and question -- others are quick to call for changing everything immediately. You can watch this dichotomy play out in the debate about right tackle.
The calls are out for Andy Reid to move Todd Herremans away from his normal left guard spot to shore up the right tackle position. Admittedly, right tackle could be a problem for the Eagles. Winston Justice's knee injury hasn't fully healed yet, his replacement Ryan Harris now has back problems, and temporary starter King Dunlap hasn't proven he can hold his own at this level yet.
But moving Herremans over to tackle is a desperate move, one that many in the media have been pushing for days. They ask Reid whether he'd consider moving Herremans and Andy says the same thing every time: he know that's a possibility if he needs it, but he has other options right now. To me, that quotation is clear. Herremans can be a last resort if no one else is even adequate, the way a salad is a last resort for Reid after every possible cheesesteak and hamburger option has left the building.
And why would Herremans at right tackle be anything more than that? He hasn't taken a snap at tackle in almost two years, and hasn't gotten regular playing time at the position since his rookie year in 2005. We know he can slide over in a pinch, but you don't sacrifice the only solid thing the Eagles offensive line has going for it - the left side - for a questionable upgrade.
Like every other team in the NFL, the Eagles have problem spots. Injuries at right tackle, a rookie middle linebacker, and a few more. But we shouldn't lose sight of the fact that with these offensive weapons, pass rushers, and cornerbacks, the Eagles on paper rival any team of the Andy Reid era.
Criticism is always good. Cynicism gets old.