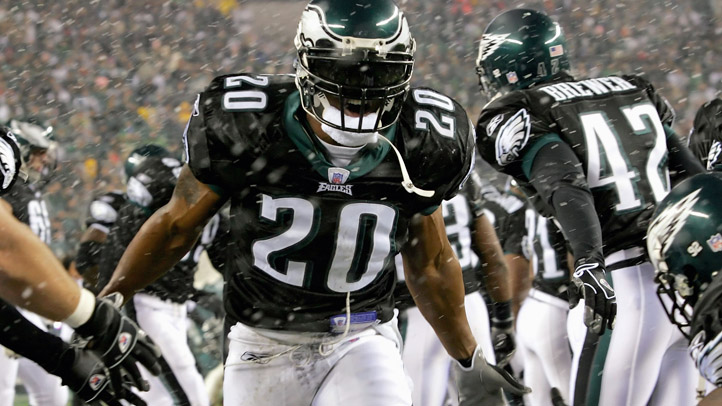 Brian Dawkins, pound for pound arguably one of handful of greatest Eagles of all time, will hang up his cleats and retire as an Eagle this season.
B-Dawk, the crazed madman on the field and thoughtful family man off it, turned to Twitter Monday morning to make the announcement that he was calling it a career after 16 years in the NFL -- the first 13 with the Eagles.
The Eagles later confirmed that the Birds would honor Dawkins during the Eagles Sunday Night Football game against the Giants on Sept. 30 at Lincoln Financial Field.
As new broke that Dawkins, a.k.a. B-Dawk, a.k.a. Weapon X, was calling it a career, the accolades for the all-time great started pouring in from all over but the best description of what Dawkins meant to the Eagles and the City of Philadelphia likely came from the guy who used to sign his paychecks.
"Brian Dawkins is one of my all-time favorite players and one of the best to ever put on an Eagles uniform," said Eagles owner Jeffrey Lurie. "On the field, in many ways, Brian re-invented the safety position. He had the speed and athleticism to line up against the game's best receivers, and was equally effective in the run game. His love for the game was infectious and he poured his entire heart and soul into everything he was doing from the moment he entered the stadium until he left. Everyone who ever watched Brian play saw that and it was impossible not to love that about him. He was one of the best leaders to ever play here."
I agree Jeff, No. 20 was the epitome of the Eagles and their fans.
Dawkins was the inarguable leader of the eagles for more than a decade, putting every ounce of energy out on the field week after week as he tallied up Pro Bowls (7), tackles and trips to the NFC Championship Game (5).
He was tough like us, worked hard like us, he was one of us and that one day should land him in the Hall of Fame.
"I honestly didn't come into the league saying that I was going to be a Hall of Fame player," Dawkins told reporters Monday. "I was just going to go out and hopefully earn a job and do my thing in the NFL."
For me though the true measure of the greatness of a player isn't accolades or winning even -- it's The Jersey Test.
The Jersey Test is something I have sort of come to accept as the ultimate measure of a player's jersey worthiness. It grew out of seeing way too many Pat Burrell, Terrell Owens, Chris Gratton, Larry Hughes and Raul Ibanez jerseys over the years. These guys had flashes of brilliance during their time in Philly but after they left, their jerseys basically became rags -- most fans wouldn't be caught dead wearing the former star's name on their back.
I only wear the jerseys of a select few players and each shirt must fit into one of two categories to earn a spot in my closet -- the jersey must either be of an All-Time great or someone who carries a kitschiness that's undeniable (e.g. Von Hayes, Donald Brashear, Shawn Bradley).
Dawkins is the only Eagles jersey I own aside jerseys from other Philly greats like Allen Iverson, Steve Carlton, Roy Halladay and a select few others.
I guarantee that I will never have anyone give me a strange look or question why I'm wearing a No. 20 Dawkins jersey (even if it's the blue and yellow throwback) because no on can deny the greatness of the player.
On the Eagles version of Mount Rushmore there's Van Buren, Bednarik, White and Dawkins.
And the thing with Dawkins is that by his fifth year in the league (2000) fans already knew that. He was greatness incarnate when he played Sundays in South Philly. He doesn't need this retirement to remind us how great he is, we already remember.
So here's to you B-Dawk. I look forward to seeing you wear that No. 20 one last time. And hopefully, Lurie will keep to his word, and no one will ever wear No. 20 in Eagles green ever again.