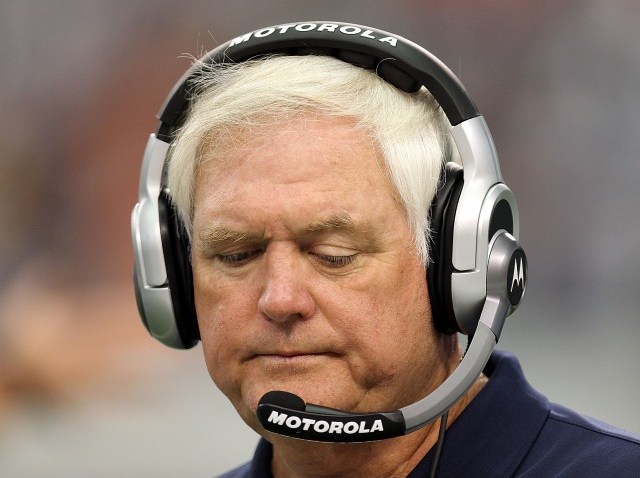 How bout dem Cowboys?
After an embarrassing 45-7 loss at Green Bay heads have rolled in Big D as meddling owner Jerry Jones canned head coach Wade Phillips, according NFL Network sources.
So it seems that 1-7 isn't good enough for America's team -- even if Eagles fans would argue otherwise.
Offensive coordinator Jason Garrett -- despite leading a middling offense that ranks 19th in the league in scoring -- was named interim head coach.
Our friends over at NBCDFW's Blue Star blog explain the straw that broke the camel's back:
Owner Jerry Jones said there would be widespread "consequences" for players, coaches and other staff members following Sunday night's loss, which caused frantic speculation around Dallas as to whether Phillips would see another game as head coach. In previous weeks, Jones rejected the notion that Phillips would be fired in the middle of the season, but refused to comment on the matter in the aftermath of the Green Bay loss.
Phillips despite being portrayed at times as allowing the inmates to rule the asylum still managed an impressive 35-23 record and two NFC East titles since taking over in Big D in 2007.
The writing was on the wall for sometime that Wade would be gone as the mistake-prone Boys went from Super Bowl favorites to NFL cellar dwellers in just two months. The final sign of his demise had to be the complete disabling of the Cowboys official website on Monday. It's possible cowboys brass were trying to rid the site of all mentions of their soon to be official former head coach before an expected official announcement at 4 p.m.
For now Eagles fans should be happy that the team that owned them last season including an embarrassing playoff loss likely wouldn't be much of a team once they face off Dec. 12. Proof enough that the coach wasn't the only problem was evident multiple times Sunday night in Green Bay as players on both offense and defense appeared to give up on plays.