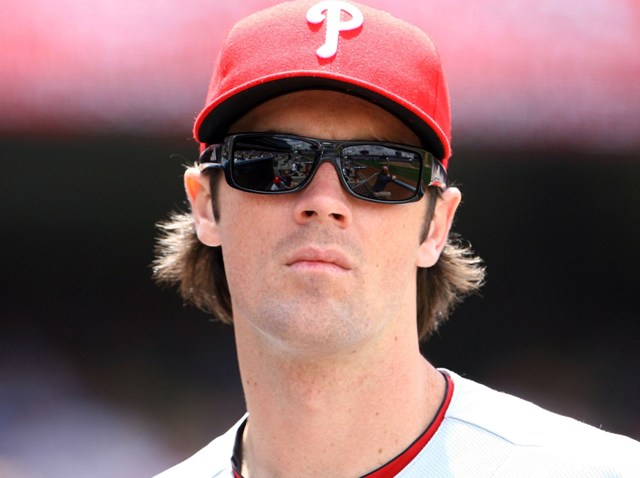 As the Phillies continue to sluggishly plug along, one of their three All-Star starters continues to live up to the "ace" moniker.
Cole Hamels earned his Major League-leading seventh win by tossing eight shutout innings against the Nationals Wednesday night. Add in his 66 strikeouts (second in NL), 62.1 innings (fourth in NL), 1.01 WHIP (sixth in NL) and 2.17 ERA (seventh in NL) and Cole has been in control all season long.
Therein lies the rub.
With each passing start the free-agent-to-be left-hander could be pushing up the price tag to get his services.
Listen to talk radio or read Phillies blogs and you will hear Phillies fan after Phillies fan scream that the Phillies need to ink Hamels long term -- give the possible future Cy Young winner a lucrative deal that will keep him here for the rest of this decade.
One problem, maybe Cole doesn't want that. Maybe the 28-year-old hurler wants to hit the open market, see what opportunities might be out there.
And guess what? That's perfectly OK. Given the same situation I would have no loyalties and would see what's best for me.
Cole has nothing more to prove here. He has led the team to a championship, been an All-Star and befuddled hundreds of hitters. He owes the Phillies and Phillies fans nothing -- especially a hometown discount -- when it comes to his future.
Phillies fans need to consider that inking Hamels isn't as easy as throwing some humongous contract in front of him and expecting him to use that golden left arm to sign.
Cole is a Southern California kid -- Hollywood Hamels -- who outside of being drafted by the Phillies would have likely never lived in Philly, let alone the East Coast. I have no idea what Hamels is thinking but considering that no deal with the Phillies has been worked out it's likely that he would rather test the waters --- do what's best for his family -- rather than take the carrot being dangled in front of him right now.
Be it the Dodgers, Padres (unlikely but it is his hometown), Rangers, Angels, Yankees, Red Sox, Nationals or a dark horse team (a la Cliff Lee), Hamels will have his choice to choose his own adventure. That's America, that's the freedom we all wish for, and the same freedom that people at the top of their fields in science, medicine, business and communications get -- to pick where to perform.
Phillies fans can fear the future, that's fair considering that at 31.1 years old, only the Yanks boost an older group of guys than the Phightins. But instead of fearing the uncertain future without Cole in red pinstripes, appreciate what he is right now. This season Cole could win the Cy Young and I will applaud if he does.
And in the future when Cole returns -- possibly (albeit likely) in another uniform -- I will stand up, applaud and remember the good times with Cole rather than hold against him having a choice, having freedom and being able to take his talents wherever he would like. Let's not make Cole into Jayson Werth 2.0 just because he takes the money and runs.
Of course that all could change with a "Decision" special but I don't see Cole doing that.