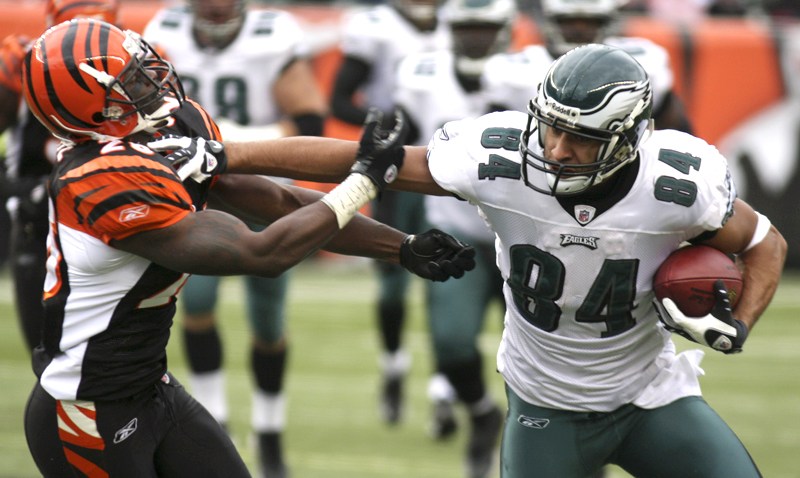 The Eagles have signed a trio of possible free agents to offer sheets -- it just wasn't the trio for which Birds fans have hoped.
Brian Dawkins, Tra Thomas and Jon Runyan remain prone to hit the unrestricted free agent market -- the same can't be said for everyone.
In an expected move the Philadelphia Eagles offered one-year contracts Thursday to wide receiver Hank Baskett, offensive lineman Nick Cole and linebacker Tank Daniels.
The move had to be done before midnight to ensure that the Eagles are protected if the players sign elsewhere.
Baskett and Cole are both restricted free agents. The Eagles will have seven days to match any deal if either player signs an offer sheet with another NFL team.
The Birds would get a second round draft pick in return if they let Baskett or Cole sign elsewhere.
Daniels is an exclusive-rights free agent. The Eagles retained exclusive negotiating rights with the 27-year-old linebacker by offering the one year tender.
Baskett, a.k.a. the soon-to-be Mr. "Girl Next Door," set career highs in 2008 with 33 catches for 440 yards and three touchdowns. The 26-year-old joined the Eagles in 2006.
Cole has played many roles for the Eagles including guard, center and blocking back. The 24-year-old has seen action in 53 total games. He filled in at right guard for the last seven games (including three in the postseason) of last season.
Daniels is currently in his second tour of duty with the Birds. The 27-year-old recorded 18 special teams tackles last season.
NFL free agency begins at 12:01 a.m. Friday.