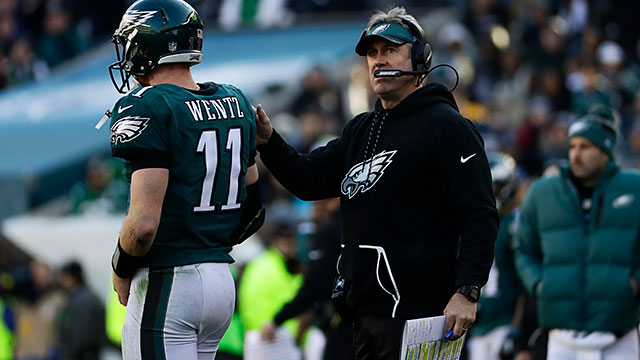 The Eagles' odds of winning the Super Bowl have improved.

But they still aren't looking too great.

Bovada on Thursday released their final future team odds before the 2017 season begins and had the Eagles at 40/1 to win the Super Bowl, a shortening from 50/1 since Bovada's last update. Still, the Eagles are tied with the Titans and Colts for the 16th-longest odds of capturing the Lombardi Trophy.

The Patriots (13/4) and Packers (9/1) were given the best odds of winning the Super Bowl.

The Eagles' odds of winning the NFC (20/1) and NFC East (11/4) have shortened as well, but they still are tied for the 10th-longest odds to represent the NFC in the Super Bowl and trail both the Cowboys (9/5) and Giants (2/1) to win the division.
Bovada's final over/under on the Eagles' 2017 win total came in at eight. The odds of the Eagles finishing with above eight wins have shortened from -130 to -150, while the odds of them finishing below .500 have lengthened from even to plus-120.
So while Bovada's view of the Eagles has improved over the course of the offseason, the sportsbook still isn't expecting them to be serious contenders in 2017.
Copyright CSNPhily