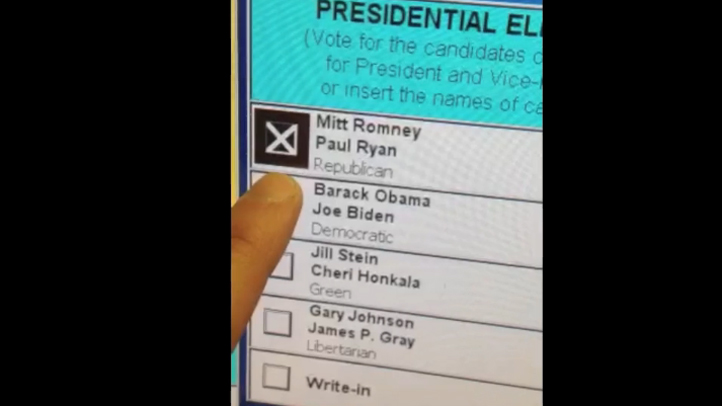 A Pennsylvania man documented his voting issue with his iPhone -- a faulty electronic machine that kept selecting the wrong candidate. The video shows him trying repeatedly to vote for President Barack Obama, and the machine keeps selecting his challenger, Mitt Romney.
Andy Hirsh, a former reporter who is now Director of Media Communications at Bucknell University, shot the video while voting this morning at the Elmcroft of Lewisburg assisted living facility located at 2421 Old Turnpike Road on Route 45 in Lewisburg, Union County, Pa.
The video, posted by Hirsh on Vimeo, shows him trying several times to select Obama and getting Romney instead. WATCH THE VIDEO:
"For me it's really not about Republican or Democrat, it was the fact that this is a sacred and constitutional process to elect the people who will run this country. It is really disappointing that this thing goes on," Hirsh told NBC10 News.
Hirsh says after pointing out that the machine was not working properly, an election volunteer told him to use a pencil eraser to complete the rest of the ballot. This time you can see Hirsh attempting to vote for Attorney General democratic candidate Kathleen Kane but instead the machine selected Republican challenger David Freed.
Hirsh said just before voting he heard an older man, who had just cast his ballot, tell a poll worker that the machine he was using wouldn't let him choose the candidate he wanted. According to Hirsh, the worker responded by telling the man that several voters had also complained about the same machine.
"I though gosh they didn't do anything. I thought they should have done something when voters first made the complaint," Hirsh said.
Hirsh said the election volunteers were cooperative and eventually took the machine out of commission. NBC News reports the machine has been re-calibrated.
Hirsh was eventually able to select the candidate of his choice but fears others may not have had the same privilege.
"We all have an iPad or iPhone that runs flawlessly, but we can't get a machine to elect a president to run smoothly?"
Hirsh said there were about five machines operating during the time that he voted.