What to Know
President Donald Trump announced Thursday that U.S. Rep. Jeff Van Drew will join the Republican party.
Trump also announced he will endorse Van Drew for reelection, calling him a "tremendous asset for the party."
Van Drew was a longtime Democrat who broke with the party to vote against Trump's impeachment.
President Donald Trump endorsed U.S. Rep. Jeff Van Drew during a televised meeting in the Oval Office Thursday as the South Jersey congressman officially announced his switch from Democrat to Republican.
The party flop for Van Drew, who represents New Jersey's 2nd congressional district, was the worst-kept secret in Washington D.C. and Garden State politics this week.
On Sunday, six of Van Drew's staff resigned after initial reports over the weekend indicated that the first-term congressman would leave the Democratic Party over his decision to vote against impeachment.
During the White House appearance, Trump announced he would endorse Van Drew for reelection, calling him a "tremendous asset for the party." Van Drew already faces at least one challenger in the Republican primary next year, and will face a Democrat from an already-expanding field in the general election in November.
"I believe that this is just a better fit for me," Van Drew said of moving to the Republican Party.
A Republican expected to challenge Van Drew in next year's primary, Bob Patterson, issued a press release after the Oval Office appearance calling the congressman "Switcharoo Van Drew."
Van Drew on Wednesday voted against the articles of impeachment as a Democrat.
During his appearance with Trump, Van Drew claimed an unnamed "local county chairman" in the Democratic party told him two weeks ago that he couldn't vote against impeachment.
"I have eight counties in my district," Van Drew said. "He said, 'You will not get the line. You will not get the county. I will do everything to prevent that from happening and everything to destroy you.'"
Van Drew did not name the county chairman during his Oval Office visit, but was apparently referring to Atlantic County Democratic Committee chairman, Mike Suleiman.
"I don't think I said I was going to destroy him or whatever," Suleiman said in an interview with NBC10. "I guess he's having a little bit of hyperbole."
Suleiman then called Van Drew "a piece of garbage" and added, "We're going to have a good candidate. We're going to kick this guy's butt."
Van Drew also described criticism he received from other Democrats when he sponsored two New Jersey bills allowing anyone in a public or private building to display the words "In God we trust," and to fly the American flag wherever they wanted to.
"These were really progressive Democrats that came to me and said, 'We're really disgusted with you,'" Van Drew said.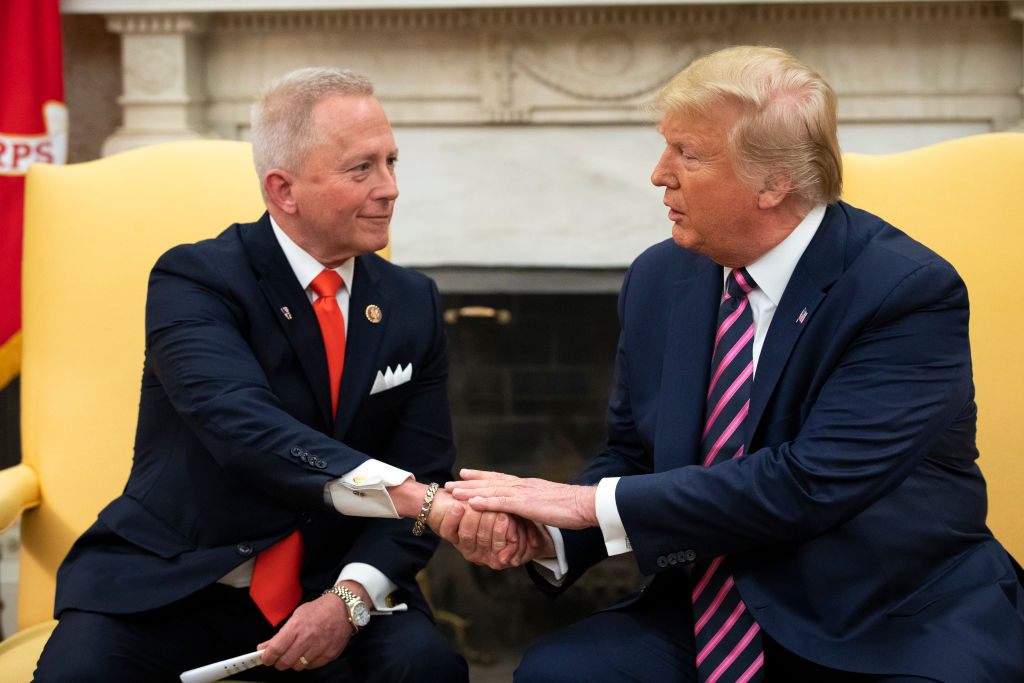 Van Drew also claimed he was criticized by some Democrats for his views on "American exceptionalism."
"I started out as not a wealthy kid. Had the opportunity to work hard. Got into dental school," Van Drew said. "Graduated and my God I'm sitting here next to the president of the United States. That's unbelievable. That's America. So I don't want anybody to ever tell me that there isn't American exceptionalism."
Van Drew, a dentist before he was a politician, previously served as state senator for the 1st Legislative District from 2008 to 2018 and represented the same district in the New Jersey General Assembly from 2002 to 2008.
Van Drew was a conservative state senator before he joined Congress, bucking Democrats on issues including gun control and gay marriage.
Van Drew won his district by 8 percentage points last year, but Trump carried it by 5 points in 2016 and Van Drew was considered one of the more vulnerable House Democrats going into next November's congressional elections.
Van Drew must now figure out how to survive a race in which local Democrats despise him and Republicans don't want him elbowing them aside.
House Speaker Nancy Pelosi said Thursday she had not had conversations with Van Drew about his thinking. Asked by reporters whether she had advice for him, she said, "nothing. Zero."