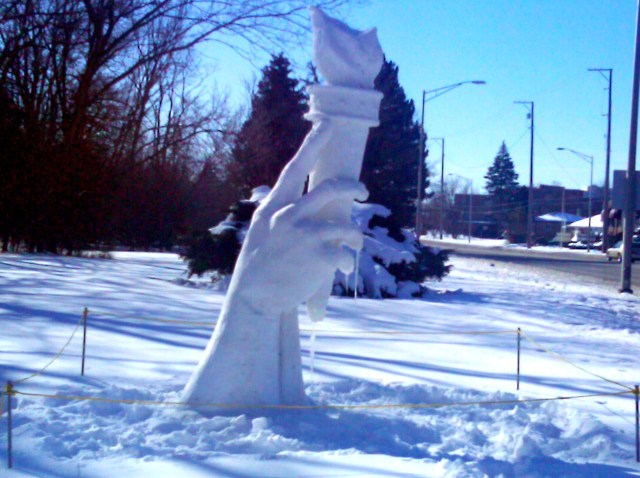 Welcome to Watch List, where we identify five things on TV to watch while you stay at home and prepare for the NFL lockout. Duct tape? Check. Flashlights? Check. Alcohol? Check. Pens and paper to write increasingly angry and incoherent missives to league ownership? Check. LET'S GO!

ICE BRIGADE – 10:00PM (Food Network) You know what's better than a pool table? A pool table made of ICE! And that's what you'll get tonight when you tune into this new Food Network show about a team of ice sculptors from Michigan. Why ice? Because ice is cool… LITERALLY! Watch them in the premiere episode as they carve out an entire ice lounge (sexy!), complete with an ice bar, the afore-mentioned ice pool table, and even an ice sushi station. Oddly, there's no mention of an ice luge here, which I find odd. If you're building an ice lounge, you gotta have that luge. How else will underage drinkers be able to do shots of cinnamon liqueur and then go throw up in the bushes? ANTICIPATION: ICY!

THE BRIDE WAS SEVEN – 10:00PM (OWN) Lisa Ling travels to Ethiopia, which is apparently the Utah of Africa, to examine the custom of child marriages, and how young girls in the country try and avoid such a binding and abusive commitment at such a young age. Bring Kleenex. ANTICIPATION: SAD!

JERSEY SHORE – 10:00PM (MTV) Sammi returns to the house! Oh, thank goodness! I was praying that a wet blanket would come and interrupt everyone's good time! I missed the way Sammi got mad at people for no reason and sat around pouting while everyone else enjoyed themselves. Also tonight, Snooki thinks she has feelings for Vinny (or did she just drink too much eyeliner?), and the Situation hooks up with a girl who smells. Who would have guessed that the Sitch would attract the kind of people who might be deficient in the area of personal hygiene? ANTICIPATION: DRAMA!

WHEN FISH ATTACK – 8:00PM (Animal Planet) Pfft. Fish attacking? You don't scare me, fish. I eat fish like you for dinner. No really, I do. You're delicious. You think I'm gonna be intimidated by a bunch of brainless, salt water breathing losers like y… GAH! PIRANHAS! I FORGOT ABOUT YOU! GET THEM OFF ME! THEY'VE CHEWED TO THE BONE! Don't taunt fish the way I did! ANTICIPATION: ILL-TEMPERED SEABASS!

AMERICAN IDOL – 8:00PM (FOX) The finalists are announced and J-Lo's new video "On The Floor" debuts. This is when the sausage starts getting made, gang. ANTICIPATION: DREAMS CRUSHED!