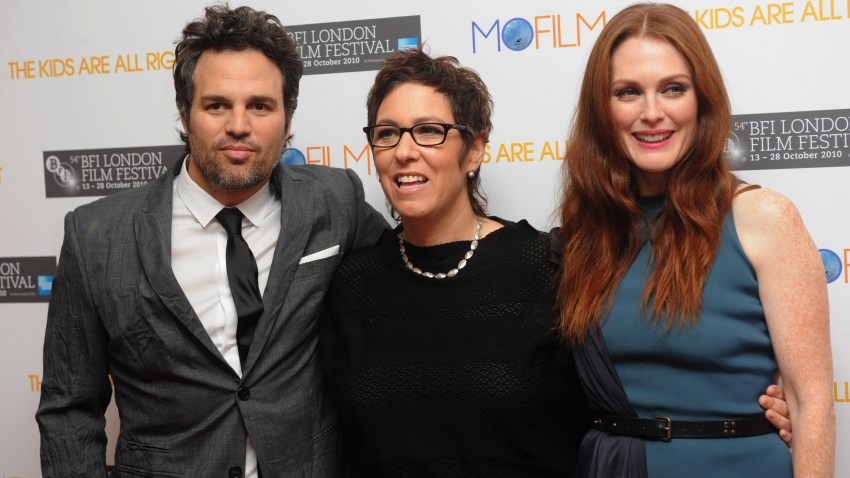 The co-writer and director of "The Kids Are All Right" is pretty all right herself.
Lisa Cholodenko's thoughtful, funny film -- which stars Julianne Moore and Annette Bening as a married gay couple whose lives are upended when their two children seek out the sperm donor (Mark Ruffalo) who helped father them -- was one of the most well-received movies of the year. As it makes its home video debut and lands on the short list of awards season contenders, Cholodenko sat down with Popcorn Biz to reflect on all the things that went right.
"It's definitely beyond where I've been, so it's fresh and fun," Cholodenko told PopcornBiz of the film's trophy-collecting possibilities. "I knew when I put them all together that it's a lot of personalities, and it's an awkward thing to throw everyone together and go, 'We're shooting now -- be a family and be these characters.'"
U.S. & World
Stories that affect your life across the U.S. and around the world.
She added, "You never know, but I do feel like we all started with the exact same spirit for the film, and I think that was the common denominator in a way that grew."
The director recognized that her casting coups were critical in breathing real life into the unconventional, complex characters, particularly critical career woman Nic, whom she found in the form of Bening.
"It's one of those great things where you write a character and you really get a sense of what's driving the character, what their problem is and where they kind of have their blinders on and what they need to learn," Cholodenko said. "When I realized that I needed to have an actress that could do drama with the same precision as comedy, there are very few actors that do that as excellently as Annette Bening. I just kept remembering scenes from 'American Beauty' that killed me. They were just fascinating and heartbreaking and funny. I thought, 'This is her.'"
Cholodenko agrees with the notion that Moore's performances are fueled by fearlessness -- in "Kids" her character Jules indulges in some very realistic sex -- "but she also has sort of boundaries. We didn't spend a lot of time talking about the sex scenes or exactly how it would be shot, but I knew that she wanted them to be done in the way that was best for the film but also respectful of her. It's a different era now with the Internet and stuff. A) It wasn't that interesting to me to just be like, 'Yeah. I want to make film where everyone is naked all the time.' But I also didn't want to have to shoot sex scenes with her in a T-shirt. And she got it. There was never like a debate over it. It was like, 'I know what this requires to make it right.'"
Ruffalo's character Paul presented equal challenges, she says. "He elevated the character to a level, bringing something just by din of personality and persona; that thing that you can't really say what it is that takes the character and what you've kind of drawn out and pulls it to this other level, makes it sympathetic in a way that you never could've written on the page without making it kind of contrived. ... It's a hard thing to pull off and I think that a guy like him is rare."
Of the performances in the film, Cholodenki said it was very "organic."
"I think there was a great balance in this film of being very controlled and specific and almost rigid with the elements of it, and also being incredibly free to let things just happen," she said. "I don't think that you can get that way on a set unless you've really done the hard work with the script, so that you know that you always have this rock-solid blueprint to go back to and you know when you're going astray. So I had the confidence of that because we'd spent all those years writing it, and I had the confidence that I cast it well."
Now Cholodenko, who just inked a series development deal with HBO, is excited with the doors that have opened in the wake of "The Kids Are All Right's" critical and commercial success. "I get scripts and meetings and people are interested in working with me," she says. "I think it's representative of what I love to do and what I've wanted and have kind of pushed myself to do better and better. I think this is a great example of me kind of coming into myself, and I think that people recognize that. It's very validating."