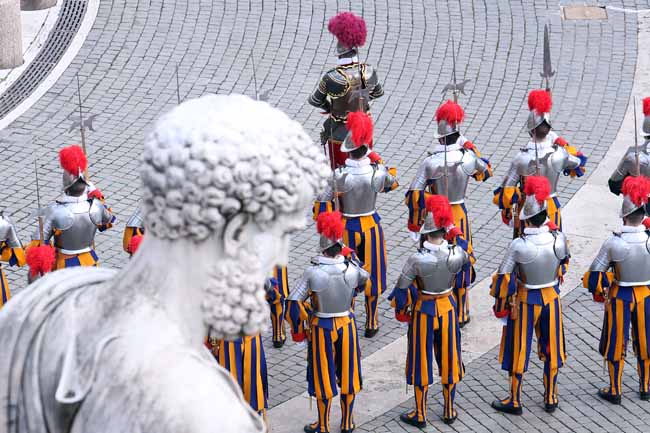 As Pope Francis visits the United States protected by Secret Service agents, police officers and others, those closest to the pontiff will be familiar faces to him: members of his Swiss Guard.
"You can assume that they are always the people right next to the pope," said Andreas Widmer, who as a member of the Swiss Guard served Pope John Paul II and is now director of entrepreneurship programs at Catholic University in Washington, D.C.
Members of the Swiss Guards and Vatican security force or gendarmes travel with the pope, albeit in plainclothes and not the colorful costumes the Swiss Guards are known for, he said.
U.S. & World
Stories that affect your life across the U.S. and around the world.
"You cannot make that man 100 percent safe," Widmer said. "The way you can increase his safety is using your own body as a shield."
The Swiss Guards' long history of protecting the pope, and sacrificing their lives if necessary, dates to 1506. They are his personal body guards, whose mission is to sacrifice their lives if necessary.
A key date in their history: May 6, 1527. As armies of mercenaries fighting on behalf of Emperor Charles V closed in, 147 Swiss Guards were massacred on the steps of the high altar of St. Peter's Basilica. But the 42 who survived allowed Pope Clement VII and his men to escape to safety through the Passetto, a secret tunnel connecting the Vatican with the Castle Sant' Angelo that was made famous by Dan Brown in his novel Angels & Demons. To this day, new recruits are sworn in on May 6 to commemorate the bravery during the Sack of Rome.
Each recruit swears his oath of loyalty with his right hand raised and three fingers open as a symbol of the Trinity: the father, the son and the holy spirit. Their patron saints are St. Martin, St. Sebastian and St. Niklaus von Flue.
The guards carry a halberd, a combined spear and battle ax that came into use in the 14th century, though they also train in the use of modern weapons such as SIG Sauer and Glock pistols, Heckler & Koch submachine guns, tear gas and pepper spray.
The guards have faced scandal as well.
The commander of the Swiss Guards, 43-year-old Alois Estermann, his wife and another Swiss Guard were found shot to death in the commander's apartment in the Vatican on May 4, 1998. The Vatican concluded that the younger guard, 23-year-old Cedric Tornay, had shot the two and then turned the gun on himself, upset that he had been passed over for a decoration.
Tornay's mother refused to believe that her son had committed suicide and insisted his death was the result of a broader conspiracy.