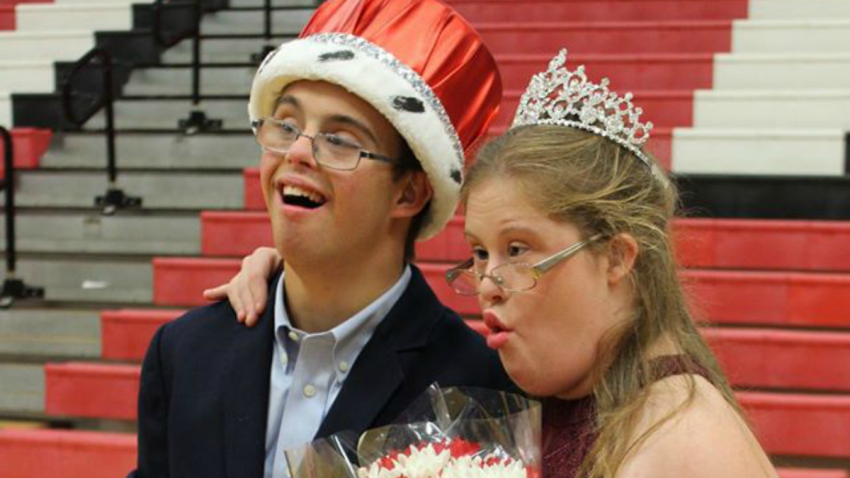 In front of an all-school assembly packed with their peers on Friday, Matt Rodgers and Talia Kotel, who have Down syndrome, were crowned Barrington High School's 2016 Homecoming King and Queen.
The moment they found out was captured on video and posted to the suburban Illinois school district's Facebook page, where it garnered thousands of views and more than 100 shares. [[395524861, C]]
During the pep rally, the nominees for homecoming court each opened cardboard boxes to find out who won. When Talia and Matt opened theirs, blue balloons streamed out as the crowd erupted in cheers. [[395524881, C]]
U.S. & World
Stories that affect your life across the U.S. and around the world.
Several students ran up to hug and congratulate the newly crowned king and queen, some even shedding tears of joy.
"Barrington High School students gave Talia and Matt a standing ovation when they entered the gym for the all-school pep assembly," a spokesperson for the school district said. "Students and staff were crying and embracing when the duo were named King and Queen."
"We are so proud of Talia and Matt and of our entire student body for showing the utmost respect and kindness toward each other."
On Saturday, Talia and Matt rode in a horse-drawn carriage during the homecoming parade down Barrington's Main Street and were honored during the school's varsity football game ahead of Saturday night's dance, which was themed "Once Upon a Time." [[395524911, C]]