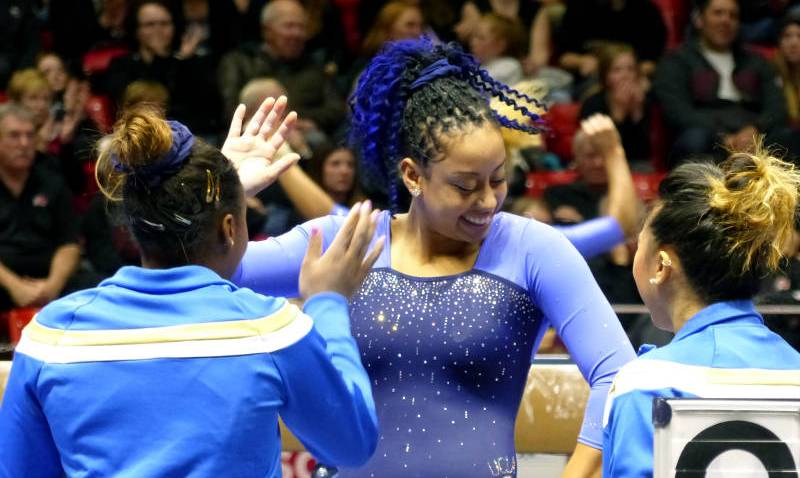 With an enthusiastic whip, nae nae and dab, Sophina DeJesus helped UCLA's women's gymnastics team secure not just a close win, but also national headlines.
After years of perfecting her floor tricks, DeJesus, a star on the uneven bars, found it was her time to shine on the mat last Saturday. Landing a front layout in the splits and nae nae-ing across the floor were just a few highlights from her performance.
"We've wanted to get her on floor for four years," Head Coach Valorie Kondos Field said.
U.S. & World
Stories that affect your life across the U.S. and around the world.
Though DeJesus is not a naturally strong tumbler, her dancing skills, honed from an early career as a professional dancer, earned her the opportunity to compete for the team.
"The crowd deserves to see her perform," Field said. "It actually turned out better than I had hoped."
Competing on the floor for the first time ever, the UCLA senior rocked Pauley Pavilion with a hip-hop-inspired routine, earning herself and her team a score of 9.925 out of a maximum 10 points. By the end of the evening, DeJesus' team reached a season-high score on floor and won by the smallest margin possible in a collegiate competition.
"It's like winning by half of a dunk," Field said.
When the last event, floor, came around, she and the team didn't think they had a chance of winning. "0.025 is like a finger was out of place," she said.
DeJesus' unique choreography is symbolic of the spirit of the UCLA women's gymnastics team. Field, who choreographs the women's routines, incorporates moves with "entertainment value" into her team's floor routines.
"The six routines I put out there is a mini stage event," Field said. "I want the audience to see a different style from each one of our athletes."
Under her guidance, her athletes don't use traditional tactics like playing to the judges and using the floor's four corners to dictate their movement. Rather, they face the audience for their signature moves and make eye contact with their supporters.
"I choreograph the face as much as the whole body," Field said. "I think that's freaky to make eye contact with judges."
Her untraditional style, she hopes, gets students "as excited to see [floor routines] as a slam dunk in basketball."
When senior Danusia Francis does her best James Bond impression or junior Angi Cipra mimes pulling out her phone on the square mat, the student audience plays along with them.
"Every person in Pauley Pavilion is part of the show," Field said. "People have said it reminds them of Pauley when basketball was on a roll and it was standing room only."
The 7,500 people in attendance weren't the only ones that DeJesus wowed on Saturday. Clips of her moves have gone viral on social media, and a YouTube video of her whole routine has racked up more than a million views in three days.
"I knew that if we could bring Soph out there it would bring a level of entertainment that you don't usually see in floor routines," Kondos Field said.