A NASCAR driver died after a crash at a local speedway.
Officials say Jason Leffler crashed during a heat race at a dirt car event at Bridgeport Speedway in Swedesboro, Gloucester County, N.J. on Wednesday. Leffler had to be extricated from his vehicle and was taken by medivac to the Crozer Chester Medical.
The 37-year-old Leffler, a two-time winner on the NASCAR Nationwide Series who had the nickname "LefTurn" above the driver's side window on his race cars, was pronounced dead shortly after 9 p.m., New Jersey State Police said.
"NASCAR extends its thoughts, prayers and deepest sympathies to the family of Jason Leffler who passed away earlier this evening,'' NASCAR said in a statement. "For more than a decade, Jason was a fierce competitor in our sport and he will be missed.''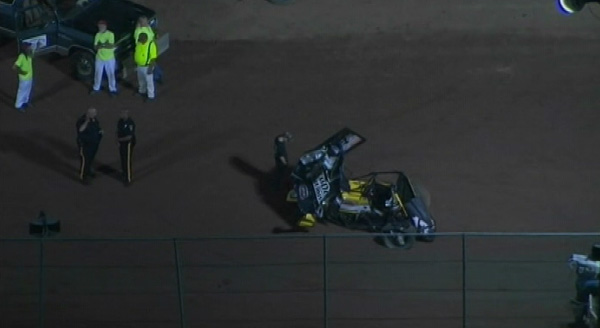 Bridgeport Speedway immediately suspended racing for the rest of the night after Leffler's accident at the 0.625-mile, high-banked dirt oval.

After losing his NASCAR ride, Leffler had been racing dirt car events most of this year, including the 410 Sprint Car race Wednesday that promised a $7,000 prize to the winner at the 0.625-mile, high-banked dirt oval. On Sunday, Leffler finished last at Pocono in his lone NASCAR Sprint Cup start of the year.

From Long Beach, Calif., Leffler made 423 starts in NASCAR's three national series, but won just the two Nationwide races and one Truck Series event in a career that began in 1999. He also made three IndyCar Series starts, finishing 17th in the 2000 Indianapolis 500.

Leffler's last full NASCAR season was 2011, when he ran the entire Nationwide schedule for Turner Motorsports. He finished sixth in the standings that season and hadn't had a steady NASCAR ride since.

Although he never made it at the Sprint Cup Series level, Leffler ran almost the entire 2001 season for Chip Ganassi Racing and ran 19 races in 2005 for Joe Gibbs Racing in the car now driven by Denny Hamlin.
Leffler is survived by 5-year-old son Charlie Dean.
U.S. & World
Stories that affect your life across the U.S. and around the world.
"Really sad for Jason Leffler and his family,'' NASCAR Sprint Cup champion Brad Keselowski said on Twitter. "Thinking about his little boy.''
This crash once again shows the dangers that drivers must face every time they take the track.
A little more than two weeks ago, 22-year-old driver Josh Burton died of injuries sustained in a crash at Bloomington Speedway in Indiana. In late May at a dirt track in Nevada, two drivers were killed in a race. In March in California, two people were killed when a car careened off a dirt track and crashed on pit road.
Sprint car races can be more dangerous for drivers and spectators because the safety measures taken by series aren't at the same level. Many facilities lack the SAFER barriers that are standard in NASCAR and IndyCar, and the cars aren't always adequately protected.
Copyright AP - Associated Press