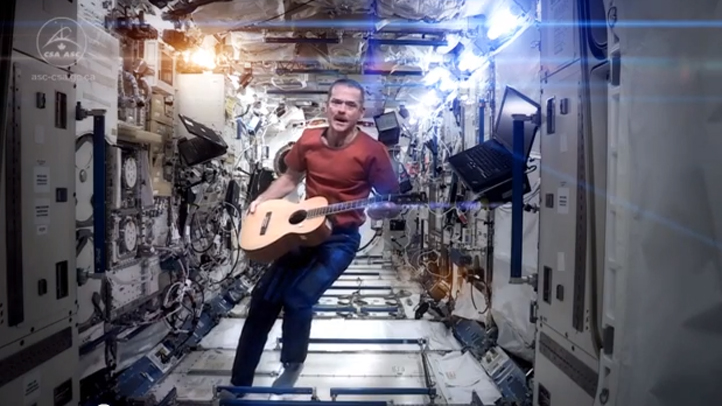 Commander Chris Hadfield gave new meaning to the song "Space Oddity" when he bid farewell to the International Space Station with his own music video rendition of the David Bowie classic.
The Canadian astronaut ended his five-month stint on the I.S.S. by tweeting his over 821,000 followers the YouTube video on Sunday. He is seen "floating in a most peculiar way" through the space station with guitar in hand, as spectacular views of Earth loom in the background.
The video went viral with over 2.7 million views as of Monday evening.
U.S. & World
Stories that affect your life across the U.S. and around the world.
With deference to the genius of David Bowie, here's Space Oddity, recorded on Station. A last glimpse of the World. youtube.com/watch?v=KaOC9d… — Chris Hadfield (@Cmdr_Hadfield) May 12, 2013
Among those more than 2.7 million viewers was the man behind the song himself.
"It's possibly the most poignant version of the song ever created," David Bowie called Hadfield's performance on his official Facebook page. He described the video as "breathtaking."
Among the collaborators on the project was musician Emm Gryner, who was once part of Bowie's live band. In a blog post she described how the video was made.
"The task was in front of me. I came up with a piano part. i then enlisted my friend, producer and fellow Canadian Joe Corcoran to take my piano idea and Chris' vocal and blow it up into a fully produced song," Gryner wrote. "Drums! mellotrons! fuzz bass! We also incorporated into the track ambient space station noises which Chris had put on his Soundcloud. I was mostly blown away by how pure and earnest Chris' singing is on this track. Like weightlessness and his voice agreed to agree."
Hadfield has been tweeting a series of YouTube videos from the space station to drum up awareness and excitement for space travel. He's demonstrated how to open a can of soda, clip your nails and make a peanut butter sandwich in space — and what crying looks like in zero gravity.
The 53-year-old space traveler, along with NASA astronaut Tom Marshburn and Russian cosmonaut Roman Romanenko, landed in a Soyuz capsule in Kazakhstan on Tuesday morning, around 8:31 a.m. local time.