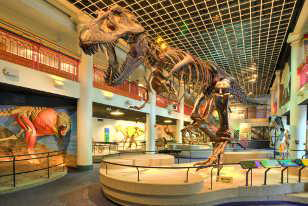 Unearth your inner paleontologist on Saturday Feb. 14 and Sunday Feb. 15 at The Academy of Natural Sciences of Drexel University.
The two-day, fossil-centric festival invites both children and adults to learn about fossils and extinct reptilians, through a series of activities and events.
Scientists will be present on site to showcase rare Devonian fossils they dug up in Central Pennsylvania.
Local
Breaking news and the stories that matter to your neighborhood.
You can expect to take a stroll through Dinosaur Hall, engage in fossil hunts and participate in discussions about dinosaurs.
You can even meet Buddy T-rex, the star of Dinosaur Train!, as he walks through the museum and learn to draw a dinosaur like a professional, as paleo-illustrator Jason Pole demonstrates how to bring the drawings to life.
Admission is $15 for individuals over 13 and $13 for children from three to 12, and includes access to all programming.
Tickets can be purchased at The Academy of Natural Sciences website.