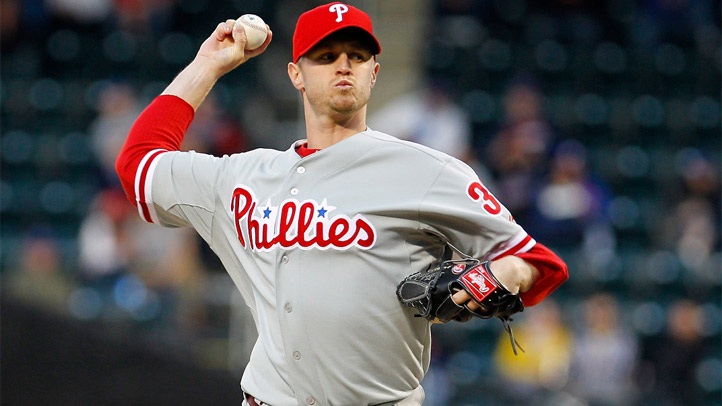 For the longest time, it seems, Kyle Kendrick never got any respect. Following his 2007 rookie season when he was called up from AA to help fill out the rotation, things got a bit rough for the starter. After putting up a 5.49 ERA in 155 innings in 2008, he was shuttled back and forth between roles and the minor leagues, and he was never really a big part of the organization's plans.

A big reason for that, is, well, he wasn't that good. It's not like he was pitching batting practice every time he took the hill, but was a league average pitcher, at-best. Between 2007 and 2011, Kendrick split time between the rotation and the bullpen when he wasn't plying his trade in the minor leagues. In 598.1 innings with the Phillies in that span, he has a 43-30 record, with a 4.1 K/9 and a 4.41 ERA, and a just below average ERA+ of 96.

That performance is what made his two-year contract for $8.5 million for 2012 and 2013 so questionable when Ruben Amaro handed it out in 2011. It's not that Kendrick was a bad pitcher, because he provided the Phillies with a rubber arm that was able to spot-start when needed, while providing valuable innings in long relief.

What no one expected, however, was that Kendrick would turn his career around midway through the 2012 season, when he went from being a long reliever and spot starter into a legitimate starter with upside. After being a punching bag (4.86 ERA) in his first 96 innings of work, Kendrick figured it out and had a 2.73 ERA in his final ten starts (64 IP) of the season. That success has mostly carried into 2013, although he does currently sport a 3.94 ERA in 130 innings. At times, he can get beat up due to his relatively low strikeout (5.6 K/9) rate, but more often than not in 2013, he's put the Phillies in a position to win, by allowing three or fewer runs in 13 of his 20 starts, while pitching fewer than six innings in just five of his starts.

He isn't the perfect starter, and he probably isn't the guy you want on the hill in Game Seven, but if a team needs solid innings at a low cost, then it doesn't get much better than Kendrick, who is set to earn all of $4.5 million this season, and who won't be a free agent until after the 2014 season.

We talked about the market for third baseman and for second baseman recently, but if there is one thing that the Phillies have going for them, it's that every team can use pitching. Rarely do teams make it into August with a full dance card of starting pitchers (not even the 2011 Phillies were immune to injuries), and even the best teams could use an extra starter. They say that you can never have enough pitching, and the Phillies would be foolish not to dangle Kendrick on the market to see if any teams would be willing to part with a prospect or two in exchange for the services of the 28-year-old right-hander.