UPDATE: For our newest forecast, click here for a story from NBC10 First Alert meteorologist Krystal Klei posted Saturday afternoon.
A nor'easter is developing for Monday into Tuesday, but what effects we'll see still remains unclear.
Several computer models that we rely on to forecast an impending storm's track are not in full agreement, but as of Saturday morning, two of three models gave an early impression that the storm was tracking out to sea, according to NBC10 First Alert meteorologist Krystal Klei.
"It would not be nearly as impactful as those last two nor'easters have been," Klei said of the current models. "Could that change? Absolutely."
Still unsettled tracks could result in vastly different effects ranging from just clouds to heavy snow.

We expect to have a clearer picture by Saturday afternoon, but we wanted to share what we know right now so you're prepared for whatever may come.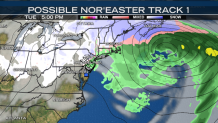 Here's what we know right now:
Local
Breaking news and the stories that matter to your neighborhood.
A nor'easter will form, but how far out to sea will it spin? There's no doubt that the system is coming. The real linchpin is how close to the New Jersey coast the storm tracks. Closer means rain, snow and wind for us. Farther means some clouds or maybe no clouds at all.
The storm will visit the area late Monday into Tuesday. Whether far out to sea or near the beaches, we will see another nor'easter. It will most likely arrive later Monday and could last through Tuesday.

The pattern is the same. The past two nor'easters have developed in five day cycles. This storm is following the same pattern.
Here's what we don't know:
What time on Monday, Tuesday would be the worst time to travel?

Will there be snow? If so, how much?
What parts of the area will be hardest hit?

When will we break out of this pattern?
Since there's still a lot of uncertainty with this storm, it's important that you check back with us a few times over the weekend. We'll certainly be updating our forecast as often as possible.
Download the free NBC10 app to stay up-to-date. We'll send you alerts on major updates on the storm as we get them. Tap here to download.