The big spring/summer-like warm-up continues! We're stuck in a warm pattern, and this will lead to afternoon temperatures 25 to 30 degrees above "normal," or average. Average high for this time of year is 50 degrees. We're still in winter though, in case you forgot. . . Spring officially starts March 20.
So what's responsible for the big warm-up? An area of high pressure to our south that hasn't budged much over the past couple of days. Air flows clockwise around high pressure, and the placement of this high is sending us a southwest wind. This is a warm wind direction since the warmer air sits to our south. This wind is pulling up the warmer air mass, thus leading to unseasonably warm temperatures for our area.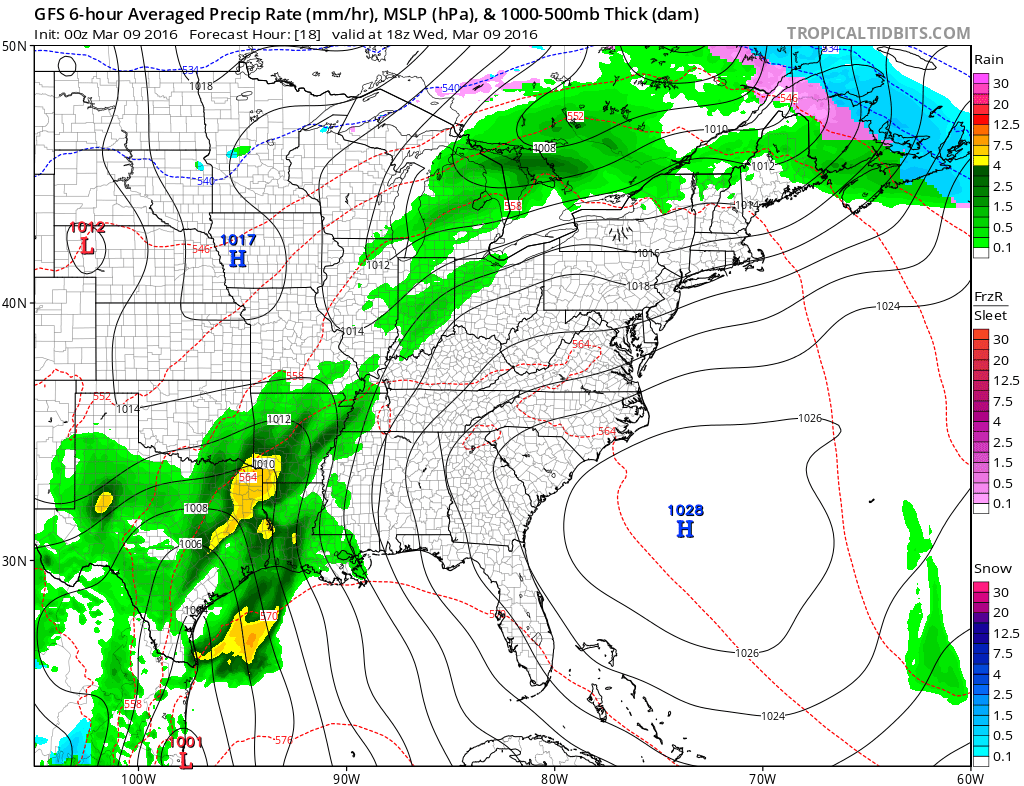 Most areas have record highs for Wednesday in the mid-low 70s. But we expect to be around 5 degrees above that. And we stay sunny.
Now look at the weather pattern below for Thursday. . .
Pretty much the same pattern will be in place, although winds may be in more from the west Thursday, but still a warm wind direction for us. Record highs also expected to be broken Thursday. Most areas have a record high in the mid-70s for Thursday, and we should be a couple degrees above that, with some areas being around 80!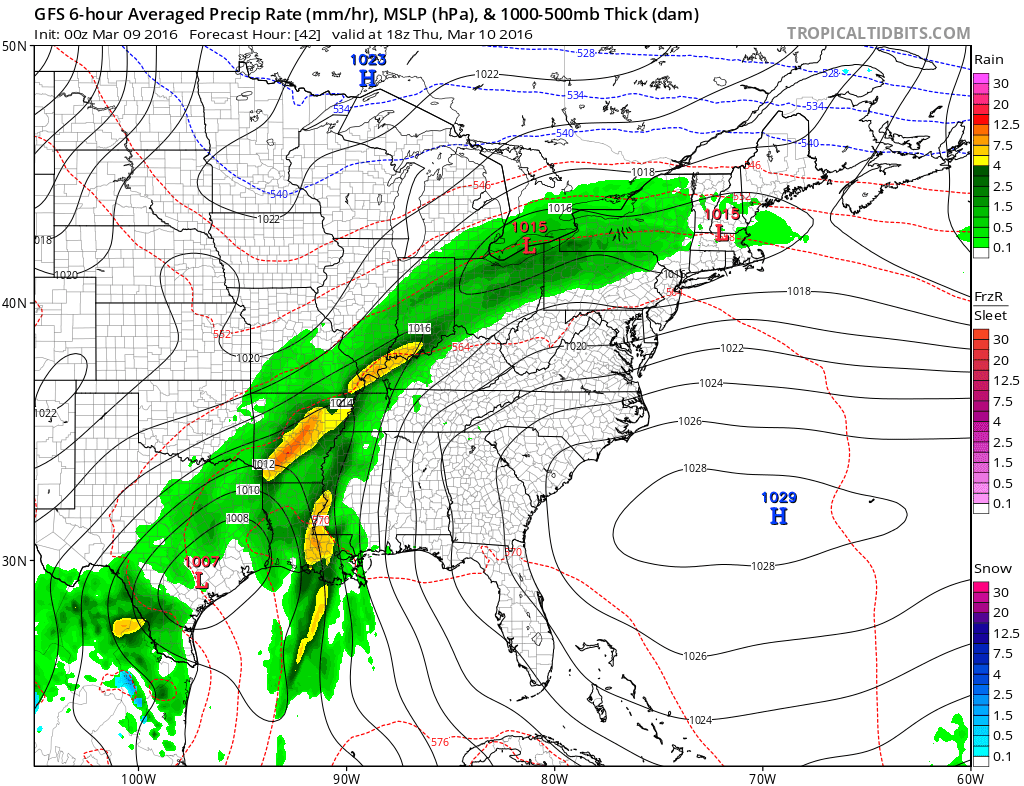 Friday things start to change. A cold front will move through (where you see the green, which is rain) overnight Thursday into early Friday. At this point we can't rule out a few light showers, but it shouldn't be a big deal. Some showers could linger into Friday morning, but it looks to be breaking up as it moves through the area.
Friday looks to be a dry day after the cold front moves through in the morning. But now a different weather pattern sets up for Friday and into the weekend. Now an area of high pressure will sit to our northwest, and with the clockwise flow around the highs, we'll see a northerly wind develop. This will pull down a cooler air mass. "Cooler," relatively speaking, to the record highs we'll see this week. By that, I mean temperatures will drop in to the mid-upper 60s for Friday. This is still 15 degrees above our normal high of 50 degrees.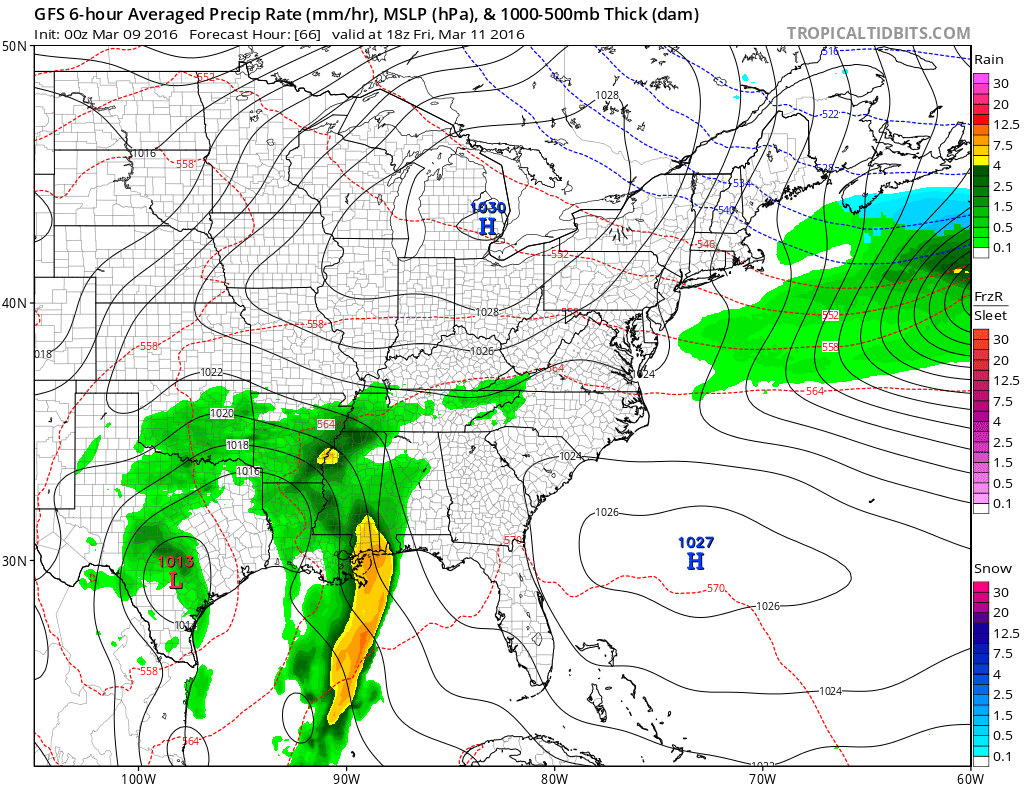 Over the weekend we should be in the mid-60s with the most likely chance for rain on Sunday into Monday.
The big question: Will we see snow again before next winter?
Local
Breaking news and the stories that matter to your neighborhood.
Answer: Chances look low. However, I wouldn't completely rule out a quick shot of colder air before we get stuck in the warmer pattern. We've seen snow in March, and April, but if any were to fall it would have a hard time accumulating. Remember: we are still in the El Nino pattern, and El Nino has been historically strong this time around, and it's not done yet. El Nino is responsible for large temperature swings and wild weather patterns.
Although chances are low, next winter looks more promising for our next snowfall. Some models are showing us getting cooler by the middle to end of the month.