The young sons of a Montgomery County sheriff's deputy died as fire tore through their home less than two weeks before Christmas. The blaze left the boys' parents and young sister hurt.
Flames broke out Wednesday morning around 5 in the Schwenksville, Pennsylvania home Deputy Sheriff Bryan Lukens shares with his wife Tracy and their three children along Summit Avenue, the county said in a news release.
Lukens, his wife and their 9-year-old daughter, Soffia, made it out of the home. Bryan Jr., 11, and Parker, 6, died on the second floor, state police said.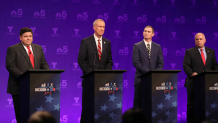 "Please pray, pray for this family, especially now around the holidays... this is a horrible tragedy," neighbor Kim Munsell, who saw flames shooting from the home, said.
Tracy and Soffia were treated for injuries and able to join Deputy Lukens, who remained hospitalized Wednesday afternoon. Lukens is expected to be released later in the day, the county said.
Friends set up a gofundme page to help the family.
"Our thoughts and prayers are with the Lukens family as they grieve their losses," Montgomery County Sheriff Sean Kilkenny said.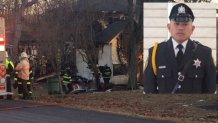 Flames burned through parts of the home, which sits in a neighborhood near Perkiomen Creek. It took crews about 30 minutes to bring the blaze under control, police said.
Local
Breaking news and the stories that matter to your neighborhood.
Investigators could be seen using a drone and sorted through debris as they searched for a cause of the deadly fire.