At least two people were believed to be dead Thursday afternoon following an explosion and subsequent row home fire in South Philadelphia that engulfed two houses and appeared to damage others.
"We have pretty good confidence that there are two people who are missing and presumably deceased," Philadelphia Fire Commissioner and Emergency Management director Adam Thiel said Thursday evening.
But rescuers were still putting out "pockets of fire" in the homes, which were at risk of collapse. Thiel wouldn't rule out that there might be other people in the rubble, which stretched into the street.
The explosion happened before noon Thursday. Firefighters raced to save nearby homes from the destruction as flames raged on S. 8th Street, three blocks from the iconic Pat's and Geno's steak shops.
The destruction was immediate and created smoke plumes that could be seen for miles in wind gusts that reached 20 miles an hour. Thiel said the fire was "gas-fed."
Fire officials told NBC10 that they had received numerous calls reporting an explosion prior to the blaze, but an exact cause of the fire remains unknown.
Thiel said firefighters could see the legs of at least one person in the rubble, but were not able to reach that person. Police initially said two people were trapped. Thiel said additional people may be unaccounted for and called for families to report missing loved ones.
Local
Breaking news and the stories that matter to your neighborhood.
"We're not giving up. We don't ever give up," Thiel said.
The commissioner said rescuers were attempting to search another collapsed home. Meanwhile, they were also able to search an adjacent building that was damaged, but only got about 80% through because of the structural danger, Thiel said, adding that a person could still be inside that building.
Some 60 people were evacuated from the block as the danger of more collapses persisted and a sinkhole appeared to start forming under the street, Thiel said.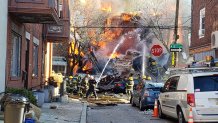 At least 32 people have died in fires in Philadelphia so far in 2019, the highest death toll since 2014.
"I don't know that this is a trend," Thiel said in an interview in November at the graduation of the 196th class of new firefighters. "We certainly hope it's not a trend."
The quick-moving fire caused the roof of at least one home to collapse as flames raced through adjoining structures and sent thick, black smoke billowing into the air. Thiel confirmed witness reports that at least one woman was trapped in the debris as firefighters attempted to rescue her.
"They went into a fully-collapsed building that was on fire to try to rescue somebody," Thiel said.
More than 100 people, including firefighters, medics and police officers responded to the blaze, the commissioner said.
"We have firefighters on rooftops here, still fighting fire into the area of the collapse," Thiel said, adding that firefighters were going door-to-door to account for people who might be missing.
Electricity and gas were being shut off on the surrounding area as first responders continued to fight the flames and look for people, a task made more difficult by the fact that Philadelphia Gas Works employees had to jackhammer into the ground to reach the valve that would allow them to turn off the gas, Thiel said.
A few firefighters could be seen on an adjacent roof, and a ladder truck had its ladder extended to the top of a nearby apartment building.
Winds were blowing about 12 miles an hour, with gusts up to 20 miles per hour, at the time the fire began. A huge plume of black, then gray and white, smoke streamed from the homes as firefighters hit the blaze with water.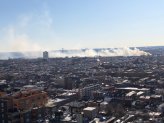 The smoke was visible for miles as it flowed east across South Philadelphia in the strong winds.