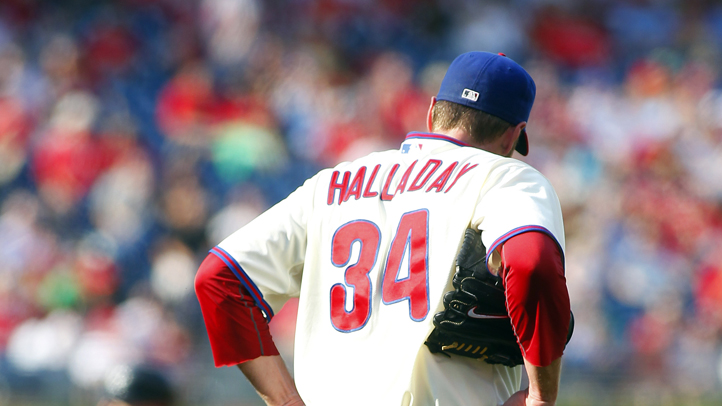 It will be quite some time before we see Roy Halladay on the mound again, but that didn't stop the right-hander from taking a few moments on Friday afternoon to address the fans following the announcement that he will be undergoing shoulder surgery. Matt Gelb of the Inquirer has the details of the apologetic Doc:
"It's tough," Halladay said. "You feel an obligation to the organization, to your teammates, to the fans to try to go out and pitch. Especially on a competitive team that sells out. For me, that was a big factor. If I'm playing for a last-place team, and there's things going on, you maybe speak up. But we have a chance to go win a World Series, and we have sellouts, and fans have expectations. You want to do everything you can to try to make it work.

"Really, that was a lot of the reason I tried to keep going... I just wanted to reach out to the fans, thank them for their support, and apologize to the ones who pay the money and show up in the second inning and it's 9-0. I apologize to the fans that I won't be out there for three months."


It was one of the most unexpected – and not entirely necessary – gestures that I've seen from an athlete in recent years. Most ballplayers, while they would feel remorseful about missing time due to injury, don't publicly convey that to the fans, especially not in such a candid fashion. It doesn't make them wrong, it just makes them human.

But Halladay, as we've seen, isn't so much a human as he is a cold, emotionless machine whose prime directive is to set down hitters with extreme prejudice. Despite his predisposition to remain indifferent to the things that we humans call "emotions," his drive to be the absolute best pitcher in the game apparently does not preclude him from recognizing that the game is bigger than just himself. The fans, as fickle as they can be, played a big role in Roy – and some of the other big names – coming to Philly. They packed the stands on a nightly basis and allowed the Phillies to increase their payroll so they can afford the Halladays and Lees and Papelbons of the world.

Despite that, I don't know that the fans actually deserve an apology from a player who is quite literally leaving everything on the field. Had Halladay gotten complacent and lazy after he signed his contract extension, then perhaps an apology would be in order for not living up to his end of the bargain. But considering all Doc has done – the Cy Young award, the perfect game, the no-hitter in the playoffs, and the overall dominance exhibited by the Ace – the last thing he needs to do is apologize for his body breaking down.

Still, it speaks to his character that he took the time to recognize the fans in a way to make amends for all that has transpired this season. It might not have been necessary, but that doesn't make it any less meaningful.