What should have been a simple Uber ride to the airport turned into an early morning disaster for a Montgomery County, Pennsylvania, woman. She was allegedly kicked out of the car by a drunken driver and left stranded on the Pennsylvania Turnpike.
In the lawsuit, filed Monday in Philadelphia Court of Common Pleas, Carla Guzman claims her driver behaved erratically and belligerently shortly into their June 2017 trip from Abington to Philadelphia International Airport.
She accuses Uber of deliberately misleading passengers about the safety of its drivers, and calls the service a "complete and total sham," according to court documents.
Guzman's nightmare started around 4:35 a.m on the morning of June 21 when her driver arrived 15 minutes late for a trip she had pre-ordered the night before. When Guzman climbed into the car, she was greeted by a "disheveled" driver whose car reeked of cigarette smoke and was littered with laundry. The driver slurred her speech, Guzman said.
The two women took off, but Guzman soon complained to her driver - identified only as "Rachel" - that she was taking a longer route to the airport and should instead use the turnpike, according to the lawsuit.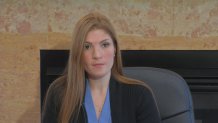 Rachel "became oddly agitated over the simple request and began acting in a deranged fashion," according to court documents. When she approached a toll booth, Rachel did not stop to retrieve a turnpike ticket and instead repeatedly asked if Guzman could pay the toll because she did not have an E-Z Pass transponder. Guzman did not have cash, and offered to pay the $41 fine or get money from the airport ATM to pay Rachel back.
Local
Breaking news and the stories that matter to your neighborhood.
The driver agreed, but Guzman noticed Rachel "had bloodshot eyes" and "seemed disoriented," according to court filings. She began to scream and curse at Guzman while "banging her hands on the steering column."
"It makes no sense to me. How can you be a driver in Pennsylvania and not know you need an E-Z Pass to enter the turnpike?" Guzman told NBC10.
She scanned GPS for the nearest place to safely get out of Rachel's car. When it become obvious the two women were 20 minutes from the nearest exit, Rachel allegedly slammed on her brakes and forced Guzman out of the car, with her luggage, near the Route 309 exit.
Guzman dragged her bags a quarter-mile to a nearby Best Western Hotel, where she had to throw her luggage over a tall fence and climb to safety, she said. From there, Guzman called a taxi and eventually made it to the airport more than two hours after her trip began.
She missed her flight.
After the incident, Guzman contacted Uber several times to complain but claims she was never taken seriously. The company gave her a $41 ride credit, not a reimbursement, Guzman said.
Uber confirmed to NBC10 that Rachel was suspended from using the app but would not comment on pending litigation.
According to its safety guidelines, drivers undergo a "thorough screening process to ensure they are fit to drive passengers." Prior DUI convictions and speeding tickets can be used to reject potential drivers.
But Guzman's attorney, Matthew Luber, contends that Uber intentionally misleads passengers about the fitness of their drivers.
"Time and time again, incident after incident, lawsuit after lawsuit, we are seeing sexual assaults, drivers being impaired or intoxicated, and we have yet to see any meaningful change from the company," Luber told NBC10.
When Uber failed to address Guzman's concerns directly, she took her complaint to the Pennsylvania Utility Commission, which oversees public services and utilities in the state.
"One of Uber's main defenses is that they're a technology company, that they're not a transportation company, and we think that's false," he said. "They have a responsibility to consumers that they're getting from point A to point B in a safe manner."
Guzman's lawsuit accuses Uber of negligence in the hiring, training and supervision of drivers; misrepresenting its services as safe and its drivers as reliable; and intentionally causing emotional distress to Guzman. She is seeking monetary damages.