State police and local police are investigating after a woman's body was found at Neshaminy State Park Saturday.
According to police, the body was found in the park Saturday by a visitor earlier in the day.
The woman's body was taken to the medical examiner for an autopsy to determine a cause and manner of death.
The woman is described as a black woman between the ages of 40-50 years old with the name "Lisa" tattooed in script writing on her upper right arm.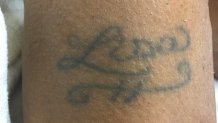 Anyone with information on the victim's identity or the investigation should call the PSP Trevose Criminal Investigation Unit at 215-942-3900.