A teenage boy jumped into action and helped rescue three children who fell through an icy pond in Collingdale, Pennsylvania, on Monday.
The children were standing on a frozen pond at Collingdale Park off Jackson and Hibberd avenues Monday afternoon when they fell through the ice. Anthony Alexander, a 16-year-old student at Academy Park High, spotted the kids and rushed towards the ice to try and save them.
"It seemed like they were just accepting their fate," Alexander said. "So I jumped in and grabbed a stick and pulled one little kid out and the other girl was close enough for me to reach her so I pulled her in too."
Alexander grabbed a branch and ventured onto the ice himself but started to fall through.
"I was shocked. That's how cold it was. My body went into shock," Alexander said.
As Alexander struggled to save the children, Yeadon Borough police officers drove to the scene but crashed into another squad vehicle on Beechwood Avenue. Fortunately none of the officers involved were seriously injured.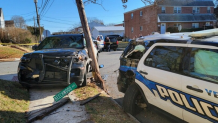 Another officer arrived at the pond and helped Alexander pull all the children to safety.
Local
Breaking news and the stories that matter to your neighborhood.
"They were like, 'Help me. Help me. We're going to die.' I was like, 'Nah, you're not going to die,'" Alexander told NBC10.
The children were taken to the hospital for an evaluation and are all physically fine. Alexander, meanwhile, hopped back on his bike and continued riding through the area, knowing that three kids are alive thanks in large part to his heroic actions.