Police are searching for a man who was caught on surveillance video urinating on a Northeast Philadelphia synagogue over the weekend.
The unidentified man first approached the front doors of the Congregation Beth Solomon on 198 Tomlinson Road Sunday at 12:30 a.m. Surveillance video shows the man pointing the middle finger towards the synagogue's surveillance video camera. He then urinates on the walls and sidewalk directly in front of the building's doors before fleeing in a white four-door sedan.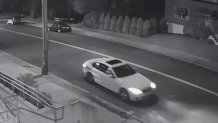 The Anti-Defamation League released a statement Monday condemning the vandalism.
"We are revolted by this most recent display of anti-Semitism in Northeast Philadelphia," said Nancy K. Baron-Baer, ADL Regional Director. "We've seen vandalism targeting Jewish institutions in the region before, but this latest incident turns the stomach. The amount of hate a person must feel to desecrate a house of worship in this way is incomprehensible and contemptible."
The incident is the third time in less than a year Congregation Beth Solomon was vandalized. In September of last year, a vandal stole a large menorah outside the synagogue though it was later returned. In January the shopping center housing the synagogue's ritual bath was spray painted with graffiti.
The ADL stated in their release that there has been a three-year increase in anti-Semitic activity in Pennsylvania and that the 67 incidents they recorded in 2016 were the most in the state in nearly a decade.
The suspect in Sunday's vandalism is described as a thin man with a light complexion, approximately 20-years-old, with a short beard and black hair. He was also wearing a white shirt and jeans.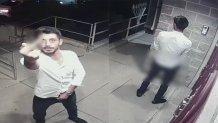 If you have any information on his whereabouts, please call the Northeast Detective Division at 215-686-3153/3154.