Jurors will continue to deliberate Monday in the trial of two Philadelphia Police officers accused of doling out an unjustified beating to a man in North Philadelphia's Fairhill neighborhood in May 2013.
Former officers Sean McKnight, 31, and Kevin Robinson, 28, both face charges including aggravated assault, conspiracy and related offenses.
The charges stem from the ex-cops' May 29, 2013 encounter with Najee Rivera, 23, as Rivera rode a scooter on 6th Street near Cambria and the officers attempted to stop him for a traffic violation. Rivera fled, authorities have said, but McKnight and Robinson caught up with him, knocked him off his scooter and severely beat him, leaving him with a broken eye socket and gashes in his head that required staples.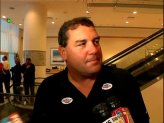 The officers said Rivera, who they believed was a drug courier, attacked them when they stopped him, prompting them to use force to subdue him. Rivera was initially charged himself with aggravated assault, resisting arrest and other offenses. The Philadelphia District Attorney's Office, however, withdrew those charges after Rivera's girlfriend found and publicized surveillance video of his entire encounter with the officers.
When D.A. Seth Williams announced the charges against the officers, he said that Rivera could be heard screaming for help on the audio in the surveillance video.
Attorneys for the former officers have argued that their use of force was justified and that Rivera put up a fight when they tried to arrest him.

Local
Breaking news and the stories that matter to your neighborhood.
Rivera died in December two weeks after he was shot during a street fight in Kensington. The case against Robinson and McKnight went to jurors on Friday.