TAKE-OFF DAY IS STORMY
There hasn't been a lot of rain this month, but when there has been some rain around, it's been heavy at times, and with gusty thunderstorms, too. Friday should be one of those days. But don't let it give you the idea that the whole holiday weekend will be wet and stormy.
Here are the computer model maps for Friday at 8 a.m. and 8 p.m.: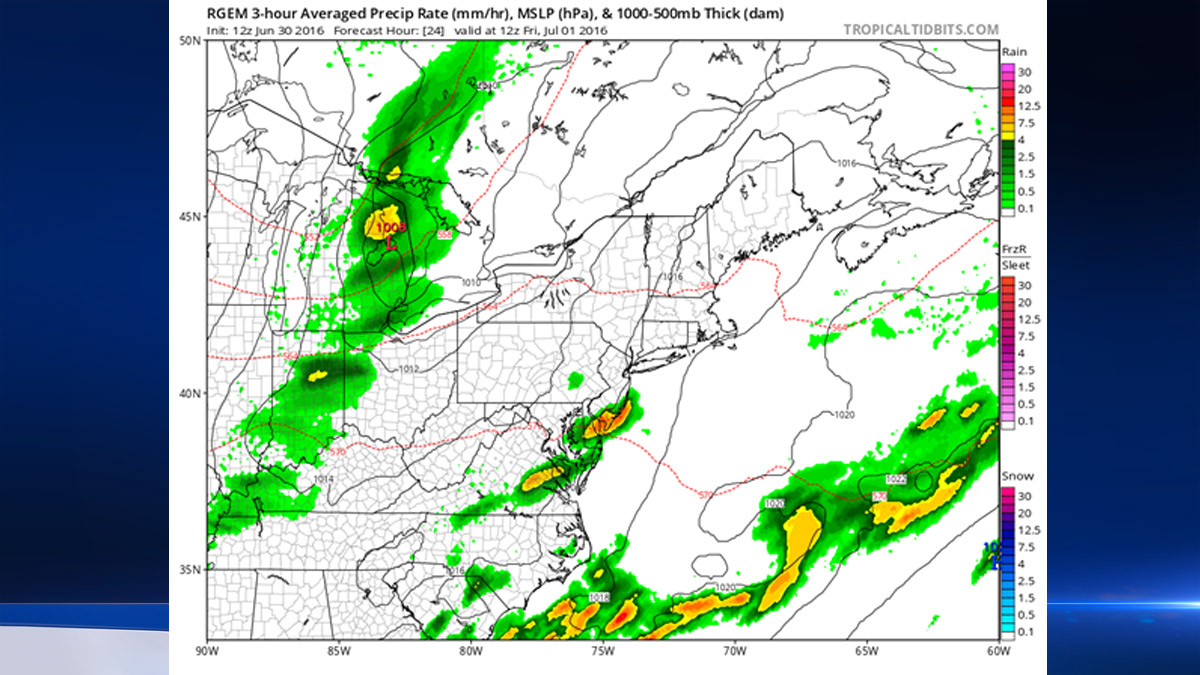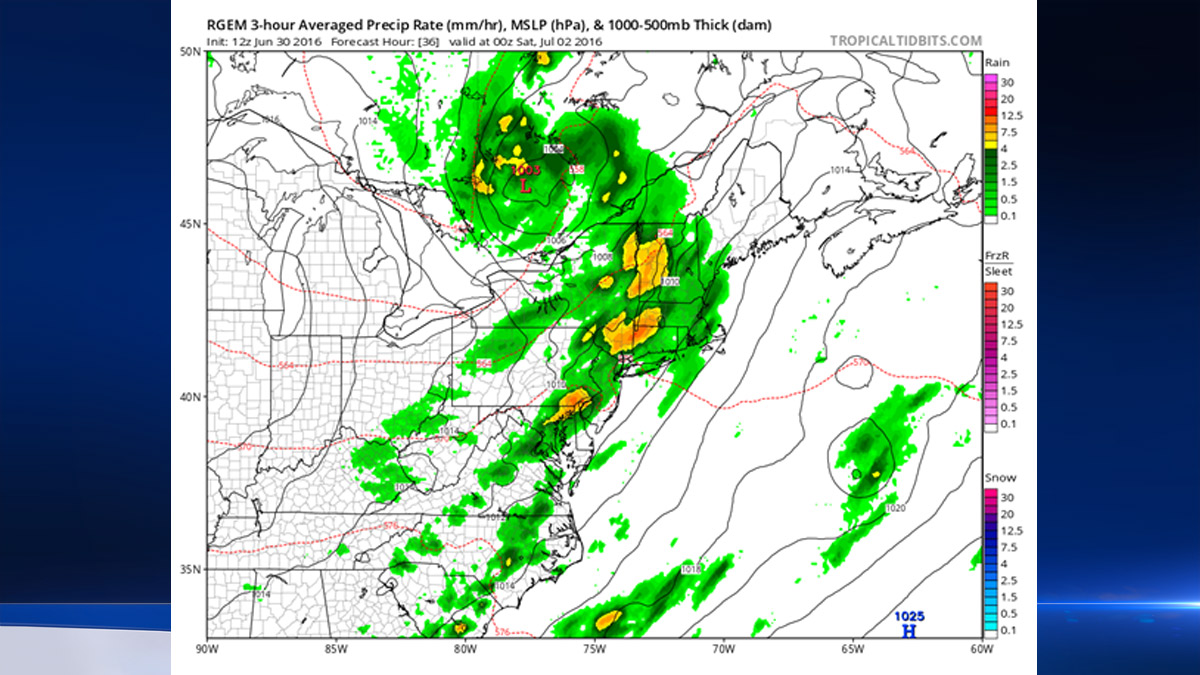 The top map shows locally heavy showers and storms at the Jersey Shore and the Delaware beaches. The bottom one shows a separate area that will develop west of our area and move in late in the day.

NICE WEATHER SATURDAY AND SUNDAY
The best weather of the weekend will come Saturday and into at least a part of Sunday. HIGH pressure will build in behind the Friday night storms, giving us a lot of sunshine and lower humidity. Then things get interesting. (When a meteorologist uses the word "interesting," chances are you're not going to like what comes after that word.
THE SUNDAY/MONDAY QUESTIONS
For Sunday, the question is how much sunshine different parts of our area will see. In general, one area of moisture will be sitting just south of the area Sunday morning (see below):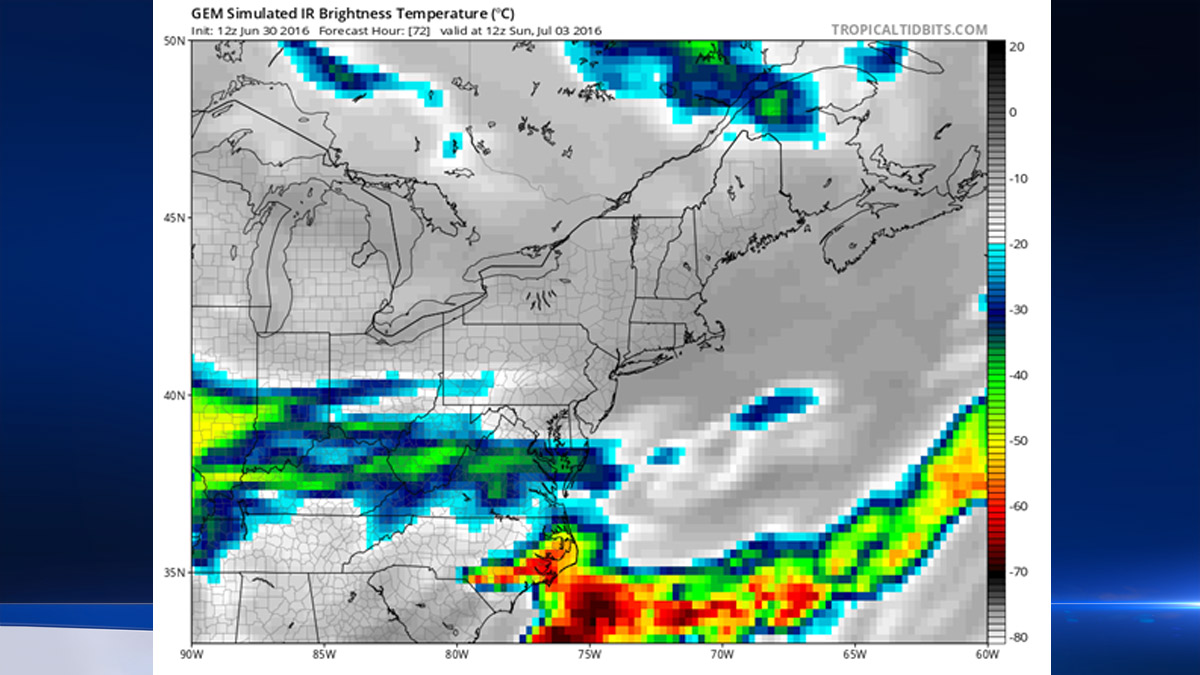 The colors represent clouds (the brighter the color, the thicker the clouds). Notice a band of clouds in southern Delaware. That's pretty close to the beaches. Obviously, the farther north you go, the greater the chance of full sunshine Sunday.

Here's the same map for Monday at 8am: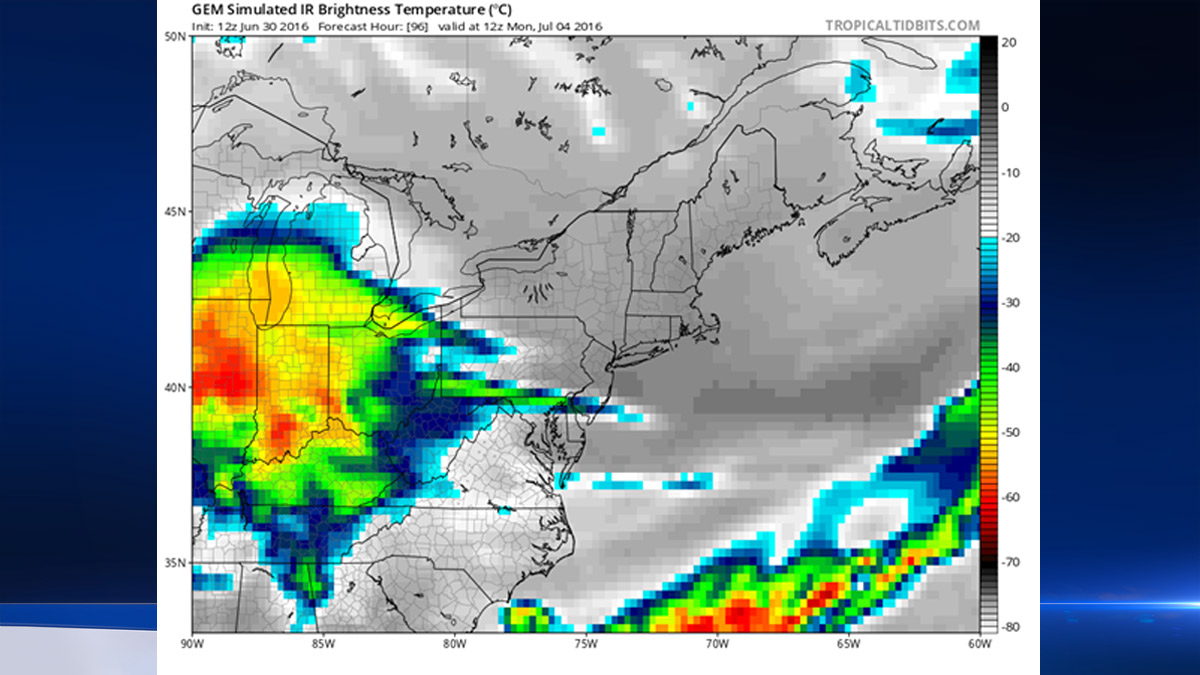 We still see the band of clouds just south of the Philadelphia area, but it's clear that a big area of clouds is approaching from the west. By 8 p.m., those clouds have overspread the area:
So, the conclusion is that we're predicting increasing cloudiness Monday, with a chance of rain by Monday night, especially in areas south of Philadelphia. The rain chances continue into Tuesday.

So, if you want a day with full sunshine, Saturday is the best bet, and Monday is the day most likely to be cloudy. We could still manage to stay dry from Saturday morning all the way through Monday evening, but it may be a close call. More tomorrow with the latest data.
THE FORECAST
| | | | | |
| --- | --- | --- | --- | --- |
| | Philly Area | Jersey Shore | Delaware Beaches | Poconos |
| Friday | 88, t'storms | 79, t'storms | 81, t'storms | 74, t'storms |
| Saturday | 86, sunny | 82, sunny | 84, sunny | 74, sunny |
| Sunday | 85, partly sunny | 78, partly sunny | 84, mostly cloudy | 77, sunny |
| Monday | 86, increasing clouds | 78, cloudy | 80, cloudy | 79, sunny |