MAY SHOWERS…AND CLOUDS…AND CHILLY
It's no secret that this May has been one of the coolest, cloudiest, and wettest ones in memory. We've had at least some rain on 17 of the 22 days this month. And how about sunshine? We've had exactly ONE official sunny day, as opposed to 14 days of overcast or near-overcast skies.
Temperatures have been above "normal" on only 3 days. Overall, May has been about 4.1 degrees below normal. It's going to end a streak of 11 straight months of above normal temperatures in Philadelphia.
Here is a look at temperatures compared to normal Sunday 5/22: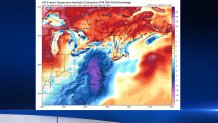 BUT IT'S ALL GOING TO CHANGE-FAST!
Instead of temperatures gradually returning to normal and perhaps a bit higher, we're about to see a huge jump in temperatures over less than a week. The high Saturday 5/21 in Philadelphia was only 62 (normal is 76). In Wilmington, DE it was only 60. And in some parts of Southern Delaware and at the Jersey Shore, it didn't even get out of the 50s.
The pattern will change so fast that we'll be in full summer levels by this Thursday, and it should stay unseasonably warm all the way through the Memorial Day Weekend. We could even see a day or two that reach 90 degrees. Here is the map of temperatures compared to normal only a few days from now-Thursday.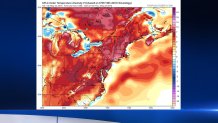 The continuous cloud cover and occasional rain will be gone along with the chill. But that doesn't mean it will be bright and sunny all day through the holiday. The summer pattern could lead to some summer thunderstorms for at least part of the weekend. But at least it'll feel like summer!