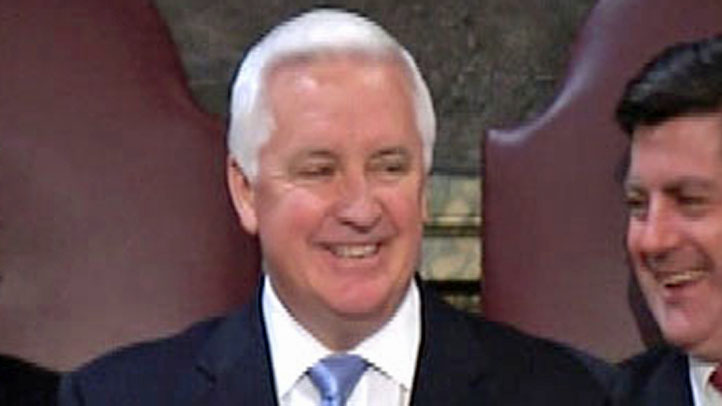 The Corbett administration said in announcing that it wants to hire a private lottery manager that Pennsylvania needs a more profitable lottery.

As it happens, significant innovation is afoot in state lotteries, industry analysts say. And Gov. Tom Corbett said he believes that handing the reins of the Pennsylvania Lottery to a private company will not only boost innovation, but encourage higher cash flow by linking it to the company's compensation.

For now, Pennsylvania has the nation's sixth-largest lottery, with more than $3 billion in annual sales. But things could change fast.

For instance, buying tickets for Mega Millions or Lotto drawings in real-time from a home computer is possible now in Illinois, but nowhere else in the country.

Many in the industry are also talking about online lottery games _ think social network games like Angry Birds or ones in Zynga Inc.'s lineup _ that can be played on a home computer, tablet or smartphone. There's even technology to allow a home-computer user to buy a scratch ticket online and then use a mouse to scratch it off.

"The growth potential is significant," said Angela Wiczek, a spokeswoman for Providence, R.I.-based GTECH Corp., one of the nation's leading lottery systems providers.

These steps do not necessarily require hiring a private manager; theoretically, they could be made with the existing staff in the Department of Revenue. And it is likely that efforts to extend the Pennsylvania Lottery's reach to the Internet would require the state Legislature's approval.

Regardless, online is now considered the new frontier for a more lucrative lottery.

The grease in the gears came from a U.S. Justice Department opinion, issued in December in response to a query by Illinois and New York about whether federal law prevented them from selling lottery tickets online to adults within their states. The department answered that the Wire Act only prevents players from wagering on sports outcomes _ other bets are OK.

It was a gift for cash-strapped states looking at long-term liabilities they don't know how to pay for as well as for a lottery and gambling industry that realizes that 20- and 30-somethings don't care much for picking numbers or standing in line to buy lottery tickets, said I. Nelson Rose, a Whittier Law School professor who runs the website, www.gamblingandthelaw.com.

"It opens doors to states doing a very dramatic expansion of online games," Rose said.

Most states, including Pennsylvania, would probably have to change their laws to allow online lottery gambling, and that could get tricky: Lawmakers may not want to be seen expanding gambling, and many states now have entrenched commercial casino gambling industries that would oppose such a move, unless they get licenses to operate, say, Internet poker, some say.

But lotteries may have more to offer.

"The next stage is going to be new (online) games, and new games that lotteries are in just as good a position as, and perhaps they're in a better position than, casino operators to invent," said Paul Jason, who produces the online trade journal, Public Gaming Magazine.

There are other, more conventional ways to improve cash flow that the Pennsylvania Lottery could pursue: introducing keno, which would require legislation, and greatly expanding the number and kinds of lottery retailers. Last fall, for example, Florida became the first state to sell lottery tickets in Wal-Mart stores.

Corbett, a Republican who campaigned on a pledge not to raise taxes, right now isn't saying what kind of expansion, if any, he would support.

Asked about it Wednesday, the governor said his administration first wants to hear ideas from private companies on how they can save money and raise more revenue to support programs for the elderly.

"I'm not going to say anything's on the table, off the table," Corbett said. "This is in a very embryonic stage. ... There is no table yet."

Copyright AP - Associated Press