A massive fire destroyed a historic church in Philadelphia's Tacony neighborhood.
The two-alarm fire started at St. Leo the Great Church on Keystone Street and Unruh Avenue at 5:30 p.m. Sunday.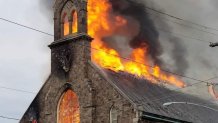 Firefighters were able to bring the flames under control around 7 p.m. Fire Commissioner Adam Thiel said the building was a total loss.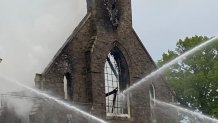 Built in 1884, St. Leo had been a community landmark in Tacony for more than 135 years. It became a worship site in 2013 after merging with Our Lady of Consolation Parish and it permanently closed in January 2019, according to a report by the Northeast Times.
Maureen Nemchik joined St. Leo's in 1980 and fought back tears as she watched the fire.
Local
Breaking news and the stories that matter to your neighborhood.
"It's really hard for all the people who've gone to St. Leo's for births, christenings, weddings, funerals and you know everything in between," Nemchik said. "I was married here. My daughter was married here."
No one was injured during the fire. The building next to the church, an old rectory that had been turned into homes, also sustained damage, displacing five people.
Fire crews continued to douse hot spots Monday morning.
Officials have not yet revealed the cause.