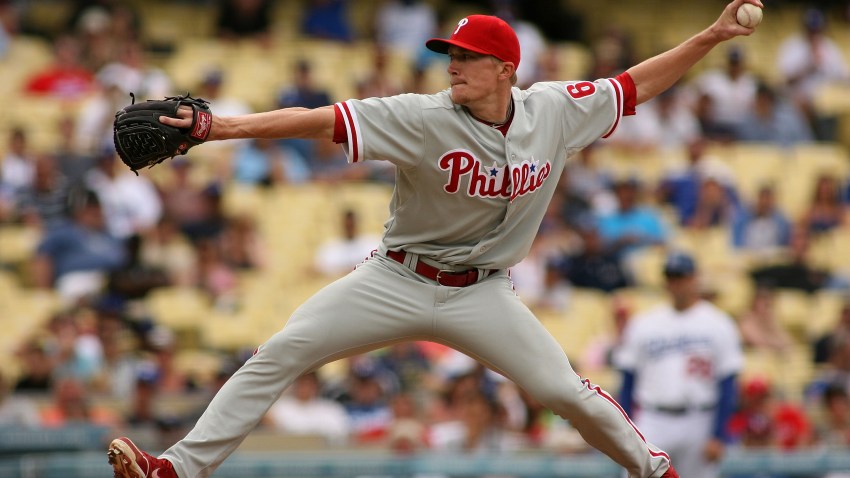 September has been the most exciting month in baseball for the city of Philadelphia, but such is not the case in 2013, as the Phillies are once again heading towards their second straight playoff-less season. And with football back in full, there isn't much worth watching for Phillies fans – at least, not on Sundays. But even as they flounder below .500, that doesn't mean that there aren't some exciting takeaways from the final stretch of games to wrap up the regular season. Just because there won't be an exciting September run at the playoffs doesn't mean the games aren't worth watching.

Over the next few days, we'll forget the ultimately lost season and take a look at some of the things you should keep your eyes on as the season winds down. Some are obvious, and some are not, but most importantly, they all have implications for the 2014 season.

Today, let's take a look at the bullpen.

Earlier this year, I raved about how the Phillies bullpen – unlike in 2012 – was going to be a strength. Gone are Chad Qualls, Michael Schwimmer, and Josh Lindblom. In there place the Phillies had Phillippe Aumont, Jeremy Horst, Jake Diekman, and Justin De Fratus. It was a youth movement of power arms to go along with bullpen mainstays Antonio Bastardo and Jonathan Papelbon. With veteran setup man Mike Adams and durable – if not overwhelming – middle reliever Chad Durbin back in the fold, the bullpen was mulch-dimensional, and if everything went right, potentially unbeatable.

Well, things didn't work out so well for the 'pen. Durbin, who was supposed to be a stabilizing presence in the middle innings, turned out to be an unmitigated disaster with a 9.00 ERA in 16 innings of work. Adams, who was to take over the coveted eighth inning, fell victim to an injury that set him down for the season. Aumont, who was supposed to be the closer of the future, walked 6.1 batters per nine, and was demoted to AAA Lehigh Valley, where he somehow managed to pitch worse. Then you have Bastardo, who was suspended 50 games for his involvement in the Biogeneis scandal. And Papelbon? The closer who was so brilliant a year ago has blown a career-high seven saves.

In short, things really couldn't be worse for the Phillies bullpen, who allowed a National League-leading 4.59 runs per game. But, things are looking up, believe it or not. Aside from Papelbon's struggles and Bastardo's suspension, the Phillies do have some intriguing bullpen arms that are going to be auditioning for larger roles next season.

The most intriguing is Ethan Martin, a starter-turned-reliever who came to the Phillies last season when they sent Shane Victorino to the Los Angeles Dodgers. The right-hander, who was rated the 80th best prospect in baseball by Baseball America at the start of the season, has a 6.90 ERA, 34 Ks, and 21 BBs in 30 innings. It's about as bad as a line as a pitcher can have, but the thing about Martin is that the bulk of the damage has occurred the longer he's been in the game. In innings 1-3, Martin has held hitters to a .730 OPS, to go along with a 4.50 K/BB. In innings 4-6, opposing hitters are OPSing over 1.000, and Martin's K/BB drops to 0.54. Similarly, opposing hitters have a .363 OPS against Martin on his first 25 pitches. Things only get worse for Ethan from there, as his OPS against balloons to .961 on pitches 26-50, and to over 1.000 after 51 pitches.

In short, Martin is best when his exposure to opposing hitters is limited, which is why he is an ideal candidate for the bullpen. He has a live arm and the ability to strike out batters by the bushel, and he could be a difference-maker in the late innings for the Phillies. His move to the bullpen was official as of last week, and it hopefully won't be too long before we see what the youngster can do in relief.

Then we have Jake Diekman, a 26-year-old lefty who is in his second season with the Phillies. He had a decent, but uneven 2012, thanks to a 3.95 ERA but a ghastly 6.6 BB/9 in 27.1 innings of work. In 32.2 innings of work this season, he's cut down the walks considerably (3.9 BB/9), and is still striking out batters at a good clip, with a K/9 just under 10. He's been especially tough on left-handed hitters, and has held them to a .400 OPS in 54 at-bats this season. A big reason for that has been an improved fastball that averages just under 95 MPH, as well as a very good slider. In the absence of Antonio Bastardo, Diekman appears to be manager Ryne Sandberg's lefty of choice.

Finally, you have B.J. Rosenberg, who is awfully impressive (albeit in limited time) this season. The 27-year-old, who has been very good in AA and AAA over the last few seasons, appears to be impressing the Phillies brass in 2013. In 12.2 innings, the right-hander has a 2.84 ERA and an 8.5 K/9. To boot, Rosenberg notched his first career save on Sunday, when Sandberg tabbed him for the ninth inning in lieu of Jonathan Papelbon. That's not to suggest that he is the future ninth-inning guy for the Phillies, but he must be doing something right to get the call for the save opportunity over more established guys like Justin De Fratus and Diekman. While he doesn't have an impressive pedigree, and his 2012 campaign was nothing worth talking about (6.12 ERA in 25 innings), Rosenberg has done everything right so far this season.

Ultimately, what this trio does in the final weeks of the season doesn't mean a lick if they are unable to perform in 2014. But with a bullpen that currently boasts young and talented arms like Bastardo and De Fratus – not to mention the lottery ticket arms acquired in the Michael Young and John McDonald trades – next year's relief corps could be something very special.