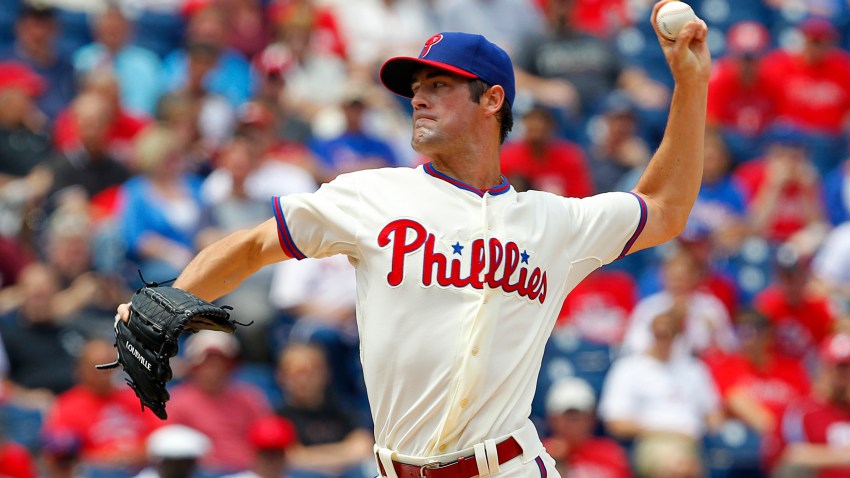 When the Phillies inked Cole Hamels to a six-year, $144 extension last season, the last thing anyone envisioned was a 1-6 start for the 29-year-old Ace. But, after a rough outing at the hands of the Cleveland Indians on Wednesday, that is precisely where we find ourselves.

Hamels allowed five runs on six hits in five innings of work against the Tribe, while allowing a pair of homers and a pair of walks. He also struck out four. Cole appeared to be without his command from the get-go, had difficulty putting hitters away in the early innings, and found himself with a pitch count north of 50 by the time the third inning rolled around.

Under normal circumstances, we might be able to dismiss a bad start like this as a sort of a fluke thing and not necessarily a cause for alarm. After all, the Indians have a good enough offense (4th in the AL in runs per game, 2nd in OPS, 1st in OPS+), and it's not uncommon for a good pitcher to get tattooed by a good offense. It happens. And even if you factor in Cole's two bad starts that began the season (13 ER in 10.2 IP), he's been good more often than not. Since allowing eight runs to the Kansas City Royals in his second start of the season, he's been really good, with an ERA of 2.41 over 41 innings in his next six starts coming into Wednesday.

But despite appearing to be back on track, it's evident that something is off about Hamels this season. He has walked more batters per nine innings over his first eight starts (3.8) than he has over his entire career (his previous high was 3.3 when he was a rookie in 2006), and he is striking out batters at a career low rate (7.5 K/9). While most pitchers would love that kind of success rate with strikeouts, he is striking out a batter-and-a-half fewer than he did last season, and one batter fewer than his career average. It's not the end of the world, but he isn't dominating hitters like he has in the past.

The good news about this is that we are still dealing with a fairly small sample size, so it's entirely likely he is going to come out of this. However, until he can reel in his control, we'll have to just hold our collective breath every five days until he resembles the Ace that he's been in the past.

And although Charlie Manuel did comment following the game that Hamels isn't injured – something that his consistent velocity and body language on the mound would suggest – it's not something that you can dismiss entirely, especially in light of the reports that Hamels dealt with some shoulder soreness during the off-season. Am I suggesting that Cole is injured? Not really, but something certainly seems amiss, and you can't outright dismiss that as a possibility.

Unlike 2009, when Hamels seemed to be the victim of bad luck more than anything else, there seems to be something else at play through his first nine starts. And with Roy Halladay on the shelf and a rotation that is a work in progress, the Phillies are going to need Cole to right the ship while they still have a shot to make a run at the division.