What to Know
An arrest has been made in a series of attacks on women around the same time, in the same Philly neighborhood Sunday morning.
Shaun Lloyd, 36, is facing at least three counts of attempted kidnapping.
A fourth woman also claims to have been attacked in the same area around the same time.
A man accused of trying to abduct several women within a little more than a half-hour span on a Philadelphia street Sunday morning is now in custody.
On Wednesday night, police officers arrested Shaun Lloyd along Woodland Avenue in Southwest Philly, investigators said Thursday.
"We were out there actively looking for him," Philadelphia Police Capt. Mark Burgmann said. "He was tracked down to a homeless shelter I believe on the 6900 block of Woodland Avenue. He was waiting on line to get in."
Lloyd, 36, is charged with attempted kidnapping, stalking, unlawful restraint, indecent assault, simple assault, false imprisonment and harassment, police said. He is being held on $1 million bail. It is unclear if he has an attorney who could comment on his behalf.
Lloyd is homeless but previously lived along Swain Street, a short distance from where the attacks occurred in the Francisville neighborhood.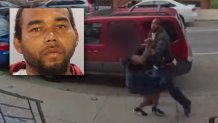 NBC10 obtained surveillance video showing the suspect grabbing a 21-year-old woman on the 800 block of North 15th Street around 10 a.m. Sunday. The woman screams and punches the man who then walks away.
After the 21-year-old woman reported the incident, police found more surveillance footage of the man trying to abduct two other women in that same area Sunday at 9:30 a.m. and 9:35 a.m.
During one of the attacks, the man held onto an older woman for about a minute before a Good Samaritan arrived and pulled her away to safety, investigators said.
A fourth potential victim, Medina Oyefusi, told NBC10 she was walking along the 800 block of North 15th Street around 9:40 a.m. Sunday when a man who fit Lloyd's description tried to grab her.
Local
Breaking news and the stories that matter to your neighborhood.
"He got about this close and I was like, 'Woah. What are you doing? Don't touch me. If you touch me again, I'll start screaming,'" Oyefusi told NBC10.
Oyefusi said the man followed her as she tried to get away.
"He started digging in his pants and like, touching himself," she said. "And I was just like, 'Get away from me.'"
Oyefusi told NBC10 the man finally backed off when she picked up the phone to call for help.
"He didn't care who was around," she said. "He didn't care that there were other people on the street. He had a goal and his goal was to do whatever to some woman on the street. Doesn't matter who it was."
Police believe there may be more victims out there.
"We're getting a lot of calls from people who think they may have had a contact with him," Burgmann said. "They're not sure if it was actually criminal in nature. We're tracking them down now. A lot of them were indecent exposures in the area maybe an hour or two beforehand."
Lloyd's former neighbor, who did not want to be identified, told NBC10 she was on high alert when she first heard about the attacks near her home.
"Oh I had something for him," she said. "Something real nice. I was gonna mace him. I was gonna taze him. And I was gonna wait for the cops."
She saw police when they were searching for Lloyd at his last known address Wednesday night on Swain Street.
"They was about to go in there and kick the door down and I said, 'He don't live there,'" she told NBC10. "So they was like, 'You know this person?' They showed me the phone. I was like, 'Oh my God, that's Shaun.'"
The woman said she and other neighbors saw Lloyd recently in the area on several occasions even though he left the home about seven years ago.
"The mom passed first then the stepdad stayed in the house," she said. "Then the stepdad pushed Shaun out. So ever since then he became homeless."
Investigators said Lloyd has a criminal history but did not have any sexual offenses prior to Sunday's incident.