Officials are searching for a woman who they say dropped off an emaciated dog outside an animal shelter in Whitehall Township, Pennsylvania.
The dog, named Annie, was discovered in a crate outside the Peaceable Kingdom animal shelter on MacArthur Road Thursday morning. Suzy Sora, a manager at Peaceable Kingdom, told NBC10 Annie weighed slightly over six pounds, had open wounds and was covered in fleas when she was found.
Officials later released a surveillance photo of the woman who they believe dropped Annie off. If you have any information on her identity, please call the Peaceable Kingdom Tip Hotline at 610-709-6454 or Dog Law Enforcement Officer Orlando Aguirre at 484-223-9107.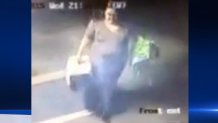 A Facebook page was created showing Annie's continued recovery at Peaceable Kingdom. If you would like to donate money to help with her recovery, you can send it through PayPal at Pk.medical.fund@gmail.com.