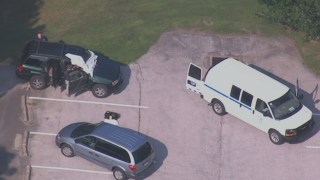 An on-duty veteran of a suburban Philadelphia police department took his own life outside the police station earlier this week.
Police Officer Mark Wells was found seated in his own vehicle parked outside the Lower Providence Township Municipal Complex on Parklane Drive in Eagleville, Pennsylvania Wednesday afternoon.
Lower Providence Township Police Chief Francis Carroll said Wells shot himself with a department-issued handgun shortly after 2:30 p.m. Wells was working the day shift at the time.
No one else was hurt during the incident.
In a release, Carroll said that Wells was a well-respected officer who began his career as a police dispatcher for the township in 1989. Wells was sworn in as an officer in 2000 and would go on to win the department's highest honor -- the Commendation of Valor.
"I had the distinct honor and pleasure of working with Mark throughout his entire career with the Lower Providence Township Police Department," said Carroll. "His commitment and dedication to Lower Providence Township was evident every single day. His love for being a police officer was only surpassed by his love of his family, particularly his wife, Shannon, and his daughter, Meghan, of whom no father was prouder of any child. This is an indescribable loss for Mark's family, our department and our Township."
Carroll said that Montgomery County District Attorney's Office detectives would be conducting an investigation into Wells' death and the circumstances to led to him shooting himself.
SUICIDE PREVENTION: If you know someone who needs help, you can contact the National Suicide Prevention Lifeline by calling 1-800-273-TALK (8255).