Dozens of friends, family, and well wishers of a wounded Philadelphia police officer gathered in Northern Liberties Saturday to show their support.
FOP Lodge 5 organized a healing mass for Officer Edward Davies at Christ the King RC Church on Morrell Avenue and Chesterfield Road.
Davies, 41, is improving after a third surgery, and police have determined the gun used to shoot him was stolen in a burglary last year -- at the home of a retired city officer.
Police Commissioner Charles Ramsey shared those details in updating the status of Officer Davies, who remains at Temple University Hospital.
"The cop's risking his life out there for us so we are in turn going to say prayers to the Lord and ask him to be healed," said Scott Hudson who attended the service.
Guilian Dorma has a husband and son on the force.
"Prayer is the best thing that we can do. These guys in FOP have each other's backs," said Dorma.
Eric Torres, 31, remained jailed on charges he fought with other officers and shot Davies on Tuesday after he allegedly sped away from a traffic stop that morning and was cornered in a store.
Torres faces a preliminary hearing Sept. 4 on attempted murder and other charges stemming from the confrontation, as well as drug dealing charges related to heroin allegedly found in his home later that day.
He was arrested after police say he shot Davies, a 25th District officer, during a brutal brawl with several officers around noon on Tuesday inside the Almonte Mini Mart at 4th and Annsbury Streets.
Police chased Torres, an ex-con with a long arrest record, after he fled a traffic stop at 5th and Allegheny Streets over a broken taillight. Torres evaded officers, but was spotted fleeing into the corner store a short time later. That's where Davies and at least two other officers found him and engaged in a struggle for several minutes before Torres allegedly pulled the trigger, hitting Davies in the stomach, below his bulletproof vest, police said.
Torres had an extensive criminal history prior to his most recent arrest. Dating back to 2004, he was arrested 12 times, including five in which he was charged with assault on police.
In 2005, he pleaded guilty to drug charges and was sentenced to six months in prison. In 2006, he pleaded guilty to simple assault and was sentenced to six to 23 months in prison. In 2007, he pleaded guilty to drug charges and was sentenced to two to four years in prison. Between 2007 and now, he was arrested for other offenses, including aggravated assault, simple assault and resisting arrest. Court records show he was found not guilty of those charges back in November of 2011.
After the fight with officers, Torres was hospitalized at Einstein Medical Center for minor injuries sustained during the struggle. He was transferred to police headquarters Wednesday afternoon.
Officer Davies, a six-year veteran of the force, remained in critical condition following the third surgery. Officials say he will most likely have to undergo several more procedures.
Davies' family thanked the entire community for their support in a statement released Friday afternoon.
"We would like to express our thankfulness to all of those who are sending good wishes, prayers and support to Ed and to our family at this very trying time. Ed is a wonderful father and husband and a dedicated police officer who loves his job. We are heartened and strengthened by the actions of those who have come forward to donate blood," according to the statement.
"We would like to thank the members of the larger community, the members of the Philadelphia Police Department and the Fraternal Order of Police. We are especially thankful and cannot express enough the support we have received from Ed's fellow officers in the 25th Police District; they are truly an extension of our family. Ed remains in serious condition so we are focused on supporting him; and we ask for your continued prayers and support for Ed and all police officers," the statement read.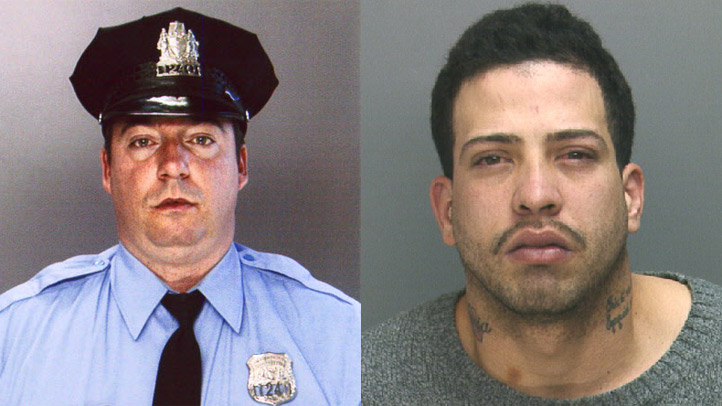 (L to R: Officer Davies, Torres)
In addition to the mass for Officer Davies, an event was also held for Officer Moses Walker, Jr. who was shot and killed during a robbery last year at 20th Street and Cecil B. Moore Avenue in North Philadelphia. Sunday marks the one year anniversary of Walker's death. The memorial event for Walker took place from noon to 6 p.m. at the Harrison Plaza Recreation Center on North 10th and West Thompson Streets.