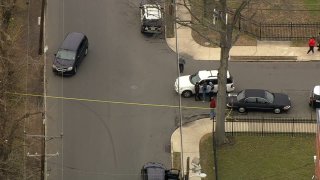 Three men and a woman were arrested after shots were fired at a police officer in a task force vehicle in Trenton, New Jersey, Wednesday afternoon.
The ordeal began around 2:15 p.m. when a Hamilton Township police officer assigned to an NJ State Police Task Force observed a shooting on West State Street and Parkside Avenue in Trenton. The officer, who was in an unmarked task force vehicle, followed a vehicle that may have been involved in the shooting to the Oakland Park Apartments on Coolidge Avenue.
When the officer arrived, three men inside the vehicle opened fire, investigators said. The officer's car was struck by bullets but the officer was not hurt.
The three male suspects, identified by police as 28-year-old Dion Battle, 20-year-old Shaiquan A. Hearns, and 28-year-old Yahonatan R. Salter, allegedly fled on foot. Salter was arrested outside while Battle and Hearns ran into the apartment of 30-year-old Tameka Flemming, investigators said.
Flemming was arrested after she tried to leave the apartment while partially concealing two handguns inside a small backpack. Police said they also found a loaded large-capacity magazine in the backpack.
Battle and Hearns were both arrested inside the apartment.
Battle, Hearns and Salter, all from Trenton, New Jersey, are each charged with attempted murder, conspiracy, unlawful possession of a handgun, possession of a weapon as a convicted felon, possession of a handgun for an unlawful purpose and hindering apprehension of prosecution.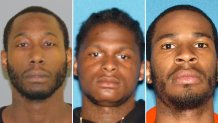 Flemming is charged with unlawful possession of a handgun, hindering apprehension or prosecution, obstructing administration of law or other government function and unlawful possession of a large capacity magazine.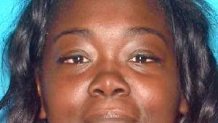 All four suspects are being held in the Mercer County Jail pending detention hearings.