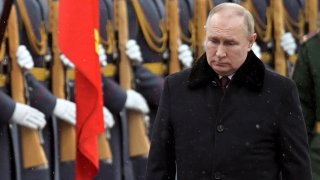 This has been CNBC's live blog tracking Thursday's developments in Russia's attack on Ukraine. Follow the latest updates here.
Russia launched an invasion against neighboring Ukraine on Thursday using land, air and naval forces.
In the capital of Kyiv, air raid sirens have sounded and a stay-at-home order has been issued.
The U.S. and U.K. responded by announcing another round of sanctions, which aim to limit Moscow's access to the global economy.
U.S. stocks mounted a stunning reversal on Thursday, closing higher despite the outbreak of violence.
Here are links to additional CNBC coverage of the Russian invasion of Ukraine:
'Too late for Ukraine': Russia will probably take over Ukraine, says think tank
"I expect the Russian military to take over [Ukraine] and I expect Moscow to be able to impose some kind of settlement," Bobo Lo of Lowy Institute told CNBC on Friday.
Sanctions won't help because of how resilient the Russian economy is against them, said Lo, a nonresident fellow at the institute. "It's really, in a way, too late for Ukraine."
The Russian economy is much better able to absorb the cost of sanctions than Europe is capable of reducing its dependence on Russian oil, gas, and coal, Lo said.
"What the West needs to do now is to reinforce NATO frontline states because they should have been preparing for this day years ago, but they tried to explain it away," he said.
Lo said that although he doesn't think the situation will degenerate into a wider conflict, the danger is that Putin has "never been satisfied" with what he has achieved, and may use this as a prelude to try for more.  
— Chelsea Ong
Ukraine's foreign minister says Kyiv hit by 'horrific Russian rocket strikes'
Dmytro Kuleba, Ukraine's minister of foreign affairs, said the capital city of Kyiv was hit with "horrific Russian rocket strikes" early Friday morning.
There were several reports about explosions heard around Kyiv. Details were murky in the fast developing situation, often with conflicting accounts.
Earlier, Republican Sen. Marco Rubio said it "appeared at least three dozen missiles have been fired" at the Kyiv area within a 40 minute window.
— Christine Wang
China won't be 'fully on board' with all that Russia is doing, says strategist
China is likely to continue to be a "meaningful financial lifeline" for Moscow, but won't be completely aligned with Russia, according to Rachel Ziemba, founder of advisory firm Ziemba Insights.
"Is China going to get fully on board with everything Russia is doing? No," she told CNBC's "Squawk Box Asia" on Friday. China wants stability and access to key commodities, bot won't be too reliant on a single supplier, she said.
The Chinese government will likely continue to balance Russian interests with other factors, she predicted.
"China will probably cushion the blow, I don't think they want to fully get into sort of the Russian camp," Ziemba said.
— Abigail Ng
Ukraine is 'capable of mounting a serious opposition,' says Council on Foreign Relations
Ukraine is "capable of mounting a serious opposition" against Russian forces at this point, Thomas Graham of the Council on Foreign Relations told CNBC on Friday.
"The Ukrainians are very proud of what they've done. They're proud of their country, they're proud of their independence, and they're not going to accept a puppet regime run by Moscow lying down," said Graham, a distinguished fellow at the institute.  
One of the things Moscow will have to worry about is active resistance by Ukrainians, which will make taking over cities "very, very difficult," he added.
The key is the level of resistance, how tough the Ukrainians are, and to what extent they're willing to engage in active resistance, Graham said, adding that urban warfare can be a very difficult campaign. "I think the Russians have to be worried about this."
Graham said public opinion in Russia could slowly turn against Putin and the war effort if there are many Russian casualties and deaths.
— Chelsea Ong
Former UK envoy to Russia says fresh Western sanctions will not deter Putin
Tony Brenton, a former U.K. ambassador to Russia, said fresh sanctions from the West will not have much impact on Moscow.
"Putin and the people around him are far more concerned about Russia's national security than they are about Russia's economic prosperity," he told CNBC's "Squawk Box Asia" on Friday.
The U.S. and U.K. on Thursday announced another round of sanctions which aim to limit Moscow's access to the global economy. But Brenton said it will take time for these measures to work as "the effect of the sanctions is more long term."
"They're not going to affect the short term, which is the timeframe of the war that we are now looking at," he added.
— Sumathi Bala
Ukraine central bank suspends electronic cash transfers
Ukraine's central bank is cracking down on digital money transfers, as Russian forces lay siege across the country.
The National Bank of Ukraine has ordered electronic money (e-money) issuers to suspend the issuance of e-money and the replenishment of electronic wallets with e-money. The written order also indicated that the distribution of e-money was temporarily off limits.
As Ukraine's central bank cracks down on pathways to cash and Moscow unleashes airstrikes and ground troops, some Ukrainians are instead turning to cryptocurrencies.
Kuna, a popular Ukrainian crypto exchange, shows that domestic buyers are paying a premium for Tether's USDT stablecoin, which is pegged to the price of the U.S. dollar. At the current exchange rate, however, the price for 1 USDT is roughly 32 Ukrainian hryvnia (the national currency), or $1.10, thanks to increased demand.
—MacKenzie Sigalos
Patreon suspends fundraiser for nonprofit providing armor to Ukrainian army
Patreon, a start-up whose website enables people to donate to individuals and groups, suspended the fundraising campaign for Come Back Alive, a nonprofit raising money to give Ukrainian soldiers body armor and other goods, a company spokesperson said.
Come Back Alive has raised over $300,000 but cannot access the money through Patreon to use it, its director, Taras Chmut, told CNBC. But Patreon doesn't permit campaigns involved in violence or buying military equipment, the spokesperson said.
—Jordan Novet
Blinken says Putin's goal all along was to "get Ukraine back into his orbit"
Secretary of State Antony Blinken said Thursday evening that the U.S. took "every possible effort to deter" Russian President Vladimir Putin from advancing into Ukraine.
In an interview with NBC Nightly News, Blinken said Putin's goal all along was to "get Ukraine back into his orbit" and to "subjugate countries on his border to his will."
When asked by NBC's Lester Holt if Russia could directly threaten NATO countries, Blinken reiterated U.S. commitment to Article Five of NATO's founding treaty. A cornerstone of the 30-member alliance is the principle of collective defense, known as Article 5, which states that an attack on one NATO country is an attack on all allies.
To date, the alliance has only invoked Article 5 once — in defense of the United States in the wake of the 9/11 terrorist attacks.
Holt also asked about the new round of White House sanctions that President Joe Biden said would "exceed anything that's ever been done."
Blinken responded, "If President Putin decided to pursue the path of diplomacy and dialogue, we were ready for that and prepared to engage on that, but equally if he pursued the path of aggression, which tragically is exactly what he's done, we're prepared on that too and as a result, we have responded in a united way, swiftly and with real consequence to impose very severe costs on Russia for the aggression it's committing on Ukraine."
— Amanda Macias
FedEx suspends Ukraine service
Global shipping giant FedEx said Thursday that it would temporarily cease service in and out of Ukraine, according to an alert posted on the company's website.
While FedEx didn't cite the Russian attack on the former Soviet nation, it did note concern for the safety of its employees.
"The safety of our team members is our top priority," the company said. "We are closely monitoring the situation and implementing contingency plans to minimize impact."
FedEx has more than 180 employees in Ukraine, according to previous disclosures. The company has more than 700 employees in Russia.
– Mike Calia
Dow slashes 859-point loss, closing positive in stunning market reversal
Stocks staged a massive comeback on Thursday following steep declines posted earlier in the day.
In a sharp reversal, the S&P 500 rose 1.5% to 4,288.70 after dropping more than 2.6% earlier in the session. The Dow Jones Industrial Average added 92.07 points to 33,223.83, erasing an 859-point drop. The Nasdaq Composite ended the session 3.3% higher at 13,473.59, after being down nearly 3.5% at one point in the session. The Nasdaq still sits about 16% from its all-time high, however.
European stocks sold off, with the pan-European Stoxx 600 dropping more than 3% to its lowest point of the year. The VanEck Russia ETF, a U.S.-traded security which invests in top Russian companies, plunged 19% on Thursday.
Oil prices settled well off their highs alongside the recovery in equities. Global oil benchmark Brent jumped 1% to around $92 per barrel, after hitting the $100 level for the first time since 2014. The U.S. oil benchmark, WTI, traded about 1% higher around $92 per barrel after jumping just shy of $100 per barrel earlier in the session.
— Amanda Macias and Maggie Fitzgerald
Obama responds to the Russian invasion of Ukraine
Former President Barack Obama on Thursday said the unprovoked Russian invasion of Ukraine presents all people with a choice, "between a world in which might makes right and autocrats are free to impose their will through force, or a world in which free people everywhere have the power to determine their own future."
Obama's predecessor, former President George W. Bush, suggested the choice was an easy one. "We cannot tolerate the authoritarian bullying and danger that Putin poses," he said in a statement.
Obama, who was in office when Russia annexed Crimea in 2014, also warned that Ukraine was the latest example of a trend that has "seen the forces of division and authoritarianism make headway around the world."
The line was a thinly veiled swipe at Obama's successor, the now former President Donald Trump, who stoked domestic political divisions and admired autocrats overseas.
Indeed, on Wednesday night Trump openly praised Putin's decision to invade Ukraine in a speech at his Florida golf club. "I mean, [Putin's] taking over a country for two dollars' worth of sanctions. I'd say that's pretty smart," Trump said, according to a recording of his remarks. "He's taking over a country — really a vast, vast location, a great piece of land with a lot of people, and just walking right in."
--- Christina Wilkie
Wealthiest Russian execs park their yachts in paradise as they avoid sanctions
Several of the wealthiest Russian billionaires have parked their yachts in luxurious locations as many of them avoided U.S. government sanctions after their ally, Vladimir Putin, ordered the invasion of Ukraine.
President Joe Biden and his administration announced a round of sanctions on Thursday against multiple financial institutions, including the country's largest banks, Sberbank and VTB. Multiple VTB executives, along with other business leaders from across the country, were also sanctioned by the United States.
However, none of the Forbes wealthiest Russians were targeted by the latest U.S. sanctions. Rich Russian individuals and families who have a combined net worth of over $200 billion were not mentioned in the sanctions.
Gennady Timchenko, who has been reported to be close to Putin and is listed as having a net worth of $22 billion, was previously sanctioned by the U.S. after Russia's 2014 invasion of Crimea, which was once part of the Ukraine. He was also recently sanctioned by the United Kingdom after Russia's latest invasion of the neighboring country.
Saloni Sharmia, a spokeswoman for Biden's National Security Council, suggested in an email to CNBC on Thursday that there may be future sanctions on Russia's wealthiest. She also said that the latest sanctions were meant to target those who run various financial firms in Russia.
"Our sanctions today on the largest state-owned banks and entities and Putin's cronies and their families will hit hard at Putin's assets because this is where he stashes them. No Russian elite or their family member is safe from our sanctions," she said.
The Treasury declined to comment further on the sanctions.
Meanwhile, data from Marine Traffic show that the massive yachts of several Russian billionaires who have so far avoided the latest sanctions are parked in some of the most luxurious parts of the world, including some areas in Europe, where their property could be seized if they were sanctioned.
Alexey Mordashov, who, according to Forbes, has a net worth of around $29 billion, owns a yacht called Nord. It is currently located at a small island known as Praslin, which is located in the Indian Ocean. The yacht can accommodate approximately two dozen guests and more than 40 crew, according to Superyacht Fan, a website that tracks who owns luxurious yachts. The vessel "includes an enclosed helicopter hangar, two helicopter platforms, a large swimming pool, two elevators, a gym with a sauna, and a cinema," the website says.
Mordashov is a majority shareholder in the Russian based steel company Severstal. His equipment company, called Power Machines, was sanctioned by the U.S. in 2018.
Representatives for these companies did not return requests for comment.
Vagit Alekperov, the president of Lukoil, has a net worth of around $25 billion, according to Forbes. Lukoil was once sanctioned by the U.S. government, according to the Treasury's website. His yacht, known as Galactica Super Nova, is moored in Barcelona, according to Marine Traffic.
"Galactica Super Nova can accommodate 12 guests and a crew of 16. Her features include a 6-meter glass-bottom swimming pool with a waterfall. And a touch-and-go helipad, an elevator, and a large beach club," Superyacht Fan says.
Lukoil did not return a request for comment.
At least three other top Russian billionaires have their yachts docked in Italy and Germany.
– Brian Schwartz
Bitcoin donations surge to support Ukraine military
New data from blockchain analytics firm Elliptic shows that over a 12-hour window on Thursday, nearly $400,000 in bitcoin was donated to Come Back Alive, a Ukrainian nongovernmental organization providing support to the Ukrainian armed forces.
It's an acceleration of a trend we've been seeing for a couple months now, in which donors opt to send cryptocurrencies instead of fiat cash, in order to bypass financial institutions that might block payments to Ukraine.
Activists have deployed the crypto for a variety of purposes, including equipping the Ukrainian army with military equipment, medical supplies and drones, as well as funding the development of a facial recognition app that identifies if someone is a Russian mercenary or spy.
Volunteer groups and NGOs have collectively raised over $1 million in cryptocurrency, according to Elliptic, although that number appears to be quickly moving higher as donations come in amid Russia's newly launched offensive.
– MacKenzie Sigalos
EU says it will slap more sanctions on Russia
The European Union agreed to another round of sanctions on Russia on Thursday following Moscow's invasion of Ukraine and called on the country to immediately cease all military actions and withdraw its forces.
The European Council announced more retaliatory measures that it said would "impose massive and severe consequences" on Russia for attacking its neighbor. The sanctions will target the financial, energy and transportation sectors, according to European leaders.
The EU will also target dual-use goods — which can be put to both civilian and military uses — as well as Russian individuals. The sanctions will include export controls.
In addition, the EU condemned the involvement of Belarus, which has abetted Russia's invasion, and said sanctions would extend to that nation.
It was not immediately clear which specific companies, goods or individuals the measures would target.
The EU measures follow sanctions announced by both the United States and United Kingdom on Thursday.
— Jacob Pramuk
Anti-war protesters march in over 40 Russian cities
Thousands of people across Russia came out Thursday to protest President Vladimir Putin's decision to invade neighboring Ukraine, ignoring Russian government warnings that demonstrators would be arrested.
Russia launched the unprovoked invasion of Ukraine in the early hours of Thursday morning, after months of positioning hundreds of thousands of soldiers along its shared border and demanding that NATO agree never to admit Ukraine to the alliance.
In Moscow, around 1,000 protesters rallied and chanted "No to war" until police surrounded them and forced many into paddy wagons, according to the Russian human rights group OVD-Info, which monitors protests in Russia. Police then closed the city's central square, Pushkin square.
Protesters also amassed in Putin's hometown of St. Petersburg, as well as the cities of Yekaterinburg and Perm. At least 290 people were arrested in Moscow, 128 in St Petersburg, 50 in Perm and 37 in Yekaterinburg, OVD-Info reported.
Demonstrating against the government in Russia is illegal in almost every case, and penalties for unauthorized protesting are severe and often include time in prison.
--- Christina Wilkie
FAA prohibits flights over Ukraine, Belarus and part of Russia
The FAA expanded its "Notices to Air Missions" alert issued for eastern Europe to include the entirety of Ukraine, Belarus and a western region of Russia.
Ukraine closed its airspace to civilian flights on Thursday citing a "high risk" amid Russia's invasion.
The FAA's notice does not apply to military operations.
Earlier on Thursday, a senior Defense official confirmed that the United States military does not have any aircraft operating in Ukrainian airspace.
Prior to Thursday's restrictions, the U.S. agency prohibited flight operations in an eastern region of Ukraine.
In 2014, nearly 300 people died aboard Malaysia Airlines flight MH17 after it was shot down with a Russian anti-aircraft missile launched from rebel-held territory in eastern Ukraine.
 — Amanda Macias
U.S. expels Russia's second-highest ranking diplomat in Washington in retaliation
The United States expelled Russia's second-highest ranking diplomat from the country in retaliation for Moscow's removal of an American diplomat last week.
The U.S. informed the Russian Embassy on Wednesday of Russian Minister Counselor Sergey Trepelkov's expulsion from its mission in Washington.
The Russian Embassy in Washington did not immediately respond to CNBC's request for comment.
Last week, the State Department confirmed U.S. Deputy Chief of Mission to Russia Bart Gorman, the second-highest U.S. official in Russia, was expelled from the country.
A department spokesperson described the removal of Gorman, who still has a valid visa and had not yet completed his diplomatic mission, as an "unprovoked" and "escalatory step."
The spokesperson said the Biden administration was considering its response to Gorman's expulsion.  The official said the U.S. mission to Russia is now staffed at levels well below the Russian mission to the United States.   
"We call on Russia to end its baseless expulsions of U.S. diplomats and staff and to work productively to rebuild our missions. Now more than ever, it is critical that our countries have the necessary diplomatic personnel in place to facilitate communication between our governments," the spokesperson said in a statement on Feb. 17. Less than a week later Russia invaded Ukraine.
A senior State Department official said the move to expel Trepelkov was "not part of the response to Russia's unprovoked premeditated and written invasion of Ukraine."
— Amanda Macias
Satellite imagery shows missile attack on Ukrainian airbase
Satellite imagery from U.S. company Planet captured on Thursday showed a dark plume of smoke rising from Chuhuiv Air Base, which is located outside of Kharkiv, Ukraine. The airbase was reportedly struck by a missile.
– Michael Sheetz
Social media companies on heightened alert for misinformation
Social media companies are on heightened alert for potentially harmful posts on their platforms related to the conflict in Ukraine. The companies are also encouraging users in the region to take extra steps to protect themselves.
Facebook owner Meta said on Thursday it created a "Special Operations Center" with experts and native speakers to monitor the situation and respond quickly to any issues, according to Facebook Head of Security Policy Nathaniel Gleicher.
The company has previously brought together experts across the business to tackle disinformation around specific events, like its 2018 elections "war room." Facebook later closed that effort but it said it could bring back similar arrangements in the future, as it did for European parliamentary elections in 2019, for example.
Facebook is also letting people in Ukraine lock their profiles as an additional security layer. When a profile is locked, Facebook prevents people who aren't friends with the account from downloading or sharing their profile picture or seeing posts on their timeline. Gleicher said the company has previously used this method in other risky situations, including in Afghanistan last year.
Twitter also said it is taking steps to closely watch for any dangerous signals on its platform.
"As we do around major global events, our safety and integrity teams are monitoring for potential risks associated with the conflict to protect the health of the service, including identifying and disrupting attempts to amplify false and misleading information and to advance the speed and scale of our enforcement," a Twitter spokesperson said in a statement.
Twitter's safety account also shared a series of steps, in English, Russian and Ukrainian, that users can take to better secure their accounts online, such as by setting up two-factor authentication. The company also created a Twitter moment in all three languages that compiles information from authoritative sources.
—Lauren Feiner
Why Russia's attack on Ukraine makes Europe's energy supply vulnerable
Europeans suffered extremely high energy prices ahead of Russia's attack on Ukraine on Thursday morning.
That's because the European Union is especially dependent on Russian energy, which is becoming increasingly unsustainable.
In the 1960s and 1970s, Europe was supplying roughly the same amount of natural gas that it was using. 
But Europe's production of natural gas declined because the North Sea gas fields, which are particularly important sources of production from the U.K. and the Netherlands, were depleted, among other reasons. 
Also, the EU has been reducing its dependence on coal to reach its climate goal of achieving carbon neutrality by 2050 and cutting emissions by at least 55% by 2030. Since 2012, the EU has decreased its coal power generation by about a third, according to the Directorate-General for Energy for the EU.
While the EU has been trying to ramp up its production of renewables, like wind and solar, that process is slow.
As a result, the EU is still dependent on natural gas, specifically from Russia.
"In terms of foreign suppliers, Russian gas was just the cheapest. Rather than diversifying suppliers, routes to import Russian gas were diversified," said Tim Schittekatte, a research scientist at the MIT Energy Initiative and an expert on the European grid and the issues it is facing.
— Cat Clifford
Biden: SWIFT sanctions are still an option
President Joe Biden said punishing Russia by cutting off its access to the international payments service SWIFT is not on the table at the moment, but it could be later on.
"The sanctions that were proposed on all their banks have equal consequence, maybe more consequences, than SWIFT, number one," Biden said when asked why he had opted not to take that step.
"Number two, it is always an option, but right not that's not the position that the rest of Europe wishes to take," Biden added.
SWIFT is a messaging network used by financial institutions to communicate securely.
Asked by another reporter why he has avoided the SWIFT sanctions, Biden said the sanctions he already are "profound" and "exceed anything that's ever been done."
"Let's have a conversation in another month or so to see if they're working," he said.
Senate Foreign Relations Committee Chairman Bob Menendez, D-N.J., in a statement later Thursday urged Congress and the Biden administration to "not shy away from any options—including sanctioning the Russian Central Bank, removing Russian banks from the SWIFT payment system, crippling Russia's key industries, sanctioning Putin personally, and taking all steps to deprive Putin and his inner circle of their assets."
— Kevin Breuninger
Biden authorizes additional U.S. troops to Germany to bolster NATO defenses
President Joe Biden said Thursday that he was sending additional U.S. troops to NATO ally Germany.
In an address from the White House, Biden reiterated that he will not send U.S. troops to fight in Ukraine.
"Our forces are not and will not be engaged in the conflict with Russia in Ukraine. Our forces are not going to Europe to fight in Ukraine, but to defend our NATO allies," Biden said.
The president did not elaborate on the new deployment orders. A senior Defense official, who declined to be named in order to give an update, said that approximately 7,000 U.S. troops will deploy to Germany.
"We expect them to depart in the coming days," the official said, adding that the deployment will include an armored brigade combat team.
Biden also vowed to "defend every inch of NATO territory with the full force of American power," evoking the alliance's Article 5 common defense clause.
During his address, Biden also announced a slew of additional retaliatory sanctions for Russia's predawn attack on Ukrainian cities.
— Amanda Macias
Russian invasion of Ukraine to further strain U.S. chip supply
Russia's invasion of Ukraine could further strain supplies of semiconductor chips amid a shortage that has already caused global production disruptions for tech companies and automakers for more than a year.
Russia and Ukraine are critical sources of neon gas and palladium that are used to produce semiconductor chips, according to Techcet, a California-based market research firm that specializes in critical supply chain materials and components.
Most companies expected the supply crunch to gradually ease throughout this year. But Russia's invasion could change that and create further disruption for the already strained global supply chain.
 — Michael Wayland
Russian forces seize Chernobyl nuclear power plant
A Ukrainian official said Thursday that Russian forces have captured the Chernobyl nuclear power plant, the site of the world's worst nuclear disaster.
"It is impossible to say the Chernobyl nuclear power plant is safe after a totally pointless attack by the Russians," said Mykhailo Podolyak, an adviser to the Ukrainian presidential office, according to a Reuters report. "This is one of the most serious threats in Europe today," Podolyak added.
Russia's apparent capture of the sensitive power plant near the Ukrainian city of Pripyat has sparked huge concerns over the potential spread of radiation dust, Anton Gerashchenko, an adviser to Ukraine's Interior Ministry, said in a post on Facebook.
In 1986 the Chernobyl power plant experienced a devastating accident. Hundreds of thousands of people, livestock, farmland and waterways were contaminated by the radioactive material from the Chernobyl explosion. The nuclear power plant has been in a period of decommissioning since 2000.
— Amanda Macias
Biden given options for cyberattacks on Russia, NBC reports
President Joe Biden has been presented with numerous options for the U.S. to conduct cyberattacks aimed at disrupting Russia's military advance in Ukraine, NBC News reported, citing four people familiar with the deliberations.
The options proposed by U.S. intelligence and military officials cover a broad range of severity, but could include using U.S. cyber weapons on an unprecedented scale, the sources told NBC. That could include messing with internet connectivity across Russia, shutting off power or tampering with railroad switches, NBC reported.
The intention would be to take actions that disrupt but do not rise to an act of war by the U.S. against Russia. The U.S. would not publicly acknowledge carrying out the operations, NBC reported.
But U.S. officials anticipate Russia would retaliate: "Anything we can do to them, they can do to us," one official told NBC.
— Kevin Breuninger
U.S. Treasury yields trim losses
The U.S. bond market appeared to stabilize in midday trading, mirroring some of the action on the equities side.
The yield for the benchmark 10-year Treasury note was down 5 basis points at roughly 12:30 p.m. ET. The yield had been down more than 10 basis points in morning trading.
Yields move opposite of price, so the yield recovery means that the price of the Treasurys paid by traders retreated slightly.
– Jesse Pound
UK to freeze assets for top Russian banks, impose new capital and corporate sanctions
United Kingdom Prime Minister Boris Johnson said Thursday evening that the U.K. will impose sweeping new penalties against Russian banks, companies and individuals after Moscow's attack on Ukraine.
Speaking in the House of Commons, Johnson said the U.K. will put an asset freeze on Russia's top banks and introduce legislation to bar major Russian companies from raising capital on British markets. The prime minister added that the U.K. will sanction over 100 individuals, entities and subsidiaries, as well as prohibit Moscow-based airline Aeroflot from landing within the country.
Among the companies sanctioned by the U.K. is VTB Bank, a Russian state-owned bank and one of the largest lenders in the world.
Johnson noted that the legislature will debut export-control measures to limit Russia's access to high technologies such as semiconductors necessary for the production of defense and aerospace hardware.
"Above all, the House will realize the hard and heavy truth that we now live in a continent where an expansionist power, deploying one of the world's most formidable military machines, is trying to redraw the map of Europe in blood, and conquer an independent state by force of arms," Johnson said.
"It is vital for the safety of every nation that Putin's squalid venture should ultimately fail and be seen to fail," he said.
— Thomas Franck
Here's what to do now, says Russian chess champ and longtime Putin critic Garry Kasparov
Garry Kasparov, the Russian former world chess champion and human rights advocate who has warned for years of the threat posed by Vladimir Putin, shared his plan for how the world should respond to Russia's invasion of Ukraine.
"Ok, after years of warnings were ignored and hearing 'Garry, you were right!' all damn day today, I'll repeat what I said in 2014: Stop telling me I was right and listen to what I'm saying now," Kasparov said in a series of tweets.
Kasparov, who in 2015 published "Winter is Coming: Why Vladimir Putin and the Enemies of the Free World Must Be Stopped," called on the world to support Ukraine in all ways except for deploying troops to the embattled country.
He urged nations to "bankrupt Putin's war machine," kick the Kremlin out of all international and financial institutions, recall all ambassadors from Russia and suppress Putin's "global propaganda machine."
They should also "expose and act against Putin's lackeys in the free world," Kasparov said. He specifically called out Gerhard Schroder, the ex-German chancellor with close ties to Russia, as well as Fox News host Tucker Carlson, who has downplayed Russian aggression on his show. Carlson is also a booster of Hungarian strongman Prime Minister Viktor Orban, a key Putin ally in Eastern Europe.
"Ask the owners & advertisers of networks platforming Putin propagandists like Carlson why they allow it," Kasparov wrote.
He also called for nations to stop using Russian oil and gas, including by reopening the Keystone XL pipeline, the Canada-to-U.S. pipeline that President Joe Biden canceled last year.
"You can't save the planet if you don't save the people on it," Kasparov said.
— Kevin Breuninger
Here's how Russia launched its attack
A senior U.S. Defense official, who spoke on the condition of anonymity, shared a timeline of the Russian assault on Ukraine. The official described the predawn attack in Ukraine as the "initial phase" of what will become a large-scale invasion:
Russian forces began their attack at approximately 9:30 p.m. ET. and are currently advancing on three different axes.
The Russians used approximately 75 military aircraft including bombers, launched more than 100 ballistic missiles from a mixture of land-based and naval-based platforms.
The Russian targets have been mostly Ukrainian military assets.
"We don't believe that the full scope of Russian electronic warfare capabilities have come into play yet and they may not," the senior Defense official said.
The official also said the Pentagon saw Russian troops begin a ground incursion into Ukraine from Belarus at approximately 5:00 a.m. ET on Thursday.
Secretary of Defense Lloyd Austin monitored Russia's assault from the Pentagon in real-time, the official said. Austin met with Chairman of the Joint Chiefs of Staff Gen. Mark Milley Thursday morning and briefed relevant U.S. commanders on the ongoing attack. Austin and Milley met with President Joe Biden Thursday morning at the White House for a National Security Council meeting.
— Amanda Macias
G-7 leaders say Putin's invasion is a 'serious threat' with 'ramifications well beyond Europe'
The leaders of the Group of Seven nations in a lengthy joint statement said they "are appalled by and condemn" Russia's military aggression in Ukraine.
The officials said they will bring forward "severe and coordinated economic and financial sanctions" against the Kremlin.
"This unprovoked and completely unjustified attack on the democratic state of Ukraine was preceded by fabricated claims and unfounded allegations," the G-7 leaders said.
"We call on all partners and members of the international community to condemn this attack in the strongest possible terms, to stand shoulder to shoulder with Ukraine, and raise their voice against this blatant violation of the fundamental principles of international peace and security," the statement said.
"This crisis is a serious threat to the rules-based international order, with ramifications well beyond Europe. There is no justification for changing internationally recognised borders by force. This has fundamentally changed the Euro-Atlantic security situation. President Putin has re-introduced war to the European continent. He has put himself on the wrong side of history," the statement said.
The G-7 leading industrial nations are the U.S., the United Kingdom, Canada, France, Italy, Germany and Japan. A meeting of the leaders of those countries, along with NATO Secretary-General Jens Stoltenberg, European Commission President Ursula von der Leyen and European Council President Charles Michel concluded before 10:30 a.m. ET.
Read the full statement below:
We the Leaders of the Group of Seven (G7) are appalled by and condemn the large-scale military aggression by the Russian Federation against the territorial integrity, sovereignty and independence of Ukraine, directed partly from Belarusian soil.
This unprovoked and completely unjustified attack on the democratic state of Ukraine was preceded by fabricated claims and unfounded allegations. It constitutes a serious violation of international law and a grave breach of the United Nations Charter and all commitments Russia entered in the Helsinki Final Act and the Charter of Paris and its commitments in the Budapest Memorandum. We as the G7 are bringing forward severe and coordinated economic and financial sanctions. We call on all partners and members of the international community to condemn this attack in the strongest possible terms, to stand shoulder to shoulder with Ukraine, and raise their voice against this blatant violation of the fundamental principles of international peace and security.
This crisis is a serious threat to the rules-based international order, with ramifications well beyond Europe. There is no justification for changing internationally recognised borders by force. This has fundamentally changed the Euro-Atlantic security situation. President Putin has re-introduced war to the European continent. He has put himself on the wrong side of history.
We are committed to uphold peace, stability and international law. We are united in our support for the people of Ukraine and its democratically elected government. In this dark hour our thoughts are with the people of Ukraine. We stand ready to support with humanitarian assistance in order to mitigate the suffering, including for refugees and displaced persons from the Russian aggression.
We call on the Russian Federation to stop the bloodshed, to immediately de-escalate and to withdraw its forces from Ukraine. We also call on Russia to ensure the safety of the OSCE Special Monitoring Mission. We also condemn the involvement of Belarus in this aggression against Ukraine and call on Belarus to abide by its international obligations.
We condemn in the strongest possible terms Russian President Putin's decision on February 21 to recognise the Donetsk and Luhansk self-declared entities in eastern Ukraine as "independent" states as well as his decision to send Russian military forces into these regions. We call on other states not to follow Russia's illegal decision to recognise the proclaimed independence of these entities. The decision by President Putin is a grave violation of the basic principles enshrined in the UN Charter, in particular the respect for the territorial integrity and sovereignty of states and also a blatant breach of UN Security Council resolution 2202 – supported by the Russian Federation as a permanent member of the Security Council – as well as of the Minsk agreements, which stipulate the return of the areas concerned to the control of the Ukrainian Government.
We reaffirm our unwavering commitment to Ukraine's sovereignty and territorial integrity within its internationally recognised borders and territorial waters as well as the right of any sovereign state to determine its own future and security arrangements. We reaffirm that illegally occupied Crimea and the self-declared "people's republics" are an integral part of Ukraine.
We condemn President Putin for his consistent refusal to engage in a diplomatic process to address questions pertaining to European security, despite our repeated offers. We stand united with partners, including NATO, the EU and their member states as well as Ukraine and remain determined to do what is necessary to preserve the integrity of the rules-based international order. In this regard, we are also closely monitoring global oil and gas market conditions, including in the context of Russia's further military aggression against Ukraine. We support consistent and constructive engagement and coordination among major energy producers and consumers toward our collective interest in the stability of global energy supplies, and stand ready to act as needed to address potential disruptions.
— Kevin Breuninger
Russian forces trying to seize Chernobyl, site of 1986 nuclear disaster, Zelenskyy says
Russian forces that have invaded Ukraine are "trying to seize" Chernobyl, the mostly abandoned city that more than three decades earlier was the site of the worst nuclear disaster in history, Ukraine President Volodymyr Zelenskyy said.
"Our defenders are giving their lives so that the tragedy of 1986 will not be repeated," Zelenskyy said in a tweet.
"This is a declaration of war against the whole of Europe," he said.
Oksana Markarova, Ukraine's ambassador to the U.S., said later Thursday morning that the Russian troops "also made an attempt to steal the Chernobyl nuclear power station and the fight is ongoing."
"For the first time since the Chernobyl nuclear disaster, after which Ukraine has been protecting together with our European and American friends and allies from another nuclear disaster, we have to defend it again from the Russian forces," Markarova said.
A senior U.S. defense official earlier told reporters that the Russians were using Chernobyl as a military staging area, but declined to elaborate further.
Chernobyl is located near Ukraine's northern border with Belarus, less than 60 miles from the capital city of Kyiv.
— Kevin Breuninger, Amanda Macias
Biden will address the nation at 12:30 p.m. ET from the White House
President Joe Biden will address the nation Thursday afternoon, his first public comments following Russia's predawn invasion of Ukraine.
Biden's remarks are set for 12:30 p.m. ET from the East Room of the White House.
He is expected to unveil new consequences for Russia.
Earlier on Thursday, the president convened a meeting of the National Security Council followed by a virtual gathering with G-7 leaders. On the heels of the Russian assault, Biden spoke with Ukrainian President Volodymyr Zelenskyy and reaffirmed U.S. and NATO support.
— Amanda Macias
Safest tech stock bets as Russia's Ukraine attack drives sell-off
Wedbush Securities analyst Dan Ives said Thursday that investors should look to large-cap technology names and cybersecurity vendors amid the market sell-off driven by Russia's invasion of Ukraine.
Tech stocks will likely see "significant pain" amid the sell-off Thursday, Ives said. But, he said investors shouldn't panic, and should instead focus on "oversold" tech stocks like Apple, Microsoft, Adobe, Oracle and Salesforce, as well as "core chip names."
The cybersecurity sector could also see a lift as a result of the invasion, Ives said. Experts previously warned of possible cyber-ramifications from the conflict. And on Wednesday, several Ukrainian government websites were knocked offline due to a mass distributed denial of service attack.
"With significantly elevated cyber attacks now on the horizon, we believe added growth tailwinds for the cybersecurity sector and well-positioned vendors should be a focus sector for investors during this market turmoil," Ives said.
Ives pointed to Palo Alto Networks, CrowdStrike, Zscaler and Tenable as several names that could benefit from heightened threats of cyberattacks.
— Annie Palmer
How the invasion is affecting agricultural trade
An advisor to President Volodymyr Zelenskyy's chief of staff announced operations at Ukraine ports have been suspended after Russian forces invaded the country.
Lloyd's List Intelligence data is showing as many as 116 vessels currently queuing in the southern inlet to the Kerch Strait and a further 52 vessels waiting to the south.
MarineTraffic posted video of vessels sailing near the Bosporus that seem to be changing their routes over the past hours:
Jesper Buhl of BullPositions told CNBC the timing of this invasion needs to be put into context.
"This is the low season for ag exports coming out of Ukraine and Russia," Buhl said. "If this invasion happened in July or August when exports are at their peak this would be a different story."
At this time, Buhl told CNBC, the world can fill the Ukraine bucket of corn, wheat and barley. The EU, U.S. and Argentina can export if the Ukrainian ports continue to be inoperable for four to six months. The commodities will cost more because it will have to travel a further distance.
So what the does the world need to watch? The duration of this closure.
"If this drags out between six to eight months you have 10 to 15 million tons of Ukrainian corn, wheat, and barely not going anywhere," said Buhl. "If that happens, the only commodity that the U.S. will export out is corn. The United States consumes its wheat and barley."
— Lori Ann LaRocco
Russian forces have breached Kyiv region, Ukraine says
Ukraine has reported that Russian forces have breached the Kyiv region.
Ukrainian officials said Thursday that cruise or ballistic missiles targeted military control centers in the area of the capital, according to NBC News.
It came as an update on the verified Telegram channel of Ukraine's Interior Ministry said Russian troops had broken through the border of the Kyiv region, resulting in a battle with border guards.
"Depending on the situation, border units are redeployed to reserve positions and act in cooperation with the Armed Forces of Ukraine and the National Guard," the ministry said.
Meanwhile, video footage filmed Thursday showed helicopters flying toward Antonov Airport in Gostomel, near Kyiv. The video shows helicopters flying above houses, while smoke can be seen on the horizon.
The person filming is heard saying: "Around 20 already flew, can't see Ukrainian coat of arms, definitely Russian. They are flying above the houses. They are flying towards the airport, they are bombing the airport. Can hear there is a fight. Already 30 counted definitely."
— Chloe Taylor
U.S. Treasury prices rise, yields fall as investors seek out safety
Investors bid up U.S. Treasurys on Thursday as the Russian invasion of Ukraine sparked a flight to safety in financial markets. The yield of the benchmark 10-year Treasury note declined to 1.906% on Thursday after trading above 2% as recently as last week.
Bond yields and prices move inversely.
 — Jesse Pound
US stocks swoon at open, Nasdaq falls 2.5% and enters bear market territory
U.S. equity markets tumbled at the start of Thursday's session in New York as traders fled riskier assets in favor of safer bets like gold and government bonds. Markets came under pressure amid news of Russia's predawn invasion of Ukraine.
The S&P 500 fell 2.1% at the beginning of trading hours, bringing its year-to-date loss to about 13.2% and worsening its correction. The blue-chip Dow Jones Industrial Average plunged more than 750 points, about 2.3%, as Goldman Sachs lost 3.3%, Visa fell 3.7% and Boeing lost 4%.
The Nasdaq Composite, which has underperformed the other two major U.S. indexes in recent weeks, shed 2% at the open and entered bear market territory in the first half hour of trading. A bear market is confirmed when an index closes 20% or below its recent 52-week high, meaning that the Nasdaq is at risk of doing so unless it recovers ground throughout the trading session.
— Thomas Franck
Airspace closure extended to Moldova
Moldovan air space was closed to commercial aircraft and airlines were warned about potential missile launches as far as Moscow on Thursday as the impact of Russia's Ukraine invasion widened.
Ukrainian airspace was closed earlier Thursday, forcing commercial flights to divert or change routings.
Airlines were told to "exercise caution when operating in the whole Flight Information Region of Moscow and Rostov due to heightened military activity, which may include launches of mid-range missiles penetrating into controlled airspace," said the bulletin, published by the European Union Air Safety Agency.
Foreign airlines including Lufthansa and KLM had previously halted Ukraine flights due to the threat of a Russian invasion.  
U.S. airlines have been prohibited from flying over eastern Ukraine since Malaysia Airlines Flight 17 was shot down there by a Russian missile in 2014.
UPS earlier this week told pilots it had secured alternate routings that would add flight time for some trips due to the conflict.
— Leslie Josephs
U.S. sends more firepower to NATO members in Russia's backyard
The Pentagon is moving more firepower closer to Ukraine's borders.
The U.S. is relocating eight F-35 fighters and aircrews from Germany to locations along NATO's eastern flank.
The Pentagon is also relocating approximately 32 AH-64 Apache attack helicopters to the Baltics and Poland.
A Europe-based U.S. infantry battalion of approximately 800 personnel will move from Italy to the Baltics.
In total, about 1,000 U.S. service members will move into NATO territory. Ukraine, while not a member of the alliance, is bordered by four NATO countries.
— Amanda Macias
President Biden to address nation as airstrikes kill dozens of Ukrainian soldiers
President Joe Biden is set to address the American people as Russia continues its attack on Ukraine.
Russian stocks ETF drops sharply on Thursday
The VanEck Russia ETF, which tracks the stocks of major countries based in Russia or with heavy exposure to Russia, was down more than 20% on Thursday. It had already declined for four consecutive sessions, dating back to last week.
The fund, which had more than $1 billion in net assets as of Wednesday, has large weights in Gazprom and mining company Norilsk Nickel.
 — Jesse Pound
Ukraine's Zelenskyy says 'anti-Putin coalition' being established
Ukrainian President Volodymyr Zelenskyy has said he is in talks with the EU, France, Austria and Turkey with a view to create "an anti-Putin coalition."
— Chloe Taylor
Any government hoping to sit this out is naive, Ukraine foreign minister says
Ukrainian Foreign Minister Dmytro Kuleba has said any government that thinks they can avoid getting involved in the Russia-Ukraine conflict is naive.
— Chloe Taylor
Biden meets with National Security Council
President Joe Biden convened a meeting of the National Security Council on Thursday morning, hours after Russia launched an attack on Ukraine.
The meeting in the Situation Room of the White House is the third known assembly of the National Security Council this week. The group met on Sunday and Monday to discuss the deteriorating security situation on Ukraine's borders.
Biden will also meet virtually with G-7 members on Thursday ahead of an address to the nation.
— Amanda Macias
No U.S. diplomats remain in Ukraine, official says
The remaining U.S. Embassy Kyiv diplomatic staff will remain in Poland, a U.S. official confirmed to NBC News.
Since Monday, the U.S. diplomatic personnel have been spending the night in Poland and driving into the western Ukraine city of Lviv each morning to continue diplomatic engagement and emergency consular work.
The United States said it temporarily closed its embassy in Kyiv on Feb. 14 and relocated staff to Lviv.
— Amanda Macias
Putin has unleashed war in Europe without any credible excuse, UK's Johnson says
Western allies are working to deliver a "massive" sanctions package after Russia "unleashed war" in Europe, U.K. Prime Minister Boris Johnson said Thursday.
"President Putin of Russia has unleashed war in our European continent. He's attacked a friendly country without any provocation and without nay credible excuse," he said. "A vast invasion is underway, by land, by sea and by air."
Johnson said the U.K. would work with its allies on Thursday to agree upon a "massive package of economic sanctions designed in time to hobble the Russian economy."
"And to that end we must also collectively cease the dependence on Russian oil and gas that for too long has given Putin his grip on Western politics," he said. "We cannot and will not just look away."
Johnson added: "Our mission is clear: diplomatically, politically, economically and eventually militarily, this hideous and barbaric venture of Vladimir Putin must end in failure."
Telling the people of Ukraine that Britain was on their side, Johnson referred to Russian President Vladimir Putin as a "dictator," and went on to say he could not believe that the invasion was being carried out in the name of the Russian people.   
— Chloe Taylor
Ukraine Foreign Minister urges allies to sever ties with Russia
Ukrainian Foreign Minister Dmytro Kuleba has called on Ukraine's allies to follow its lead and sever diplomatic ties with Moscow following Russia's invasion.
— Chloe Taylor
Biden meets with G-7 leaders
President Joe Biden is meeting virtually Thursday morning with leaders of the G-7 countries to discuss Russia's predawn invasion of Ukraine.
The meeting with the leaders of Canada, France, Germany, Italy, Japan and the United Kingdom is set for 9 a.m. ET.
Biden is expected to address the nation later on Thursday.
In a statement Wednesday evening, Biden said he spoke to Ukrainian President Volodymyr Zelenskyy.
"He asked me to call on the leaders of the world to speak out clearly against president Putin's flagrant aggression and to stand with the people of Ukraine," Biden said, adding that he assured Zelenskyy the U.S. would be imposing "severe sanctions on Russia."
— Amanda Macias
Ukraine asks citizens to report suspicious people on the streets
The Ukrainian government has urged citizens to report "suspicious people on the streets" after Russian forces penetrated the country's borders.
"Particular attention should be emphasized on people with elements of red on their clothes," the National Police of Ukraine said in a statement.
The statement also called on Ukrainians to report suspicious items.
— Chloe Taylor
Poland has been preparing for wave of Ukrainian refugees for weeks, official says
Poland has been preparing for weeks for various consequences of a Russian invasion of Ukraine, including an influx of refugees, Polish Interior Minister Mariusz Kaminski said on Twitter Thursday.
He added that Poland was opening reception points for those fleeing the conflict in the provinces of Podkarpackie and Lubelskie, both of which border Ukraine.
— Chloe Taylor
U.N. Refugee Agency says Ukrainians starting to flee their homes
The U.N.'s Refugee Agency has already had reports of casualties and people fleeing their homes in Ukraine after Russia launched an attack on the country.
"We are gravely concerned about the fast-deteriorating situation and ongoing military action in Ukraine," U.N. High Commissioner for Refugees Filippo Grandi said in a statement Thursday.
"The humanitarian consequences on civilian populations will be devastating. There are no winners in war, but countless lives will be torn apart. Civilian lives and civilian infrastructure must be protected and safeguarded at all times, in line with international humanitarian law."
He said the U.N.'s Refugee Agency was working with local authorities to provide humanitarian assistance where possible, and stressed that access to the country for those purposes must be guaranteed.
Grandi added that the agency was working with governments in neighboring countries and called on them to keep their borders open to those seeking safety.
"We stand ready to support efforts by all to respond to any situation of forced displacement," he said.
— Chloe Taylor
NATO to deploy more troops to eastern Europe
NATO, the most powerful military alliance in the world, is set to reinforce its presence on its eastern front following Russia's invasion of Ukraine.
"In the coming days and weeks … we will further increase our presence in the eastern part of the alliance," NATO Secretary General Jens Stoltenberg said at a news conference in Brussels on Thursday.
"We have already deployed thousands of troops," he said. "The most important thing for Poland and allies in [the eastern part of] the NATO alliance is that there is more NATO presence in the east."
Stoltenberg said the Russian attack was no surprise because "that is exactly what our intelligence predicted over several months." Moscow was "never serious about really engaging in diplomatic efforts," he added.
Russia was now carrying out a full-scale attack on Ukraine using its air, land and naval forces, Stoltenberg said.
"This is extremely serious," he told the press conference. "It's a war of a time and a scale that we actually thought was history in Europe, and it's imposing enormous suffering on people in Ukraine."
— Chloe Taylor
Kremlin says it is aiming to 'neutralize' Ukraine's military potential
Moscow's invasion of Ukraine has been motivated by Russia's national interests and "concern for the future," Kremlin spokesperson Dmitry Peskov has said.
Speaking to reporters on Thursday, Peskov claimed the term "occupation" did not apply to what was going on in Ukraine right now.
"Our operation has its own goals, they must be achieved," he said. "Russia's aim is the neutralization of Ukraine's military potential."
— Chloe Taylor
How Russia's invasion of Ukraine could threaten global gas supplies
Russia's attack on Ukraine has ratcheted up fears of a humanitarian crisis, sent shockwaves through financial markets and deepened concern about the possible ramifications for global gas supplies.
Russia is the world's second-largest producer of natural gas and one of the world's largest oil-producing nations.
"While Western governments probably will exempt energy transactions from sanctions, the blizzard of new restrictions will force many traders to be exceedingly cautious in handling Russian barrels," analysts at political risk consultancy Eurasia Group said.
"Gas transiting Ukraine will likely be disrupted, affecting supplies to several central and eastern European countries, and raising gas prices in Europe," they added.
European gas prices jumped on Thursday morning, while international benchmark Brent crude futures and U.S. West Texas Intermediate futures both climbed above $100 a barrel for the first time since 2014.
— Sam Meredith
Ukraine's President compares Russia to Nazi Germany
In a tweet on Thursday, Ukrainian President Volodymyr Zelenskyy said Russia's invasion echoed the behavior of Nazi Germany during World War II.
— Chloe Taylor
Ukraine's Zelenskyy: We have severed diplomatic relations with Russia
Taking to Twitter on Thursday, Ukrainian President Volodymyr Zelenskyy said Ukraine has severed diplomatic relations with Russia.
"For all those who have not yet lost their conscience in Russia, it is time to go out and protest against the war with Ukraine," he said.
— Chloe Taylor
Ukrainian foreign minister: This is a full-scale attack from multiple directions
Ukrainian Foreign Minister Dmytro Kuleba said Thursday that Russia's invasion was not just impacting eastern Ukraine.
— Chloe Taylor
Belgian lawmaker wants EU visa ban for Russian nationals
Belgian Asylum and Migration Minister Sammy Mahdi has called for the complete suspension of EU visas being granted to Russian nationals while the threat to Ukraine continues.
In a statement on Thursday, Mahdi said this should be applied to Russians seeking long and short stay visas, including students, workers, tourists, and individuals applying for visas to reunite with family.
But activists who would be at risk if they stayed in Russia should be exempted from any visa suspension, he added.
Mahdi said he was asking the European Commission to draw up proposals on broad visa sanctions on Russian nationals.
"Russia's reckless attack requires us to be cautious about Russians wishing to come to Belgium," he said. "For now, Russians are not welcome here, a general visa freeze for Russians should not be a taboo. It is now important to fully support the Ukrainian people."
— Chloe Taylor
Iran's foreign minister points finger at NATO
Iranian Foreign Minister Hossein Amir-Abdollahian blamed NATO for the escalating crisis in Ukraine on Thursday, but said Iran did not believe war was the answer.
— Chloe Taylor
UK's Johnson says Russian attack on Ukraine a 'catastrophe' for Europe
British Prime Minister Boris Johnson has said Russia's invasion of Ukraine is a "catastrophe" for the whole of Europe.
— Chloe Taylor
Indian embassy in Ukraine scrambles to evacuate citizens
The Indian embassy in Ukraine said Thursday that it was working on alternative evacuation strategies for Indian nationals after the closure of Ukrainian airspace.
In an advisory to Indian nationals in Ukraine, the embassy — located in Kyiv — said it would share more information as soon as alternative arrangements had been finalized.
"Please carry your passports and necessary documents on your person at all times," the embassy said.
— Chloe Taylor
Ukrainian airspace closed and classified as a conflict zone
Ukraine's airspace has been closed to civilian flights.
The State Enterprise of Air Traffic Services of Ukraine said on its website Thursday morning that the decision had been made "due to the high risk of aviation security for civil aviation."
"The provision of air traffic services to civilian users of the airspace of Ukraine is suspended," it said.
Meanwhile, the European Union Aviation Safety Agency advised air operators Thursday that the airspace over Ukraine was "now an active conflict zone."
The EU's ASA added that airspace over Russia and Belarus that was within 100 nautical miles of their borders with Ukraine were also at risk.
"The aforementioned airspace and critical infrastructure, including airports, are exposed to military activities which result in safety risks for civil aircraft. In particular, there is a risk of both intentional targeting and misidentification of civil aircraft," the organization said.
"The presence and possible use of a wide range of ground and airborne warfare systems poses a high risk for civil flights operating at all altitudes and flight levels."
— Chloe Taylor
Ukraine releases footage it says shows Russian tanks crossing Crimean border
The Ukrainian Interior Ministry has released footage on its official Facebook page that it says shows Russian tanks crossing the border from Crimea.
CNBC has not been able to independently verify that the tanks are Russian.
Some of the vehicles seen in the footage are marked with a "Z," which has been a feature of the Russian military vehicles that were amassed along the Ukrainian border in recent months.
The video was filmed at Checkpoint Chonhar between the Crimean peninsular and Ukraine. Russia invaded and annexed Crimea from Ukraine in 2014.
— Chloe Taylor
Siemens Energy chairman on Russian oil and gas exports
Russia was the biggest supplier of both petroleum oils and natural gas to the EU last year, but the chairman of Siemens Energy has told CNBC that "Russia depends more on oil and gas exports" than its customers.
On Thursday morning, Joe Kaeser outlined how the supply landscape could change through a pivot to other sources.
"The western world, [the] United States in particular, but also the Middle East, they have been extremely reliable sources who've always been offering supply — [it] didn't work because of the cost difference. But now we have a different playing field."
Kaeser said it was important that governments like Germany were coming forward with actions on how to secure this supply.  
— Anmar Frangoul
Putin's military action against Ukraine is an attack on its sovereignty, says former U.S. envoy
The world is "staring down the barrel" as Russian President Vladimir Putin's military assault against Ukraine threatens the country's sovereignty, said Kurt Volker, a former U.S special envoy to Ukraine told CNBC. 
"We are staring down the barrel of a major Russian military assault against another sovereign state in Europe, Ukraine," Volker said Thursday during an interview on CNBC's "Streets Signs."
"It's astonishing that Russia can be occupying parts of Ukraine and saying that any foreign intervention in Ukraine would meet with resistance from Russia. Russia is the foreign intervention in Ukraine," he said.
Putin's announcement was broadcast as the United Nations Security Council was meeting in New York, and as member states strongly urged the Russian president not to attack.
Volker said the U.N "is irrelevant in this situation," mainly because Russia "has a veto over anything" the council wants to do.  
"It is incumbent upon the United States, the European allies and others to stand up and support Ukraine in this moment where Russia is actually trying to take away its independence," added Volker, who is currently a distinguished fellow a at the Center for European Policy Analysis.
"All of the things that we're seeing now are Putin's origin," he said. "This is Russia trying to reassemble a Russian empire in a way, in which it believes that Ukraine is an integral part of Russian civilization. And 99% of Ukrainians reject that."
"So taking on Ukraine now opens the door for Russia to then reassert its dominance on all of the former Soviet states," he said, adding the U.S. and members of  NATO should be "very concerned about this."
— Sumathi Bala
More countries reportedly close embassies in Kyiv
Denmark, Norway and Latvia said Thursday that they were moving their embassies in Ukraine out of the capital Kyiv to the western city of Lviv, Reuters reported.
Meanwhile, the Czech Foreign Ministry said its embassy in the capital was temporarily closed, according to the news agency.
— Chloe Taylor
Attack on Ukraine will lead to 'massive displacement,' humanitarian organization says
In a statement on Thursday, David Miliband, CEO & President of the International Rescue Committee, warned that the Russian attack on Ukraine "raises the specter of major civilian harm and massive displacement."
"The IRC will mobilize resources and partners to assist those who are vulnerable and displaced, adhering at all stages to humanitarian principles," he said. "We know that resort to violence to settle territorial disputes causes incalculable damage to people and property, and call attention to the vital importance of international humanitarian law in this conflict."
Miliband added that the IRC "deplores this latest evidence of major states treating the U.N. Charter as an optional extra in their decision-making."
— Chloe Taylor
EU pledges to hold Russia accountable for 'barbaric' attack
European Commission President Ursula von der Leyen condemned Russia's attack on Ukraine and pledged to hold Moscow accountable for its actions.
"We condemn this barbaric attack and the cynical arguments to justify it," she said. "It is President Putin who is bringing war back to Europe and in these dark hours the European Union and its people stand by Ukraine and its people."
Von der Leyen said a "massive" package of sanctions will be presented to European leaders later Thursday for approval. She said the measures are meant to "weaken Russia's economic base and its capacity to modernize."
"These sanctions are designed to take a heavy toll on the Kremlin's interests and their ability to finance war — and we know that millions of Russians do not want war," von der Leyen said. "President Putin is trying to turn the clock back to the times of the Russian empire, but in doing so he is putting at risk the future of the Russian people."
— Christine Wang
Asia-Pacific markets close sharply lower after Russia invades Ukraine
Shares in Asia-Pacific sold off Thursday as the Russia-Ukraine conflict escalated further.
Japan's Nikkei 225 slid by 1.81% to close at 25,970.82, while the Topix fell by 1.25% to 1,857.58.
Over in South Korea, the Kospi was down 2.6% at 2,648.80, and the Kosdaq dropped 3.32% to 848.21.
Mainland Chinese markets also slipped. The Shanghai composite fell 1.7% to close at 3,429.96 and the Shenzhen component declined 2.2% to 13,252.24.
Hong Kong's Hang Seng index was down 3.22% in late trade.
Australia's S&P/ASX 200 fell 2.99% to 6,990.6, with banks, miners and oil stocks largely down.
MSCI's broadest index of Asia-Pacific shares outside Japan traded 3.39% lower.
— Abigail Ng
Ukrainian President Zelenskyy says 'anti-Putin coalition' being built
Ukrainian President Volodymyr Zelenskyy said on Twitter Thursday that Ukraine was in the process of creating an "anti-Putin coalition" with the U.S. and several other countries.
— Chloe Taylor
Bitcoin and other cryptocurrencies tumble
Bitcoin dropped to a one-month low, trading down 8% at $34,702.18 at around 2:25 a.m. ET on Thursday, according to Coindesk data.
Other cryptocurrencies including ether also fell. More than $150 billion has been wiped off the entire cryptocurrency market in the last 24 hours, according to Coinmarketcap data.
The drop in cryptocurrency prices comes as global equity markets tumble following Russia's military attack on Ukraine. Cryptocurrencies price moves are often correlated to movements in other risk assets such as stocks.
— Arjun Kharpal
Ukraine foreign minister urges Ukrainians around the world to pressure governments for action
Ukrainian Foreign Minister Dmytro Kuleba has called on Ukrainians around the globe to call on international governments to take action against Russia.
— Chloe Taylor
Ukrainian police report deaths, injuries and disappearances in country's southwest
The General Office of the National Police told NBC News on Thursday that six people had died after a bombing in the southwestern city of Podolsk.
Seven people were wounded following the attack, police said, and 19 were missing.
Podolsk is in the Odessa region in southwest Ukraine.
— Chloe Taylor
Kyiv imposes martial law as sirens sound in Ukrainian capital
Ukrainian capital Kyiv has issued a stay-at-home order for non-essential workers, and sirens have been heard in the city's Maidan Square.
In an update on the Kyiv City State Administration's official Telegram channel, officials also confirmed that the city was now under martial law.
Both Ukrainian President Volodymyr Zelenskyy and Mayor of Kyiv Vitali Klitschko had previously said martial law would be imposed if Russia launched a full-scale invasion of Ukraine.
Thursday's Telegram post said schools and kindergartens would be closed in the capital, while the "entire medical system of the capital work in an intensified mode."
"All those who are not involved in the critical infrastructure and livelihoods of the city — stay at home and be prepared to go to the shelter if the sirens are turned on," the city administration said. "We remind you that the shelters are marked on the map. Follow the official information and stay calm."
— Chloe Taylor
German Chancellor Olaf Scholz says this is a 'dark day for Europe'
German Chancellor Olaf Scholz condemned Russia's attack on Ukraine, calling it a "blatant violation of international law" and a "reckless act."
He called on Moscow to stop its military action immediately.
"This is a terrible day for Ukraine and a dark day for Europe," he said.
— Christine Wang
Ukraine claims it has downed 6 Russian aircraft
Ukrainian officials said the country shot down 5 Russian planes and a helicopter as its military grappled with Moscow's forces.
NBC News was not immediately able to confirm the report. The situation in Ukraine is rapidly deteriorating and developments are difficult to confirm.
Russia's defense ministry, in a statement to TASS, denied that a plane was shot down.
— Christine Wang
Russia's ruble hits record low against the dollar
Russia's ruble hit its lowest level ever against the dollar Thursday morning as Moscow suspended trading on all of its markets.
The greenback was trading as much as 10.45% higher against the ruble compared to the previous day around 8:30 a.m. in Moscow. The dollar pared some of its gains to about 6.3% higher an hour and a half later, with the ruble trading at 86.6765 to the dollar at 10 a.m. in the Russian capital.
NATO is set to hold an emergency meeting in response to the invasion. U.S. President Joe Biden condemned Putin's actions, vowing to impose "severe sanctions on Russia."
—Natasha Turak
Ukrainian foreign minister calls for heavy sanctions and 'fierce isolation' of Russia
Ukraine's foreign minister condemned Russia's attack on his country and called for "heavy sanctions" on Moscow.
"We are calling for the fierce isolation of Russia — this is an attack on the world order," Dmytro Kuleba told CNBC.
"We are calling on the U.S. – on the West — to immediately implement heavy sanctions including immediate disconnection of Russia from the SWIFT system," he said, referring to the Society for Worldwide Interbank Financial Telecommunications.
He said his country needs access to more heavy weaponry and financial assistance.
Kuleba confirmed that Ukrainian President Volodymyr Zelenskyy was speaking to President Joe Biden.
"Five minutes after President Putin announced his intentions, we saw heavy artillery and rockets flying toward major cities including Kyiv," Kuleba told CNBC.
"There is right now heavy fighting happening and as I told you previously, we will be fighting for our country," he added.
— Hadley Gamble
U.S. futures fall; gold and oil jump after Russia attacks Ukraine
U.S. stock futures declined sharply early Thursday after Russia launched an attack on Ukraine.
Dow futures dropped 625 points, or 1.89%, while S&P 500 futures were down 2.04%. Nasdaq 100 futures fell 2.54%.
Oil prices spiked, with West Texas Intermediate futures trading 4.57% higher at $96.31 per barrel. Global benchmark Brent rose 4.61% to $101.30 per barrel, passing the $100 level for the first time since 2014.
Spot gold, which is seen as a safe-haven asset in times of uncertainty, jumped 1.62% to trade at 1,938.38.
— Abigail Ng
UK Prime Minister Johnson vows decisive response to Russia
UK Prime Minister Boris Johnson tweeted that his nation and its allies were prepared to "respond decisively" to Russia's attack on Ukraine.
He also said he talked with Ukraine's president, Volodomir Zelenskyy, to discuss next steps. U.S. President Joe Biden also spoke with the Ukrainian leader late Wednesday Eastern U.S. time.
"President Putin has chosen a path of bloodshed and destruction by launching this unprovoked attack on Ukraine," Johnson said in a tweet.
– Mike Calia
NATO chief condemns Russian attack on Ukraine
NATO Secretary General Jens Stoltenberg in a statement condemned Russia's military action against Ukraine.
"I strongly condemn Russia's reckless and unprovoked attack on Ukraine, which puts at risk countless civilian lives," Stoltenberg said.
"Once again, despite our repeated warnings and tireless efforts to engage in diplomacy, Russia has chosen the path of aggression against a sovereign and independent country," he said.
— Kevin Breuninger
Ukraine official: 'Cruise and ballistic missile strikes are underway'
A Ukraine interior minister told NBC News in a text message that "cruise and ballistic missile strikes are underway."
The reporting from NBC came after a CNN correspondent in Kyiv said on live television that his team had been informed "the invasion has begun" by an advisor to Ukraine's interior ministry.
"And he said that what we've been hearing, these explosions, are missile strikes," the CNN correspondent, Matthew Chance, said on air. "He didn't give any further detail about what has been hit or about what's been targeted."
— Kevin Breuninger
Copyright CNBC