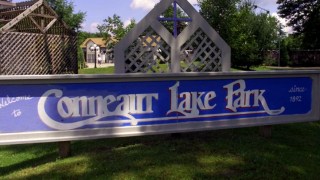 A judge was to hear arguments by the state attorney general's office to stop the sheriff's sale of a 122-year-old amusement park in northwestern Pennsylvania.
Conneaut Lake Park had been scheduled for sale Nov. 7 to recoup more than $927,000 in taxes owed to Crawford County and other entities. But a county judge delayed the sale until at least Dec. 5 so he can consider the attorney general's motion.
The attorney general is opposing the sale because the park is a tax-exempt charitable trust, among other issues.
Conneaut Lake Park's trustees still hope a financial reorganization will allow them to redevelop, revitalize and expand the facilities.
The park, about 95 miles north of Pittsburgh, opened in 1892 and is home to the Blue Streak, one of the nation's oldest wooden roller coasters.