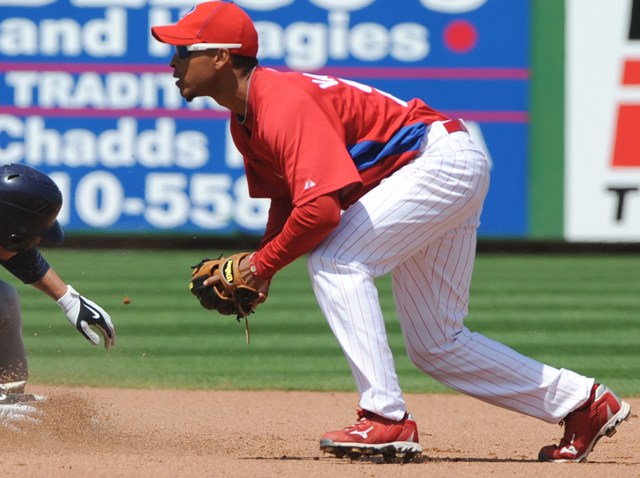 Although the Phightins are poised for another championship appearance in 2011, there is a major underlying concern. Our All-Star second baseman Chase Utley will start the season on the DL for an indefinite amount of time.
Just as sentiments of despair and bewilderment permeate the Phillies Phaithful, simultaneously, feelings of excitement and life changing opportunity are kept concealed by a select few in the Phillies' clubhouse.
Injuries, as ugly and as fantasy-league-roster-crippling as they may be, are an inevitable and inherently requisite part of our nation's greatest pastime.
Torn labrums, bulging discs and pulled muscles along with a myriad of other injuries play a huge role in the baseball circle of life. This is one method used by the baseball gods to seamlessly bring about and end careers, "the cup of coffee" as well as the "All-Star" varieties.
As a player I never ever wished any ill will towards another player. I would like to think this true with most major leaguers. It's just bad Karma!
With that being said, I'm pretty sure that we are among the most proficient with the stone-faced internal fist pump. Those usually occur in spring training after your competition just punched out on three pitches or kicked a ball and threw it into the stands.
But seriously, baseball is a numbers game like musical chairs.
While Utley heals, his injury has birthed opportunities for Wilson Valdez, Luis Castillo and Josh Barfield. One of these guys, probably Valdez, will have an inside track to the job -- but this still creates uncertainty. Utley is a certainty, everyone else still leaves question marks. Regardless of who fills in, this will be their time to shine.
It's not only about being in the right place at the right time. It is about being prepared to take advantage of the opportunity when it presents itself.
Whether it be Valdez, Barfield or whoever, this is their shot, their time to shine. They will be given the chance to showcase to the Phillies and every other major league organization that they are either a league-wide asset or they'll be overexposed by an unrelenting league and forever subjected to being labeled a "back up" or even worse...
We players understand depth chart schematics. There is a pecking order and you have to wait your turn. Whether it's true or not, we all believe that we are ready for the big leagues if that opportunity ever presents itself. We understand that we are a hit-by-pitch, a pulled hamstring or a failed drug test away from getting our chance to play musical chairs pulled out from under us.
For most, this opportunity to play musical chairs is just a dream and will never exist so to have it in your grasp is really awe-inspiring and motivating. It could all come down to this moment, this opportunity.
Good luck gentlemen.
How will these careers unfold? Stay tuned...