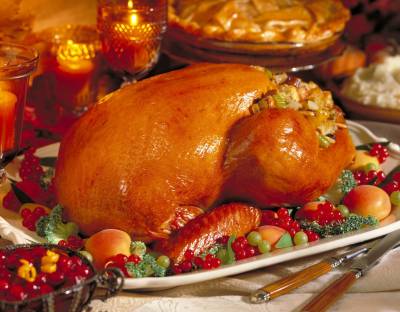 Turkey Day is fast approaching and not all of us have the time (or patience) to cook a big, fabulous meal.

Luckily, there's an easy solution -- go out!

Here are some other ways to indulge in a traditional (or not so traditional) Thanksgiving feast without even turning on your oven.
Have Thanksgiving dinner at City Tavern in Old City. Where they'll be serving roasted turkey, country style ham, cranberry relish, creamed green beans and much more.
Best part about sharing a Thanksgiving meal at this historic tavern is it will feel like you're taking a trip back in history! All the workers will be dressed in traditional colonial attire.
The restaurant has been taking reservations for the popular holiday since early October, so if this place tickles your fancy, hurry up and make your reservations. Thanksgiving dinner is $82.95 per person and for children, it's $32.95.
Looking for Thanksgiving outside the city and a little more countryside? Normandy Farm Hotel could be perfect for your holiday needs.
Normandy Farm Hotel in Blue Bell Pa., offers two "farm style" Thanksgiving options.

Your table can have a traditional dinner of turkey, pumpkin sage stuffing, brown butter mashed potatoes, honey glazed fruit salad, red velvet cake and more presented right at your table. Each adult meal is $39.95 and children under 10 pay just $13.95.
The other option would be to participate in the buffet. There will be more of a variety at the buffet, but all the food will be traditional. For adults the buffet is $34.95 and $13.95 for kids.
Supper at 926 South Street also offers a delicious Thanksgiving dinner.
The holiday special offers a festive soup or salad to start your meal followed by your own plate of turkey and veggies. The table will be provided with a side of your choice. Each side feeds three people. The meal is followed by dessert either pumpkin or apple crumb pie.
There are three different seating reservations to choose from, 2 p.m., 4:30 p.m. or 7 p.m. The meal is $50 per person and for children under 12 it is $25. Reservations are required.
Not really into the whole dining out thing on Thanksgiving? Or maybe you just don't feel like cooking. Not to worry, call Fork Restaurant. This Market Street spot will do all the hard work for you, all you have to do is pick it up.
Order from their lists of appetizers, sides, entrees and desserts. All items are individual priced depending on their portion size. Orders for Thanksgiving dinner must be placed by 6 p.m. on November 19. The meals are prepaid for when your order is placed and you'll be given an assigned time slot for when to pick up your feast on Turkey Day.
Just because Thanksgiving's also known as Turkey Day doesn't mean you actually have to eat turkey. Miss Rachel's Pantry offers a vegan meal.
She's offering everything from turkey-style tofu and smoked soy ham to rosemary and cranberry stuffing. The pantry offers two different meals one that's gluten-free and one that is not.
Meals are for pickup or delivery and will be ready the Tuesday and Wednesday before Thanksgiving. Each meal cost $30 per person. Delivery is free within the city, but to surrounding suburbs it'll cost you $10.
Happy Thanksgiving!