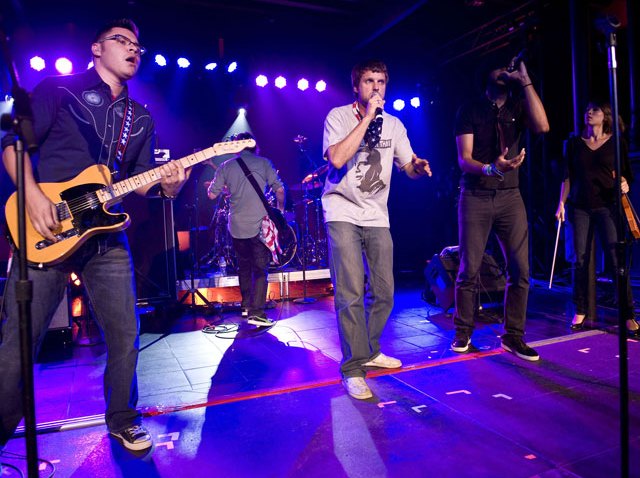 Happy Hour for Supper: Tonight, grab a few drinks at the trendy and modern, Supper. The sleek restaurant will offer half-priced hors d'oeuvres and half-priced selected wines and beers from 5 p.m. until 7 p.m. Hors d'oeuvres include deviled eggs, tuna sashimi banh mi, cheeses, Moroccan lamb ribs and so much more. Bring your friends or co-workers for a light meal and a few beers on this warm Monday night. Supper, 928 South Street, Philadelphia, Pa. 19147, +21, Free, 5 p.m.
Flobots & K-OS: Move over Movie Monday, the Troc's got a special hip-hop and rock treat for your tonight. Hip-Hop rock group, Flobots, invade Chinatown with their hipster sound and hit, "Handlebars." Conscious rapper and producer, K-OS, will also be in the house bringing a bit of rap, funk, rock and reggae. Crunk punk group Trouble Andrew and electro hip-hop group Champagne Champagne will open the show. Trocadero Theatre, 1003 Arch Street, Philadelphia, Pa. 19107, $16-$18, 7:30 p.m.
Karaoke Night: Tonight head into Old City for happy hour specials and karaoke upstairs at Khyber. Get there before 7 p.m. for $1 domestic bottles, $2 pints of Kenzinger, $2 off all drafts and $1 off anything else. Stick around because at 8 p.m. begins karaoke. With over 1,000 songs to choose from, we know where we'll be singing our favorite Whitney, Britney and Madonna tunes. Khyber, 56 South 2nd Street, Philadelphia, Pa. 19106, +21, 8 p.m.