Vince Lattanzio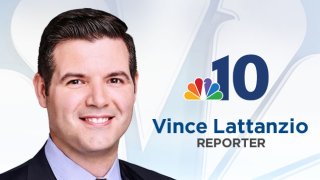 Vince Lattanzio joined NBC10 in March 2008 and serves as the editorial lead and senior producer for the duopoly's 18 digital properties.
Lattanzio has covered a variety of stories ranging from law, order and life issues to breaking news to in-depth investigations on topics like child exploitation, youth homelessness, the opioid and heroin epidemic, and suicide prevention.
As editorial lead, he sets the Digital Team's vision, tone and the presentation of written, video and graphic content on digital platforms. He also explores new technologies and storytelling techniques to best engage current and attract new audiences to vital local news and information.
Lattanzio's work has been celebrated with several journalism awards including national and regional Edward R. Murrow Awards, a national News and Documentary EMMY award, and several regional EMMY Awards.
He produced the station's first cross-platform long-form project: Protecting Innocence: The Untold Fight Against Child Predators. Lattanzio was granted exclusive and unprecedented access to Homeland Security Investigations' Child Exploitation Unit and chronicled their battle to catch the worst pedophiles operating online in the Philadelphia-area.
In 2015, Lattanzio joined a team focused on in-depth reporting on social issues under the banner NBC10 Digital Exclusives. The first project, Faces of Homeless Youth, brought the often invisible issue of youth homelessness to the public's attention. The report led to increased funding for advocacy groups and a larger awareness about the problem.
Generation Addicted, the second project, explored the tragic world of heroin and opioid addiction in the Philadelphia area and beyond. Lattanzio and his colleagues spent nearly six months reporting on the deadly crisis across four states and the District of Columbia.
The project was honored with three regional EMMY Awards including Best Investigative Report and Best Feature News Report and a regional and national Edward R. Murrow Award for Innovation. In 2017, the national Emmy board honored the program as well with a national News and Documentary EMMY Award.
During the fast-paced 2016 U.S. presidential election, Lattanzio and fellow reporter David Chang focused on Millennials and politics as part of the series, Battleground Bros. The duo followed the Clinton and Trump campaigns across Pennsylvania and spoke to college students about the issues driving them to the polls on Election Day. The series earned the first regional Best in Social Media Edward R. Murrow Award.
The most recent special project focused on suicide prevention, a topic that is not often spoken about freely in our communities. Titled Preventing Suicide: Breaking the Silence, the special project focused on improving the mental well-being of our community by raising awareness, removing stigma and growing mental health literacy.
The project included a 45-minute digital documentary, a dozen articles and videos, and resources. A tribute wall served as a powerful memorial for those lost to suicide and message of hope for those who have attempted and survived. The project was awarded the 2017 SAVE Award for Excellence in Reporting on Suicide.
Lattanzio is a 2003 graduate of Roman Catholic High School and holds a bachelor's degree in Digital Design from Philadelphia University. He was raised in South Philadelphia before relocating to Washington Township, New Jersey.
He now lives in Philadelphia with his husband, Joshua.
Connect with Vince!
Instagram: @VinceLattanzio
Facebook: @VincentLattanzio
Twitter: @VinceLattanzio