Snow Totals Up to 12 Inches
How much snow fell in your area?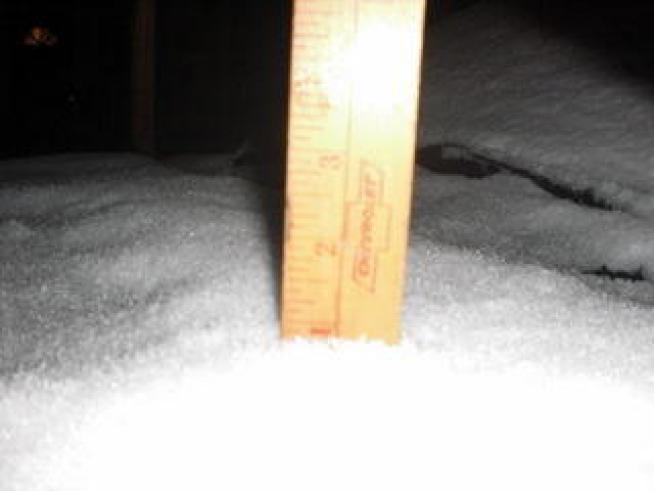 NBC10
One local town had crews working through the night to clear 12 inches of snow.
The snow came in with more intensity than expected, leaving a foot of snow in Newark, Delaware and Presidential Lakes, Burlington County, New Jersey and 11 inches in Penns Grove, Salem County, N.J.
Philadelphia International Airport recorded 8.6 inches of snow.
In the Philly suburbs, Garnet Valley had the most snow with 10.5 inches.
Here are some other snow totals for counties received so far by the National Weather Service.
Delaware:
| | |
| --- | --- |
| Newark | 12.0 inches |
| Wilmington | 8.5 inches |
| Bear | 8.0 inches |
| Pike Creek | 7.0 inches |
| Hyde Park | 7.0 inches |
| Glasgow | 8.0 inches |
| New Castle | 6.4 inches |
| White Clay Creek | 6.1 inches |
| Glasgow | 8.0 inches |
| Hockessin | 6.0 inches |
| Wilmington Airport | 8.5 inches |
| Claymont | 6.0 inches |
| Greenville | 5.9 inches |
| Talley Brook | 5.5 inches |
| Saint Georges Height | 5.3 inches |
| Prices Corner | 5.3 inches |
| Odessa | 3.5 inches |
| Middletown | 2.8 inches |
| Dover | 0.9 inches |
| Viola | 0.6 inches |
| Harrington | 0.4 inches |
NEW JERSEY - Atlantic County:
| | |
| --- | --- |
| Hammonton | 5.2 inches |
| Mays Landing | 3.5 inches |
| Smithville | 3.0 inches |
| Estelle Manor | 2.0 inches |
| Pleasantville | 2.1 inches |
| Atlantic City Airport | 2.1 inches |
Burlington County:
| | |
| --- | --- |
| Presidential Lakes | 12.0 inches |
| Medford | 9.4 inches |
| Southampton Twp | 9.3 inches |
| Vincentown | 9.0 inches |
| Browns Mills | 8.0 inches |
| Marlton | 8.0 inches |
| Pemberton | 8.0 inches |
| Lumberton | 6.6 inches |
| Shamong Twp | 6.4 inches |
| Washington Twp | 6.0 inches |
| Moorestown | 6.0 inches |
| Mount Laurel | 6.0 inches |
| Maple Shade | 5.5 inches |
| Mount Holly | 5.7 inches |
| Hainesport | 5.0 inches |
| Delran Twp | 5.1 inches |
| Bass River | 4.0 inches |
| Florence | 4.0 inches |
| Chesterfield Twp | 2.5 inches |
Camden County:
| | |
| --- | --- |
| Lindenwold | 8.8 inches |
| Laurel Springs | 8.3 inches |
| Point of Woods | 8.0 inches |
| Cherry Hill | 8.0 inches |
| N. Pennsauken | 7.5 inches |
| Runnemede | 7.0 inches |
| Barrington | 7.0 inches |
| West Berlin | 6.5 inches |
| East Camden | 6.0 inches |
| Blackwood | 6.0 inches |
| Collingswood | 6.8 inches |
| Somerdale | 5.3 inches |
| Jackson | 4.5 inches |
Cape May County:
| | |
| --- | --- |
| Cape May Courthouse | 1.0 inches |
| Seaville | 1.0 inches |
| Avalon | 0.5 inches |
| Green Creek | 0.3 inches |
| North Cape May | 0.3 inches |
Cumberland County:
Gloucester County:
| | |
| --- | --- |
| W. Deptford Twp | 9.5 inches |
| Deptford Twp | 9.0 inches |
| National Park | 8.6 inches |
| Mantua | 8.3 inches |
| Pitman | 8.0 inches |
| Washington Twp | 7.5 inches |
| Sewell | 7.3 inches |
| East Greenwich Twp | 7.0 inches |
| Woodbury | 7.0 inches |
| Turnersville | 7.0 inches |
| Williamstown | 6.5 inches |
| Mullica Hill | 6.5 inches |
| Thorofare | 6.0 inches |
| Clayton | 6.0 inches |
Hunterdon County:
| | |
| --- | --- |
| Lambertville | 2.0 inches |
| Readington Twp | 0.7 inches |
| NNW Flemington | 0.5 inches |
Mercer County:
| | |
| --- | --- |
| Robbinsville | 3.8 inches |
| Hamilton Twp | 3.0 inches |
| Trenton | 2.3 inches |
| White Horse | 2.0 inches |
| Ewing | 3.0 inches |
Monmouth County:
| | |
| --- | --- |
| Wall Twp | 2.5 inches |
| Neptune Twp | 2.5 inches |
| Freehold | 2.0 inches |
| Oakhurst | 1.5 inches |
Ocean County:
| | |
| --- | --- |
| Beachwood | 9.0 inches |
| Toms River | 8.0 inches |
| Berkeley Twp | 8.0 inches |
| Silverton | 8.0 inches |
| N. Toms River & S. Toms River | 7.5 inches |
| S. Toms River | 6.0 inches |
| Bayville | 7.0 inches |
| Lacey | 6.5 inches |
| Forked River | 5.5 inches |
| Brick Twp | 5.0 inches |
| Manahawkin | 5.0 inches |
| Manchester Twp | 4.0 inches |
| Bricktown | 3.5 inches |
| Lakewood | 3.3 inches |
| Plumstead Twp | 3.0 inches |
| Surf City | 2.3 inches |
Salem County:
| | |
| --- | --- |
| Penns Grove | 11.0 inches |
| Carneys Point | 6.0 inches |
| Upper Pittsgrove Twp | 6.0 inches |
| Salem | 3.0 inches |
| Monroeville | 2.0 inches |
PENNSYLVANIA - Bucks County:
| | |
| --- | --- |
| Bensalem | 3.7 inches |
| Furlong | 2.5 inches |
| Hilltown Twp | 2.0 inches |
| Perkasie | 1.8 inches |
Carbon County:
| | |
| --- | --- |
| W Franklin Twp | 4.5 inches |
Chester County:
| | |
| --- | --- |
| Kennett Square | 7.8 inches |
| West Grove | 6.5 inches |
| Nottingham | 5.5 inches |
| Mendenhall | 5.5 inches |
| West Chester | 3.9 inches |
| Spring City | 3.5 inches |
| Exton | 3.5 inches |
| Atglen | 3.2 inches |
| Coatesville | 3.0 inches |
| East Nantmeal | 2.3 inches |
| East Coventry Twp | 1.5 inches |
| Downingtown | 1.0 inches |
Delaware County:
| | |
| --- | --- |
| Garnet Valley | 10.5 inches |
| Springfield | 8.0 inches |
| Aldan | 8.0 inches |
| Essington | 7.0 inches |
| Brookhaven | 7.0 inches |
| Norwood | 7.0 inches |
| Aston Arms | 6.0 inches |
| Drexel Hill | 5.5 inches |
| Chadds Ford | 5.5 inches |
| Chester Heights | 5.2 inches |
| Sharon Hill | 4.5 inches |
| Glen Mills | 4.0 inches |
| Wayne | 3.5 inches |
Lehigh County:
| | |
| --- | --- |
| Heidelberg Twp | 1.3 inches |
| Allentown Airport | 1.3 inches |
Montgomery County:
| | |
| --- | --- |
| Ambler | 3.5 inches |
| King of Prussia | 3.4 inches |
| Wynnewood | 2.8 inches |
| Fort Washington | 2.5 inches |
| Pottstown | 2.5 inches |
| Royersford | 2.5 inches |
| Willow Grove | 2.5 inches |
| Gilbertsville | 2.0 inches |
Philadelphia County:
| | |
| --- | --- |
| Philadelphia Int'l Airport | 8.6 inches |
| Philadelphia Center | 5.5 inches |
| Philadelphia Office of Emergency Mgmt | 4.2 inches |