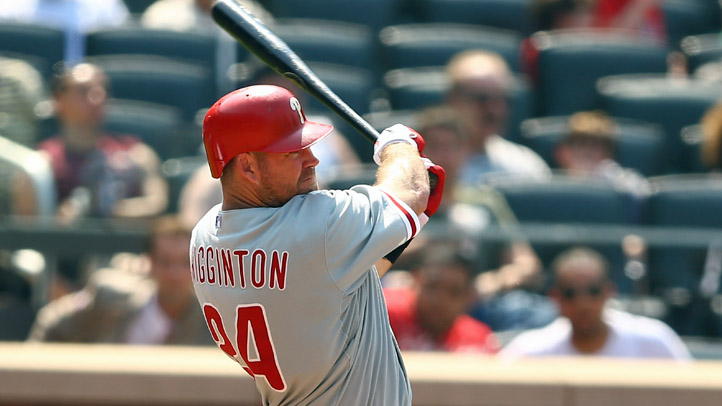 Ty Wigginton teed off on his former team Monday as the Phillies blasted past the Mets 8-4 in New York.
Wigs knocked in the first two runs of the game on a double in the third. He then put the Phillies ahead for good with an RBI single in the seventh before putting the game out of reach with a three-run homer to left center in the eighth.
Wigs -- who broke into the big leagues with the Mets in 2002 and became a regular with New York the following season -- was on base all five times he came up to bat going 3-for-3 with two walks. His six RBIs were a career high.
"We're gonna go through patches where we're going to have to rely on the pitching and there's going to be patches where the pitchers are going to need us," Wigginton told Phillies broadcasters after the game.
Wigs big day made a winner of Cole Hamels (8-1) who gave up four runs on seven hits while walking one and striking out six over eight innings. Hamels was sharp except for two two-run homers he allowed after the Phillies had opened up two run leads both times. He did however get National League batting leader David Wright to ground out with a runner on third to end the eighth inning.
Closer Jonathan Papelbon pitched a scoreless 1-2-3 ninth inning in a non-save situation.
Other big contributors on Memorial Day included John Mayberry Jr. who was 2-for-5 with a two-run homer and Hunter Pence who was on base three times (one hit, two walks) and scored two runs.
The win moved the Phillies (26-24) into a last-place tie with the Braves as they inched to within four games of first place Washington in National League East.
The same teams face each other Tuesday night as the Phillies send Joe Blanton (4-4, 4.55 ERA) to the hill against righty Jeremy Hefner (0-2, 6.17 ERA).