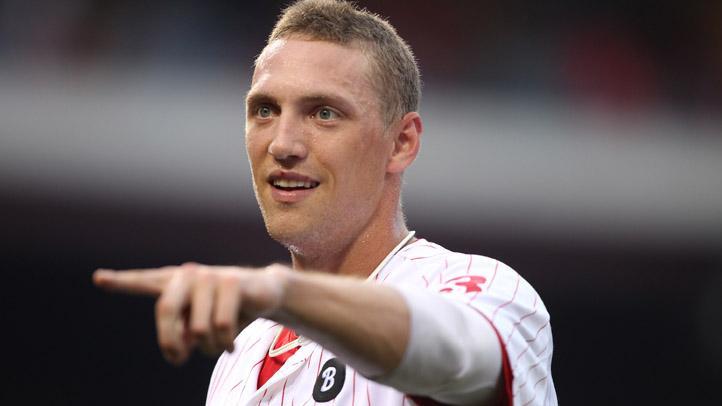 All this week Philthy Stuff will be looking back on some of the key moments in one of the best Phillies regular seasons ever.
---
In what has become tradition across Major League Baseball, the Phillies were part of the mad scramble that is the July 31sttrade deadline and for the third year in a row walked away with the top billed player of the summer. First it was Roy Halladay, then Roy Oswalt, and in 2011, the Fightins added some offensive pop with Hunter Pence.
With Domonic Brown's declining performance and a roster full of seasoned, yet sporadically slumping sluggers, the Phils knew they had to make a move to give them an edge on their competition. Prior to Pence's debut with the club on July 30, the Phillies had a 66-39 record (.628 win percentage). They led the National League East by five games, still hadn't been swept in the three-game series and were averaging just above four runs per game.
Excluding the team's historic post-clinch eight-game skid, the Phils posted a 35-13 record (.729 win percentage) when Pence had an at-bat in a Phillies uniform. They averaged just above five runs per game, clinched first place in their division, reached 100 wins for the third time in club history and still have a chance to have the best record in team history with a "W" on Wednesday against the Braves.
Coincidence?
Sure, the numbers look good, but it's what the presence of Pence has done for those around him in the lineup. For example, prior to July 30, Ryan Howard was batting .246/.337/.459 (BA/OBP/SLG) in 104 games with 20 home runs and 78 RBI. Since, he is batting .269/.368/.563 in 46 games with 13 dingers and 37 RBI. The team as a whole was batting .249/.322/.388 prior to his arrival and .259/.324/.406 since.
Of course there are always players, even entire teams, that have a tendency to turn it on closer to the end of the season, but Pence's own stats don't lie. Entering play Tuesday Pence was batting .320/.387/550 with 10 homers, 31 RBIs, 33 runs and 12 doubles in just 200 at bats since joining the Phillies. All it takes is one person to add a spark to a clubhouse and incite a little friendly competition. Who wants the new guy to show up perennial All-Stars and hometown favorites?
Just like the playful rivalry between the Five Aces (I have no problem throwing Vance Worley in with the rest of them after his outstanding performance this year), the position players can and should be inspired by one another to be better. Looking back, the turning point in the Phillies season for me wasn't necessarily the return of Chase Utley, or when they turned it on against the Cubs in June and never looked back, but I feel as though it would have been much easier for the team to fizzle towards the end of the season without a stand-out player like Pence keeping the squad on its toes and seemingly having fun.
Let's eat!