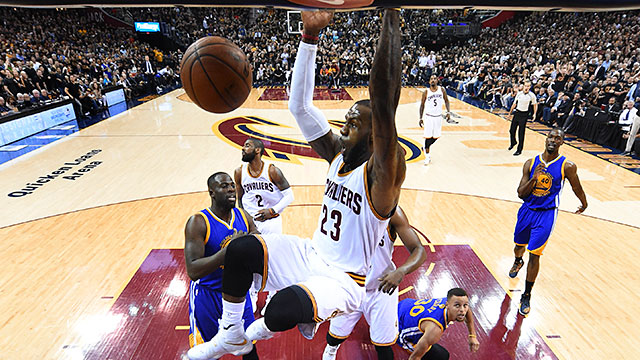 CLEVELAND -- LeBron James hit a jumper over Jimmy Butler at the buzzer in overtime, giving the Cleveland Cavaliers a 140-138 win over the Minnesota Timberwolves on Wednesday night.
Moments after James blocked Butler's potential game-winning shot with 1.3 seconds left, he caught a long pass from Jeff Green, created some space from Butler near the foul line and sank his fade-away shot to end Cleveland's eight-game losing streak on national television.
The crowd erupted and James was mobbed by his teammates as the Cavs got a much-needed win to ease tensions during a prolonged slump. Cleveland has won just seven of its last 20.
Philadelphia 76ers
Complete coverage of the Philadelphia 76ers and their rivals in the NBA from NBC Sports Philadelphia.
James finished with 37 points, 15 assists and 10 rebounds in 48 minutes. He also passed Zydrunas Ilgauskas (5,904) on Cleveland's all-time rebounds list.
Butler scored 35, and Karl-Anthony Towns 30 for the Timberwolves, who were in position to win in OT before James came to Cleveland's rescue (see full recap).
Harden scores 41 as Rockets hold off Heat
MIAMI -- James Harden scored 41 points and the Houston Rockets beat the Miami Heat 109-101 on Wednesday night for their sixth straight victory and 10th in 11 games.
Chris Paul added 24 points, seven assists, and seven rebounds for the Rockets.
Goran Dragic and Josh Richardson each had 30 points for Miami. The Heat have a five-game losing streak, their longest slide of the season.
Harden eclipsed the 40-point mark for the eighth time this season. He was 13 of 25 shots from the field, going 5 of 12 from 3-point, and hit 10 of 12 free frees. He also had six assists and rebounds.
Harden scored 13 points in the fourth quarter and the Heat were unable to get any closer than 94-90 with five minutes left.
Clint Capela added 13 points for the Rockets, who are 24-1 when Harden, Paul, and Capela play.
Harden scored 16 points in the opening quarter to help the Rockets take a 35-24 lead.
The Rockets led by as many as 17 points in the first half at 53-36, but Dragic scored Miami's final 10 points of the half to help cut it to 61-57 lead at the break (see full recap).
Drummond, Griffin lead Pistons to 5th straight win
DETROIT -- Andre Drummond had 17 points and 27 rebounds, and the Detroit Pistons extended their winning streak to five with a 115-106 victory over the Brooklyn Nets on Wednesday night.
Blake Griffin scored 11 of his 25 points in the fourth quarter for the Pistons, who have not lost since acquiring him in a trade last week. Griffin will face his old team Friday night when the Los Angeles Clippers are in town.
Allen Crabbe had 19 of his 34 points in the fourth quarter for the Nets. They have lost four in a row and eight of nine.
Crabbe scored 16 of Brooklyn's points in a row during one fourth-quarter stretch, capped by a 3-pointer that cut Detroit's lead to three at 91-88. The Pistons put the ball in Griffin's hands after that, and he scored nine of their next 11.
Drummond had 12 rebounds in the first half and added 11 more in the third quarter. He finished with a season high, just two shy of his career best. It was the third time in the last five games he reached 20 rebounds.
He shot only 5 of 17 from the field, but that just meant more opportunities for offensive rebounds. He had seven of those. Despite all that, the Pistons were actually outrebounded as a team, 50-46 (see full recap).
Pelicans-Pacers postponed over concerns from roof leak
NEW ORLEANS -- The NBA game between the Indiana Pacers and New Orleans Pelicans was postponed Wednesday mnight after nearly two-hour delay because of a roof leak that briefly allowed rain water to puddle near one of the foul lines.
While Smoothie King Center crews fashioned a fabric catch basin in the rafters to stop water from dripping on the court, Pacers coach Nate McMillan said coaches and players on both teams didn't want to risk an injury in the event the make-shift fix didn't hold up for the duration of Wednesday night's game.
"It's not a chance you want to take," McMillan said. "Both coaches went out and looked at the floor and looked at the conditions and just really felt that you didn't want to take a chance of these players going out there playing on the floor with the possibility of a leak happening in the course of a 2 1/2-hour game in an area where there's going to be a lot of action right around the free throw line.
"All it takes is one spot for a player to slip on," McMillan added. "Mentally, guys really wouldn't have been able to go out there and play, knowing that situation."
A number of fans left before a public address announcement was made that the game would not be played. Many of those who remained booed.
Officials have not yet announced when the game will be made up (see full recap).
Copyright CSNPhily