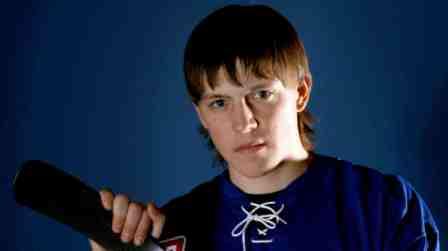 Yesterday's reports that 19-year-old Ranger prospect Alexei Cherepanovdied during a hockey game in Moscow were hard to believe. Young elite athletes are supposed to tear ligaments and break bones not drop dead on the bench after finishing a shift.
Clearly hockey concerns pale in consideration of the loss to Cherepanov's family and loved ones but the Rangers were counting on the young winger in 2009 and beyond. Cherepanov slipped to the Rangers with the 17th pick because the lack of a transfer agreement between the NHL and the Russian Federation meant whoever picked him had to wait until his contract with Omsk ran out to sign him. The lack of a working relationship has already had an impact on the flow of Russians into the NHL, but details about Cherepanov's death may lead to an even greater reduction.
The New York Post reports that the ambulance assigned to the game in Moscow had already left the building. Doctors were reportedly able to revive him during the 45-minute wait for it to return, but Cherepanov ultimately passed away at the hospital. I'm not a cardiologist and have no idea if the outcome would have been different, but that has to send a chill through the bones of any general manager with a prospect playing in Russia's KHL.
Beyond the missing ambulance, where was the portable defribillator that saved the life of Jiri Fischer of the Red Wings when his heart flat-lined in 2005? Teams can't afford to spend high picks and build around players who are playing for teams and leagues that aren't doing everything they can to make sure players are getting the best health care available. Hopefully this tragedy will make the KHL tighten up their ship, but NHL teams might be better served by safer conditions until they've proven that they have.
Copyright FREEL - NBC Local Media