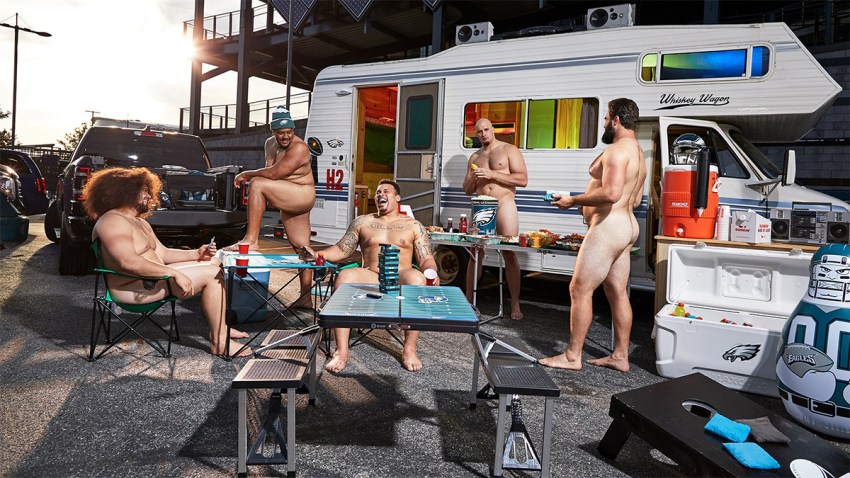 The Philadelphia Eagles offensive linemen posing for ESPN's the Body Issue epitomizes what they're going for in highlighting all shapes and sizes.
Every body does indeed tell a story. The Eagles' linemen tell a big one.
"My body may not be the best looking, but it does get the job done," Halapoulivaati Vaitai said in the video segment accompanying the shoot.
The photos were taken in June outside of Lincoln Financial Field in Philadelphia and the offensive linemen are seen in typical tailgating mode minus the clothing of course. They say the NFL is a copycat league, so this will likely inspire hundreds if not thousands of Eagles fans to show up on Sunday with nothing but a beer and a bratwurst in hand.
Jason Kelce appears to be having the most fun which isn't surprising given that guy always seems to be having the most fun whether he's wearing a full Mummer's outfit or nothing at all.
Lane Johnson was clearly the ring leader who talked the others into doing the shoot. So what did he hope people seeing the photos would take away from it?
"They can just laugh and see us as a bunch of goofy guys. That's what we are. Hopefully the pictures can capture what we're really about, being authentic and there's nothing fake about it. What you see is what you get."
You can watch the guys talking about the shoot above and you can see the full photo gallery here.
Copyright CSNPhily